Efter Papillys omvända förvärv av Bonzun är fokus inställt på att på digital väg stötta de kvinnor som genomgår psykiskt påfrestande IVF-behandlingar för att avhjälpa sin infertilitet. Genom att kraftigt sänka drop out rate kan Bonzun IVF öka antalet IVF-cykler med 115% och sannolikheten för att bli gravid med 49%. Med en D2C-strategi kombinerad med partnerskap med IVF-kliniker står Bonzun i startgroparna av en aggressiv uppskalning mot 50 000 användare inom några år. Med stöd av jämförelsevärderingar och DCF ser vi stöd för ett motiverat värde på 0,12-0,15 SEK på 18-24 mån sikt, justerat för en emission för finansiera kommande års aggressiva tillväxt.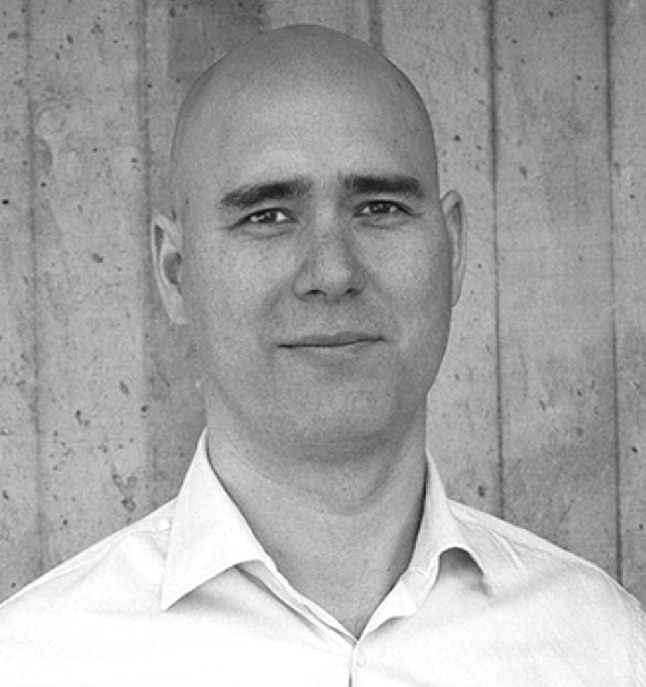 ---
Johan Widmark | 2021-09-28 08:30 | DISCLOSURE: Emergers juridiska person Incirrata AB äger aktier i Bonzun Health Information AB och är därigenom ägare i Papilly AB unät. Bonzun AB efter slutförande av det omvända förvärvet.  
This commissioned research report is for informational purposes only and is to be considered marketing communication. This research report has not been prepared in accordance with legal requirements designed to promote the independence of investment research and Emergers is not subject to any prohibition on dealing ahead of the dissemination of investment research. This research does not constitute investment advice and is not a solicitation to buy shares. For more information, please refer to disclaimer.

---
Ett av sex par kämpar med infertilitet
Logiken bakom Bonzuns affärsidé är enkel. IVF-behandlingar är emotionellt påfrestande och kostsamma, drop-out rate ligger på 30-50% efter en misslyckad IVF-cykel, trots att det krävs i snitt tre cykler för en graviditet. Det finns därför starka incitament för alla inblandade att avhjälpa patienternas påfrestningar för att de ska orka göra de ytterligare behandlingar som statistiken visar krävs för att bli gravida. Med appen Bonzun IVF kan kliniker och läkemedelsbolag minska drop out rate efter en första misslyckad cykel från 60% till 18%, och öka antalet IVF-cykler med 115% och därigenom öka sannolikheten för att bli gravid med 49%. Tjänsten vänder sig både till de patienter som genomgår en IVF-behandling (D2C), och viktiga partners som IVF-kliniker och läkemedelsbolag som erbjuder IVF-behandlingar.
Intäkter över 50 MSEK 2024
Även om det finns stora möjligheter att utveckla Papillys Stressprogram på egna ben uppskattar vi att Bonzun IVF står för bulken av värdet och potentialen. Bonzun IVF lanserades 2019 och har användare i 95 länder. Tjänsten utvecklades ursprungligen på uppdrag av marknadsledaren inom IVF-behandlingar, Merck. Drivet av rätt partnerskapsavtal, som vi räknar med ska minska Bonzuns kostnad för att växa, ser vi goda förutsättningar för Bonzun att ta plats på topp 3 globalt. Medan ett ökat inslag av partnerförsäljning kommer mer än halvera Customer Acquisition Cost (CAC) till under 40 USD långsiktigt (under snittet för abonnemangsappar på 65 USD), kommer en hög churn på 15% per månad, begränsa Life Time Value (LTV)/CAC till <3x. En framtida expansion in i Bonzuns historiska hemmaplan, gravidapp-segmentet kan dock komma att förbättra dessa nyckeltal markant. Med en total global marknadspotential på ca 150 MUSD motsvarar 10% marknadsandel intäkter på ca 130 MSEK årligen. Vi räknar med att Bonzun når halvvägs dit inom vår prognoshorisont. Även om det inte saknas konkurrenter är det en relativt låg etableringsgrad i Bonzuns nisch, där ca 1/3 av alla IVF-patienter har någon form av app-stöd idag.
Förstärkning av kassan för aggressiv uppskalning 2022
Med stöd av en imponerande lista av tung medicinsk expertis från Karolinska, WHO samt åtskilliga kinesiska universitetssjukhus, och långsiktig strukturell tillväxt för IVF ser vi ljust på utsikterna. Efter en väntad emission på uppskattningsvis 50 MSEK för att accelerera tillväxten rejält från 2022 räknar vi med att Bonzun IVF når 50 000 användare 2024. Värderingar bland svenska noterade jämförelsebolag på 1000-10 000 SEK per användare ger stöd för ett brett värderingsintervall (50-500 MSEK), medan relevanta vinstmultiplar och en DCF (12%) ger stöd för ett motiverat värde på 0,12-0,15 SEK på 18-24 månaders sikt, justerat för utspädningen vid den väntade emissionen. Samtidigt noterar vi risker med utförande, uppskalning och tröghet i beslutsvägar hos partners.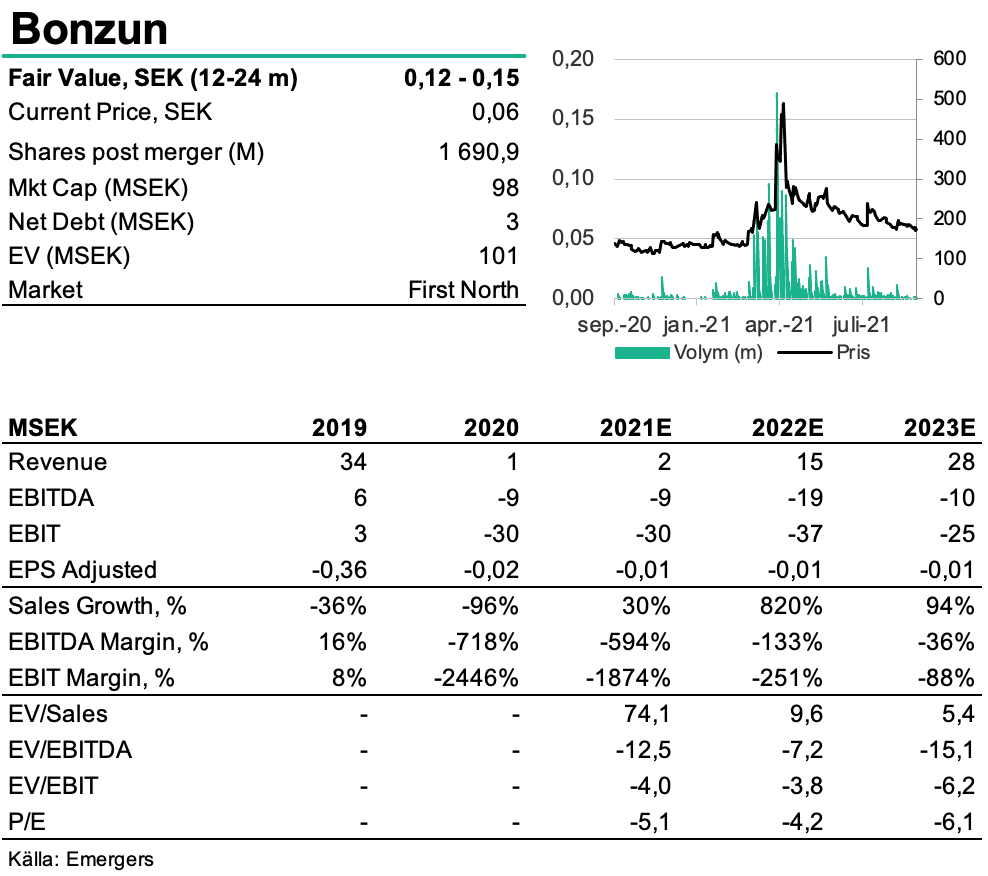 DISCLAIMER
Information som tillhandahålls av Emergers eller på Emergers webbplats, emergers.se är inte avsedd att vara finansiell rådgivning. Emergers mottar ersättning för att skriva om bolaget på den här sidan. Bolaget har givits möjlighet att påverka faktapåståenden före publicering, men prognoser, slutsatser och värderingsresonemang är Emergers egna. Analysartiklar skall ej betraktas som en rekommendation eller uppmaning att investera i bolagen som det skrivs om. Emergers kan ej garantera att de slutsatser som presenteras i analysen kommer att uppfyllas. Emergers kan ej hållas ansvariga för vare sig direkta eller indirekta skador som orsakats av beslut fattade på grundval av information i denna analys. Investerare uppmanas att komplettera med ytterligare material och information samt konsultera en finansiell rådgivare inför alla investeringsbeslut.

HANTERING AV PERSONUPPGIFTER
Emergers skickar ut enkäter för att samla in kvantitativa och kvalitativa data. Syftet är att förstå hur ett visst bolag uppfattas på marknaden. Dina personuppgifter behandlas bara om du deltar i undersökningen. De data som Emergers publicerar eller delar med bolag är alltid anonymiserade och går inte att knyta till dig som person. För mer information om hur vi hanterar personuppgifter, se https://www.emergers.se/personuppgifter-i-enkater/