Med en teknik och funktionalitet i toppklass siktar Meltron på att skala upp försäljningen rejält via strategiska partnerskap inom de nischer av LED-marknaden som växer allra snabbast. Efter släppta pandemirestriktioner siktar bolaget på att omsätta den rekordstora orderboken till intäkter på 200 MSEK inom tre år. Vårt något mer konservativa basscenario ger fortfarande stöd för en rejäl uppsida med ett motiverat värde på 0,19-0,22 SEK per aktie på 24 mån sikt, justerat för utspädningseffekten från kommande kapitaltillskott och en 30% rabatt med hänsyn till bolagets historik och osäkerheter förknippade med verkställandet av den nya planen.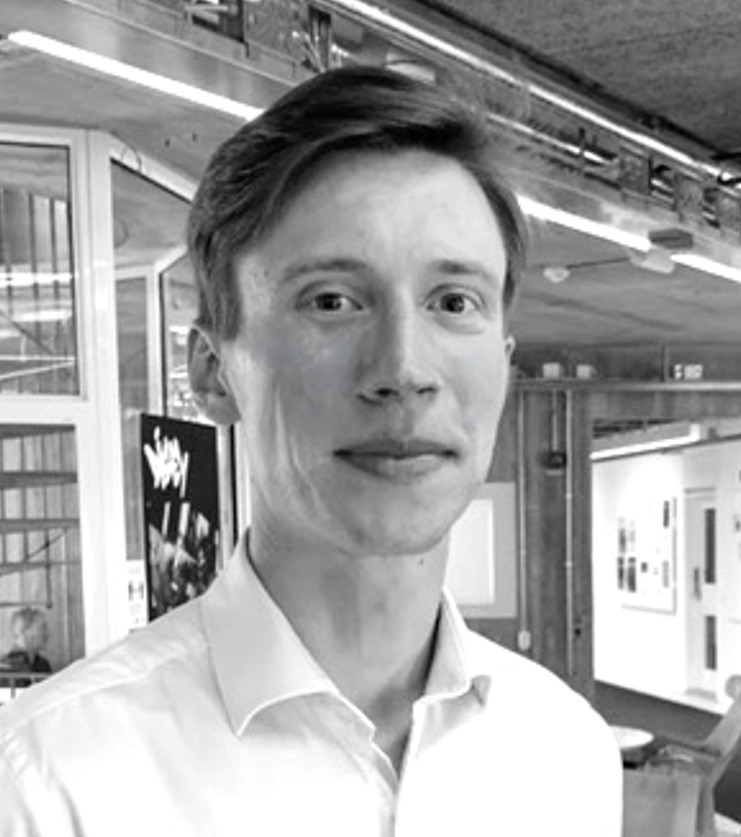 ---
Andreas Eriksson | Datum: 2021-10-01 09:13 
This commissioned research report is for informational purposes only and is to be considered marketing communication. This research report has not been prepared in accordance with legal requirements designed to promote the independence of investment research and Emergers is not subject to any prohibition on dealing ahead of the dissemination of investment research. This research does not constitute investment advice and is not a solicitation to buy shares. For more information, please refer to disclaimer.

---
Strategiomvandling med fokus på försäljning
Trots Meltrons inriktning på premieprodukter till nischer och kunder med låg priskänslighet har Meltron haft svårt att skala upp försäljningen och kapitalisera på potentialen i sin teknik. På en global marknad som årligen väntas växa med 12,5% och nå 136 miljarder USD 2028 ska Meltron nu på allvar etablera sig genom strategiska partnerskap inom tre av de nischer som växer allra snabbast och där kraven på produkterna är som högst. Med en strategiomläggning ökar bolaget sitt fokus på försäljning och utväxling på bolagets starka produktportfölj, dels genom stärkt egen direktförsäljning, dels genom partnerskap med globala spelare i olika segment. Drivet av en ökad volym och en gynnsam utveckling av produktmixen ser vi förutsättningar för bolaget att lyfta bruttomarginalen från förra årets 24%, mot 40% om några år.
Prestigeavtal vittnar om premiumkvalitét
Trots en energireducerande konkurrensfördel på 20% jämfört med andra premiumprodukter marknaden menar Meltron ändå att deras främsta styrka ligger i det mervärde de kan erbjuda sina kunder, i form av högre säkerhet, bättre ljus och lägre livscykelkostnader. Med 25 år av forskning och utveckling satsar Meltron på att positionera sig i marknadens toppskikt, en position som bekräftades när bolaget i dagarna meddelat att man tillsammans med Huawei avser arbeta fram en gemensam strategi för hållbara städer. I våras presenterade man även att ett större pharmabolag valt Meltrons lösningar för sina produktionsanläggningar, vilket öppnar upp dörrarna till både ytterligare anläggningar hos kunden i fråga men även resten av läkemedelsbranschen.
Rekordstor pipeline redo att omsättas
I Meltrons nyligen annonserade säljstrategi ingick även högt uppsatta försäljningsmål. Vårt base case representerar en något försiktigare utveckling än vad bolaget självt räknar med, vilket vid en jämförelse med noterade jämförelsebolag ändå ger stöd för en betydande uppsida i aktien. Trots risker såsom förseningar och utförande av uppskalningen ser vi stöd för ett motiverat värde på 0,19-0,22 SEK per aktie på 24 mån sikt efter justering för utspädningen vid kommande kapitalanskaffning och en rabatt på 30% med hänsyn tagen till bolagets historik där man haft problem att skala upp.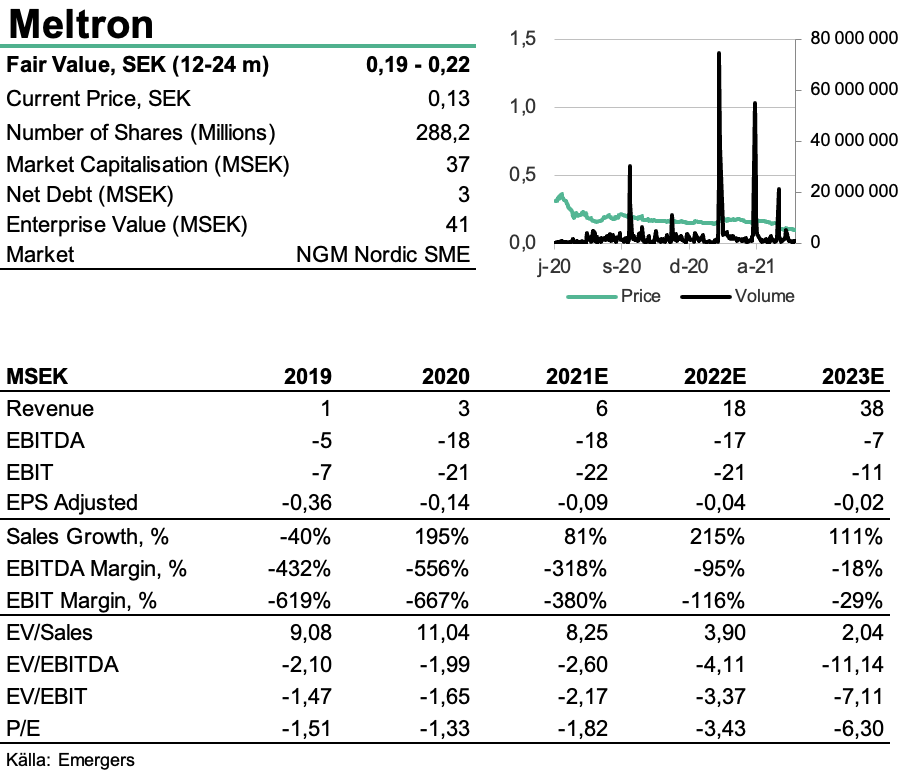 DISCLAIMER
Information som tillhandahålls av Emergers eller på Emergers webbplats, emergers.se är inte avsedd att vara finansiell rådgivning. Emergers mottar ersättning för att skriva om bolaget på den här sidan. Bolaget har givits möjlighet att påverka faktapåståenden före publicering, men prognoser, slutsatser och värderingsresonemang är Emergers egna. Analysartiklar skall ej betraktas som en rekommendation eller uppmaning att investera i bolagen som det skrivs om. Emergers kan ej garantera att de slutsatser som presenteras i analysen kommer att uppfyllas. Emergers kan ej hållas ansvariga för vare sig direkta eller indirekta skador som orsakats av beslut fattade på grundval av information i denna analys. Investerare uppmanas att komplettera med ytterligare material och information samt konsultera en finansiell rådgivare inför alla investeringsbeslut.

HANTERING AV PERSONUPPGIFTER
Emergers skickar ut enkäter för att samla in kvantitativa och kvalitativa data. Syftet är att förstå hur ett visst bolag uppfattas på marknaden. Dina personuppgifter behandlas bara om du deltar i undersökningen. De data som Emergers publicerar eller delar med bolag är alltid anonymiserade och går inte att knyta till dig som person. För mer information om hur vi hanterar personuppgifter, se https://www.emergers.se/personuppgifter-i-enkater/