Med ett tufft 2021 i ryggen kunde Motion Display ändå stänga böckerna med flera positiva indikationer att ta med sig in i 2022. Framför allt ser vi pilotbeställningen från en dryckesleverantör som högintressant då det erbjuder en stor marknad utanför Walmart. Samtidigt noterar vi att investerares minskade riskaptit slår hårt mot bolag vars vinster ligger långt fram i tiden och ser därför stöd för ett nytt motiverat värde på 2,8-3,3 SEK (3,4-3,9) per aktie på 1-2 års sikt, men vill framhålla att det är baserat på en defensiv prognos sett till historiska siffror och att en ketchupeffekt på försäljningen snabbt kan vända utsikterna.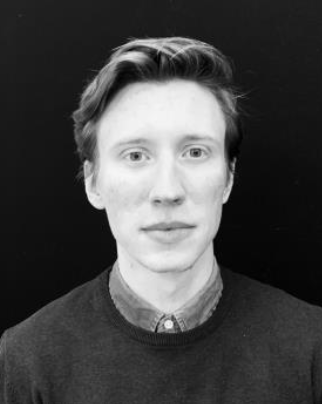 ---
Andreas Eriksson | 2022-02-25 08:00
This commissioned research report is for informational purposes only and is to be considered marketing communication. This research report has not been prepared in accordance with legal requirements designed to promote the independence of investment research and Emergers is not subject to any prohibition on dealing ahead of the dissemination of investment research. This research does not constitute investment advice and is not a solicitation to buy shares. For more information, please refer to disclaimer.

---
Ljusglimtar i orderingången med god kostnadskontroll
Vi slår ihop böckerna för 2021 och kan konstatera att det varit ett minst sagt tufft år för Motion Display. Omsättningen landar på 16,8 MSEK, att jämföras med 31,7 MSEK för 2020. Men ljusglimtar finns ändå att hitta i rapporten för det fjärde kvartalet med en omsättning på 5 MSEK och en orderingång på 7,5 MSEK. Under det gångna året har bolaget genomfört ett övergripande arbete med att effektivisera logistiska processer som bidragit till att bruttomarginalen varit en bra bit över 60% under årets sista nio månader, något som varit en starkt bidragande orsak till att förlusterna ändå har kunnat lindras i relation till det stora tappet i omsättningen.
Tillväxt och vidare expansion under 2022
En annan ljusglimt vi ser som strategiskt viktig är inträdet på nytt territorium efter en pilotorder från en dryckesleverantör. Skylten ska installeras på restauranger och barer över hela USA. Att bearbeta nya kanaler ut på marknaden, utanför Walmart, är en uttalad strategi då handlingsutrymmet som leverantör till den amerikanska jätten är begränsat. Med tanke på att det finns över en miljon restauranger, barer och nattklubbar bara i USA ser vi stor potential om man lyckas få in foten och etablera sig på riktigt. Samtidigt har den europeiska marknaden historiskt varit obruten mark där vi noterar likartad potential som på den amerikanska marknaden, även om huvudfokus fortfarande ligger på andra sidan Atlanten.
Fortsatt hög potential när retail vässar butikerna
Det finns gott om statistik på drastiska försäljningsökningar med Motion Displays produkter, och de kan tyckas vara ett självklart inslag i butiker med tanke på nyttan de gör. Ett genombrott med större återkommande ordrar, framför allt på den amerikanska marknaden, skulle sätta bolaget i helt ny dager. För det kan smälla till rejält, under rekordåret 2017 mottogs en order på 14 MSEK och omsättningen på helåret steg till dryga 50 MSEK. Lagerhållningen har strategiskt byggts upp under året för att parera de långa ledtider som råder på halvledare, och därmed vara redo när större beställningar kommer. De förändringar i riskaptit vi noterat hos investerare senaste tiden till följd av oro för ränta, inflation och oroligheterna i Ukraina har slagit hårt mot framför allt mindre bolag med vinster något år bort i framtiden. Motion Display är inget undantag och vi har valt att justera upp diskonteringsräntan i modellen och ser därför stöd för ett nytt motiverat värde på 2,8 – 3,3 SEK (3,4-3,9) per aktie på 12-24 mån sikt. Samtidigt framhåller vi att det är en riskjustering som kommer reduceras i takt med att nya ordrar kommer in, vilket då kommer driva en omvärdering av aktien.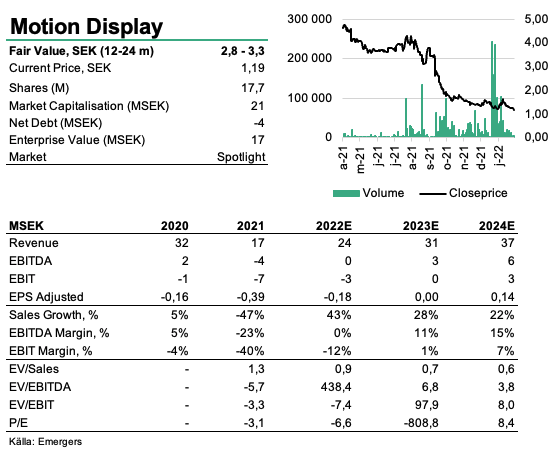 DISCLAIMER
Information som tillhandahålls av Emergers eller på Emergers webbplats, emergers.se är inte avsedd att vara finansiell rådgivning. Emergers mottar ersättning för att skriva om bolaget på den här sidan. Bolaget har givits möjlighet att påverka faktapåståenden före publicering, men prognoser, slutsatser och värderingsresonemang är Emergers egna. Analysartiklar skall ej betraktas som en rekommendation eller uppmaning att investera i bolagen som det skrivs om. Emergers kan ej garantera att de slutsatser som presenteras i analysen kommer att uppfyllas. Emergers kan ej hållas ansvariga för vare sig direkta eller indirekta skador som orsakats av beslut fattade på grundval av information i denna analys. Investerare uppmanas att komplettera med ytterligare material och information samt konsultera en finansiell rådgivare inför alla investeringsbeslut.

HANTERING AV PERSONUPPGIFTER
Emergers skickar ut enkäter för att samla in kvantitativa och kvalitativa data. Syftet är att förstå hur ett visst bolag uppfattas på marknaden. Dina personuppgifter behandlas bara om du deltar i undersökningen. De data som Emergers publicerar eller delar med bolag är alltid anonymiserade och går inte att knyta till dig som person. För mer information om hur vi hanterar personuppgifter, se https://www.emergers.se/personuppgifter-i-enkater/