Marknaden för interaktiv video är fortsatt het, inte minst internationellt där det fortsätter göras affärer i miljardklassen, samtidigt som Qbrick fortsätter knyta namnkunniga bolag och institutioner till kundstocken på hemmaplan. Med stöd av starka regulatoriska drivkrafter, stora möjligheter till merförsäljning till befintliga kunder och hög andel skalbara SaaS-intäkter med hög marginal ser vi dagens pressade kursnivå som särskilt attraktiv för långsiktiga ägare och ser fortsatt stöd för ett motiverat värde på 7,5-9,2 SEK per aktie på 12-24 mån sikt.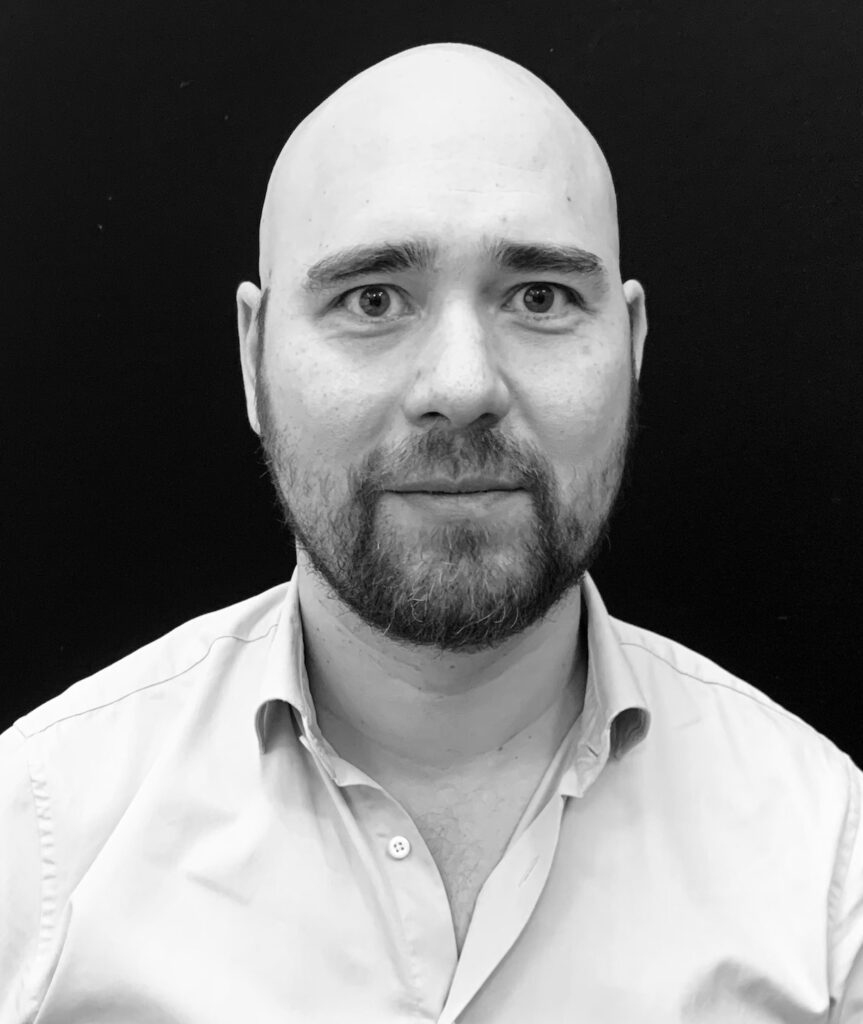 ---
Johan Widmark | 2022-01-31 09:00 
This commissioned research report is for informational purposes only and is to be considered marketing communication. This research report has not been prepared in accordance with legal requirements designed to promote the independence of investment research and Emergers is not subject to any prohibition on dealing ahead of the dissemination of investment research. This research does not constitute investment advice and is not a solicitation to buy shares. For more information, please refer to disclaimer.

---
Nya avtal med namnkunniga kunder
Sedan rapporten för tredje kvartalet har Qbrick fortsatt annonsera avtal och tilldelningsbeslut med flera stora namnkunniga aktörer, såsom Storebrand i Norge, teknikkonsultbolaget WSP, Stockholm Parkering och Malmö Stad, där det sistnämnda nu håller på att överklagas, men med en enligt bolaget uppskattat låg risk att överklagan bifalls. Medan Malmö Stad väntas motsvara ca 2 MSEK per år i fyra år, om tilldelningen går igenom, har övriga kontrakt en begränsad finansiell påverkan, men desto större strategisk vikt. Sammantaget stöder de dock vårt antagande om en hälsosam intäktstillväxt kommande år, som med bolagets bruttomarginal runt 80% ger goda chanser för en positiv EBITDA 2022/2023E. Det kommer dock till stor del bero på bolagets fortsatta utvecklingssatsningar, där vi ser fram emot uppskalningen av vertikalen Engage för dubbelriktad kommunikation.
Interaktiv video fortsatt het techtrend internationellt
Samtidigt fortsätter intresset för interaktiv video öka internationellt med flera noterbara storaffärer bara hittills i år. I januari annonserade amerikanska mobiljätten T-Mobile förvärvet av Octopus Interactive med 50 anställda, som bland annat ligger bakom den interaktiva videon i Uber och Lyfts bilar i USA. Även om prislappen är okänd kan affären förväntas vara i miljardklassen. Även sociala mediejätten LinkedIn rör sig mot interaktiv video med lanseringen av sin nya event-plattform där man kommer lista, hosta och marknadsföra interaktiva virtuella liveevent. Även om man börjar med att lansera en audioversion av tjänsten väntas en interaktiv videoversion lanseras redan under våren. Lanseringen följer också på LinkedIns förvärv av virtuella eventjätten Hopin, värderat till 7,75 BN USD i augusti 2021.
Kundintresse och skalbarhet starkt stöd för höga multiplar
Efter en kraftig uppgång under sommaren har kursen dalat senaste halvåret till nivåer under noteringskursen. Men med hög skalbarhet, stabil bruttomarginal runt 80%, och flera tecken på ett stabilt kundintresse för bolagets plattform, ibland underblåst av betydande regulatoriska drivkrafter, ser vi dagens pressade nivå som en mycket attraktiv ingångsnivå för långsiktiga investerare. Även om satsningar på utveckling och försäljning kommer innebära positivt kassaflöde först 2024 så är bolaget väl kapitaliserat, och med en stor etablerad kundbas, hög andel SaaS-intäkter och en strukturellt driven förändring av efterfrågan ser vi stöd för höga värderingsmultiplar och ett motiverat värde på 7,5-9,2 på 12-24 mån sikt. Samtidigt noterar vi risker relaterade till utveckling, mognad, möjligheterna att kapitalisera på underliggande trender och hög konkurrens.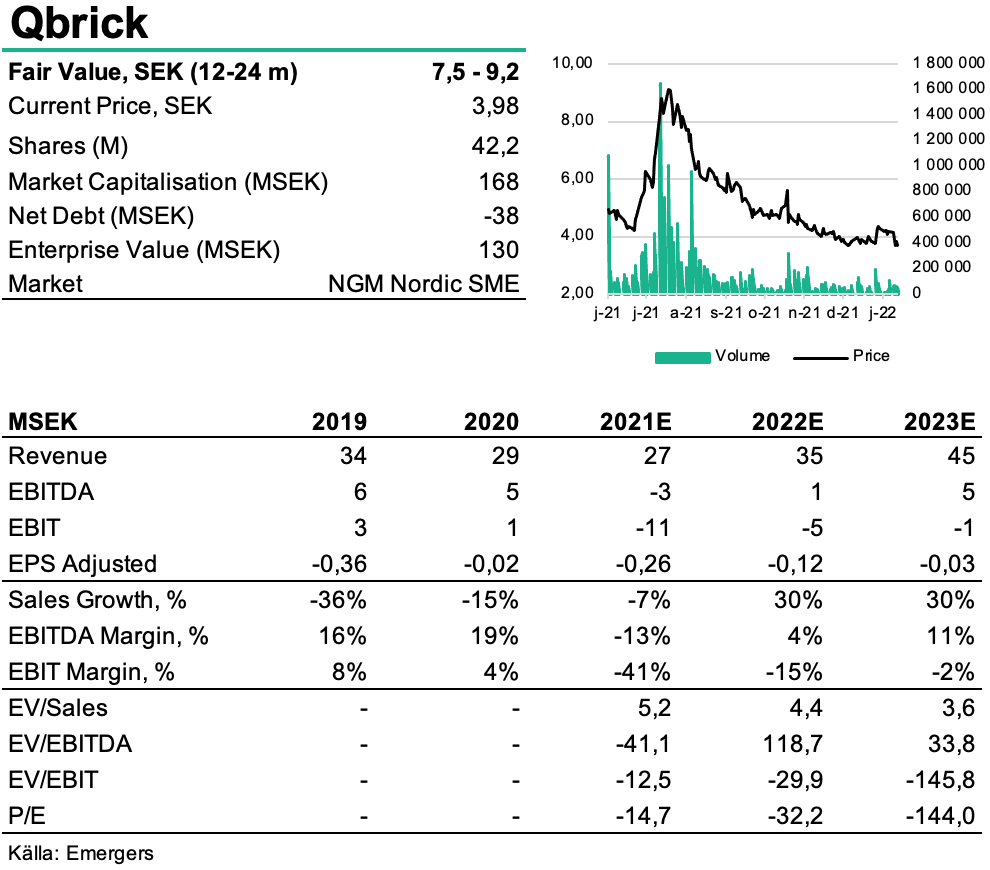 Se Emergers analytiker Johan Widmark presentera Emergers syn på caset
Läs vår initieringsanalys på Qbrick här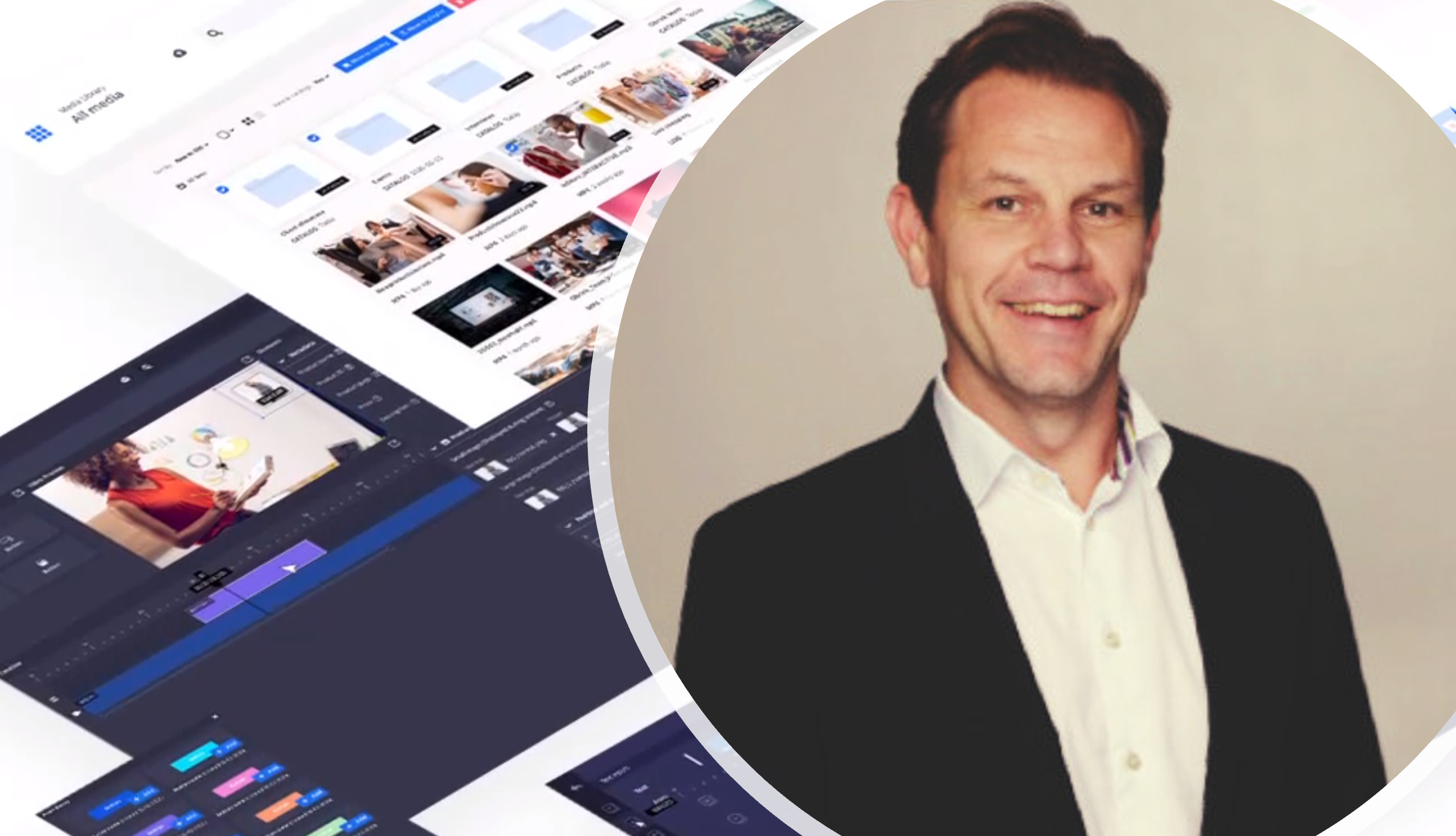 Med en redan stark position på den nordiska marknaden för B2B-video som plattform satsar Qbrick på att ta ledartröjan inom snabbväxande engagemangstjänster som videoshopping och virtuella möten, samtidigt som man
Läs analysen här »
DISCLAIMER
Information som tillhandahålls av Emergers eller på Emergers webbplats, emergers.se är inte avsedd att vara finansiell rådgivning. Emergers mottar ersättning för att skriva om bolaget på den här sidan. Bolaget har givits möjlighet att påverka faktapåståenden före publicering, men prognoser, slutsatser och värderingsresonemang är Emergers egna. Analysartiklar skall ej betraktas som en rekommendation eller uppmaning att investera i bolagen som det skrivs om. Emergers kan ej garantera att de slutsatser som presenteras i analysen kommer att uppfyllas. Emergers kan ej hållas ansvariga för vare sig direkta eller indirekta skador som orsakats av beslut fattade på grundval av information i denna analys. Investerare uppmanas att komplettera med ytterligare material och information samt konsultera en finansiell rådgivare inför alla investeringsbeslut.

HANTERING AV PERSONUPPGIFTER
Emergers skickar ut enkäter för att samla in kvantitativa och kvalitativa data. Syftet är att förstå hur ett visst bolag uppfattas på marknaden. Dina personuppgifter behandlas bara om du deltar i undersökningen. De data som Emergers publicerar eller delar med bolag är alltid anonymiserade och går inte att knyta till dig som person. För mer information om hur vi hanterar personuppgifter, se https://www.emergers.se/personuppgifter-i-enkater/