Med avtalet om en Agtira Complete till ICA Maxi Östersund klart ser vi goda chanser för islossning för Agtira med snabbare avtalsförhandlingar framöver. Med en stabil utrullning av system under 2022 som sedan tar fart 2023 justerar vi motiverat värde till 14-18 (13-18) SEK per aktie på 18-24 mån sikt, justerat för utspädningen vid en förväntad nyemission, samtidigt som en hög aktivitet på marknaden med bolagsvärderingar i miljardklassen internationellt ger stöd för en än högre omvärderingspotential.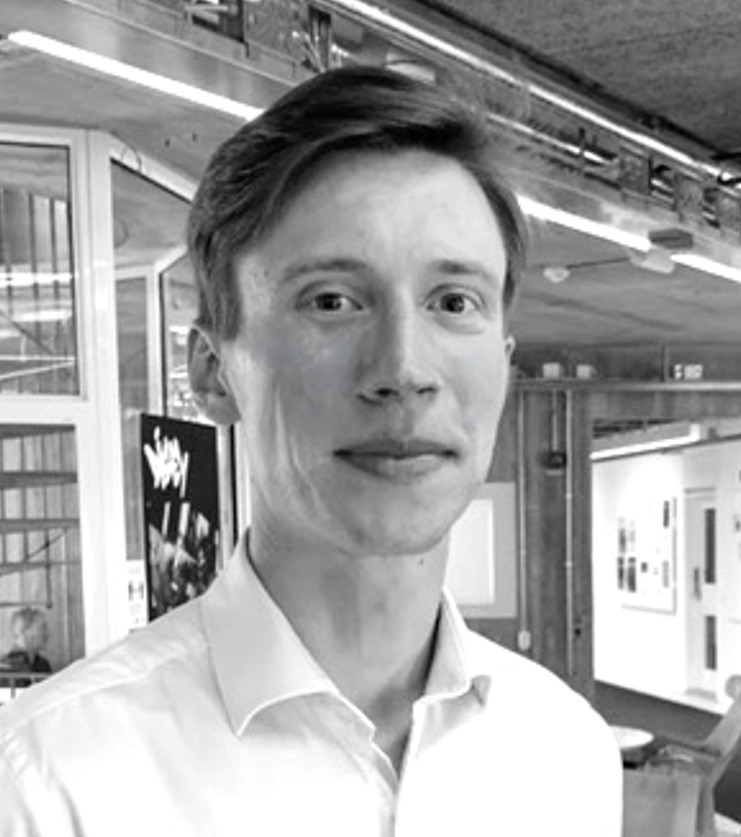 Andreas Eriksson | 2021-10-07 09:00
This commissioned research report is for informational purposes only and is to be considered marketing communication. This research report has not been prepared in accordance with legal requirements designed to promote the independence of investment research and Emergers is not subject to any prohibition on dealing ahead of the dissemination of investment research. This research does not constitute investment advice and is not a solicitation to buy shares. For more information, please refer to disclaimer.

---
Completeavtal med potentiellt ordervärde på 38 MSEK
De länge pågående diskussionerna med ICA Maxi Östersund har äntligen avslutats och parterna är överens om uppförandet av en Agtira Complete med byggstart våren 2022. Potentiella ordervärdet på 38 MSEK är välkommet, men vi menar att det största värdet i nyheten snarare ligger i att Agtira nu lyckats få till ett avtal med både ICA Fastigheter (som äger alla ICA:s byggnader) och ICA Maxi Östersund, vilket bör underlätta avsevärt vid förhandlingar med nya kunder. Avtalet innebär att Agtira självt står anläggningen och säljer varor till ICA i upp till fyra år innan förväntat överlämnande, vilket bolaget inte har för avsikt att göra i framtiden. Som ett resultat av den högre än väntade kapitalbindningen tidigareläggs därför tidpunkten för vår förväntan på den förestående nyemissionen.
Miljardvärderingar för bolag inom vertikalodling
Vertikalodling är en marknad som växer i ett rasande tempo där
Allied Market Research
räknar med att marknaden ska växa med 22,9% CAGR till 24 miljarder USD 2030. Enligt
Bloomberg
har New Jersey-baserade AeroFarms LLC, en av jättarna inom vertikalodling i USA som fortfarande visar förlust, gått samman med Spring Valley Acquisition Corp i en SPAC-deal som värderar AeroFarms till 1,2 miljarder USD. Även Kentucky-baserade App Harvest gick till börsen i februari via en SPAC med en värdering på 1 miljard USD.
Läs vår initieringsanalys på Agtira här 
Med sikte på ledartröjan inom industriell akvaponi och inomhusodling tar nu foodtechbolaget Agtira steget från enbart producent till försäljning av system för produktion av närodlad fisk och grönsaker
Läs analysen här »
Teknik i toppklass ger stöd för omvärdering
Att Agtiras biobäddar kan odla en knepig grönsak som gurka, vilket få visat sig klara, tyder på en teknik i toppklass. Därtill kan bolaget även erbjuda sina kunder ett slutet system för odling av både protein och grönsaker, helt utan miljöfarliga utsläpp. Nu när avtalet för Agtira Complete slutligen är på plats och InStore-systemet i Sundsvall beräknas vara i drift i januari 2022 förväntar vi oss att Agtira kan kapitalisera på det stora intresse man erfarit och få se en ketchupeffekt i antal signerade avtal när förhandlingar kan snabbas på efter Östersundavtalet. Vi justerar det motiverade värdet till 14–18 (13-18) SEK per aktie på 18-24 månader sikt, då aktien stigit något sedan vår senaste analys vilket minskar utspädningseffekten vid en framtida nyemission. Samtidigt noterar vi en än högre omvärderingspotential baserat på den höga aktiviteten och de höga värderingarna i sektorn internationellt.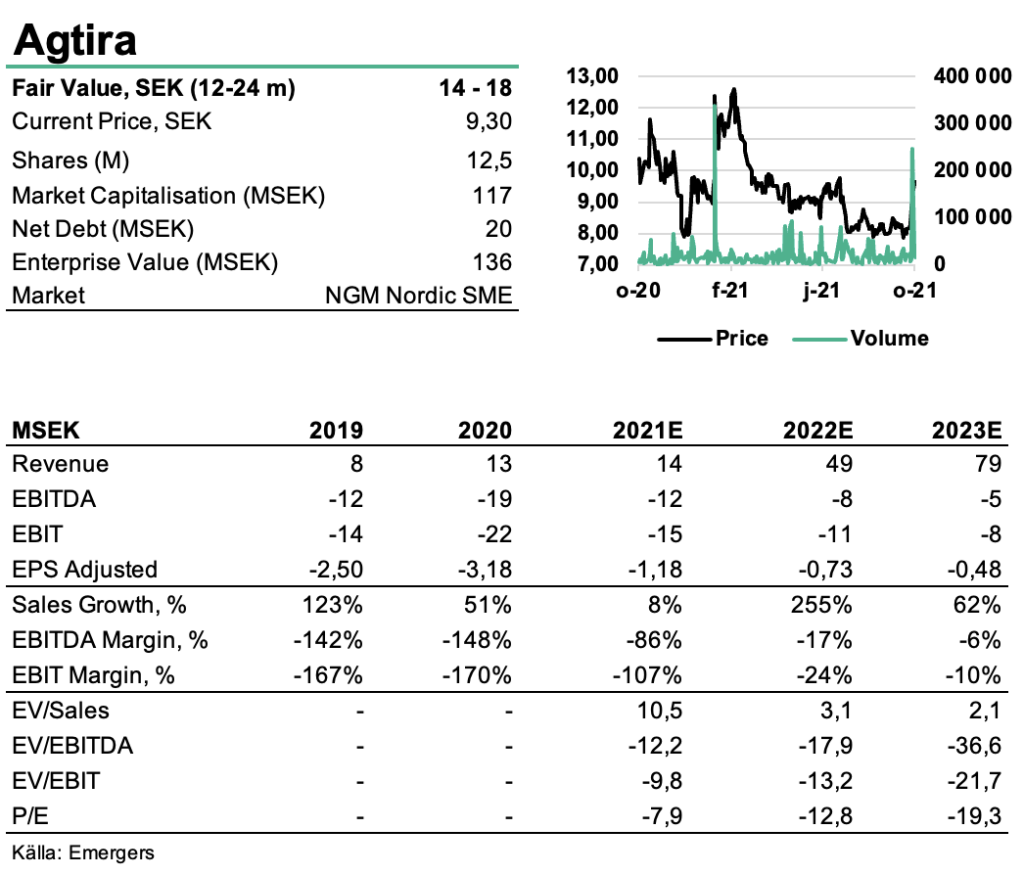 DISCLAIMER
Information som tillhandahålls av Emergers eller på Emergers webbplats, emergers.se är inte avsedd att vara finansiell rådgivning. Emergers mottar ersättning för att skriva om bolaget på den här sidan. Bolaget har givits möjlighet att påverka faktapåståenden före publicering, men prognoser, slutsatser och värderingsresonemang är Emergers egna. Analysartiklar skall ej betraktas som en rekommendation eller uppmaning att investera i bolagen som det skrivs om. Emergers kan ej garantera att de slutsatser som presenteras i analysen kommer att uppfyllas. Emergers kan ej hållas ansvariga för vare sig direkta eller indirekta skador som orsakats av beslut fattade på grundval av information i denna analys. Investerare uppmanas att komplettera med ytterligare material och information samt konsultera en finansiell rådgivare inför alla investeringsbeslut.

HANTERING AV PERSONUPPGIFTER
Emergers skickar ut enkäter för att samla in kvantitativa och kvalitativa data. Syftet är att förstå hur ett visst bolag uppfattas på marknaden. Dina personuppgifter behandlas bara om du deltar i undersökningen. De data som Emergers publicerar eller delar med bolag är alltid anonymiserade och går inte att knyta till dig som person. För mer information om hur vi hanterar personuppgifter, se https://www.emergers.se/personuppgifter-i-enkater/