Med två nya kontrakt och ett LOI under hösten pågår nu arbetet med tre system med planerad driftsättning 2022. De nya kontrakten har också öppnat för en ny modell med betydligt lägre trösklar för slutkunden, där Agtira genom tredjepartsfinansiering istället levererar en tjänst och butiken åtar sig köpa allt som produceras. Med en förväntad likafördelning mellan sålda och tjänstesystem ger vår kombinerade DCF- och multipelvärdering stöd för ett motiverat värde på 31 – 44 SEK per aktie på 18-24 mån sikt, justerat för utspädningen från en nyemission 2022.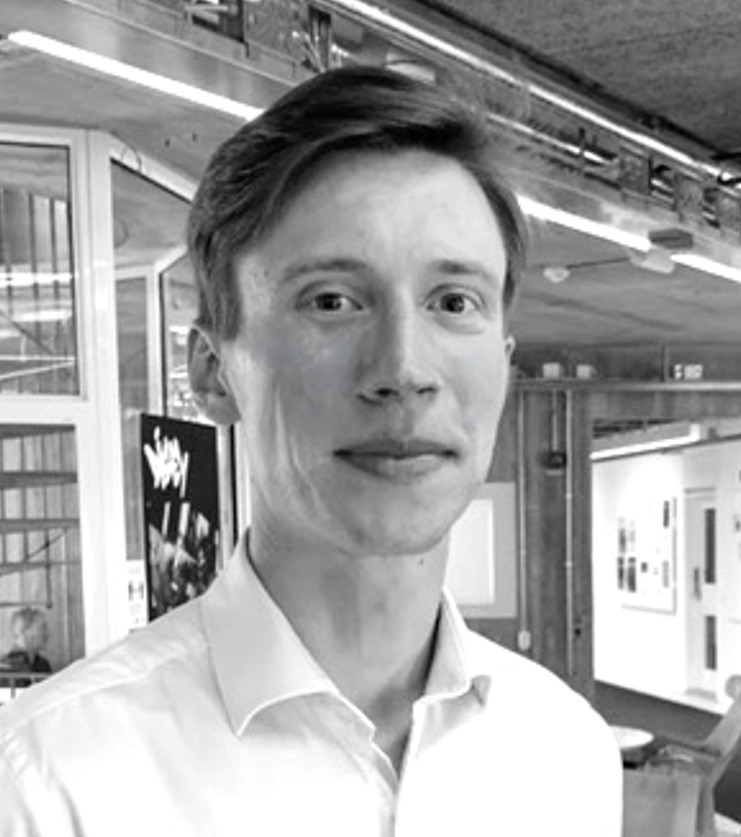 ---
Andreas Eriksson | 2021-12-22 08:00 
This commissioned research report is for informational purposes only and is to be considered marketing communication. This research report has not been prepared in accordance with legal requirements designed to promote the independence of investment research and Emergers is not subject to any prohibition on dealing ahead of the dissemination of investment research. This research does not constitute investment advice and is not a solicitation to buy shares. For more information, please refer to disclaimer.

---
Stort intresse i både Sverige och internationellt
Med ett nyligen signerat LOI för ett Agtira Greens till ICA Maxi Haninge och ett utökat avtal med ICA Maxi Skellefteå kan Agtira sammanfatta en minst sagt händelserik höst med fyra system i pipeline. Avsiktsförklaringen är av stor betydelse då den visar på att efterfrågan finns på alla versioner av bolagets system, samtidigt som det är viktigt att komma ihåg att första LOI med Östersund tog nästan ett år att omsätta till order. Vi tror dock att den tiden minskat betydligt. Medan Sverige rymmer möjlighet för Agtira att växa till ett bolag i miljardklassen finns den stora potentialen i en utrullning internationellt, där man redan för diskussioner, och vi ser goda chanser för beställningar i tiotal snarare än de enstaka system som beställts hittills.
Sänkta trösklar och bättre lönsamhet
De senaste avtalen speglar också en ny affärsmodell där Agtira initialt kommer att stå för uppförande och drift av systemen, som sedan överlåts till butiksägaren om förutbestämda produktionskvoter nås. Det är fortfarande inte helt klart hur framtida avtal kommer se ut, därför gör vi ett antagande om att 50% av systemen kommer att säljas upfront med återkommande royalty- och licensintäkter, och att resterande 50% behålls och driftas av Agtira enligt en FaaS-modell (Farming as a service) där butiken åtar sig att köpa allt som produceras. FaaS-modellen bör avsevärt sänka trösklarna för butiksägarna, samtidigt som modellen också kräver både en partner för finansieringen och sannolikt även en extern part som äger fastigheten, vilket introducerat nya osäkerhetsfaktorer tills dessa partners kommit på plats.
Läs vår initieringsanalys på Agtira här 
Med sikte på ledartröjan inom industriell akvaponi och inomhusodling tar nu foodtechbolaget Agtira steget från enbart producent till försäljning av system för produktion av närodlad fisk och grönsaker
Läs analysen här »
Ny affärsmodell ger stöd för 31–44 SEK per aktie
Med årliga intäkter om 3-4 MSEK per stort system och 0,8 MSEK per InStore-system räknar vi med starka långsiktiga kassaflöden för FaaS-systemen. Vi räknar med en takt på totalt fem nya system 2022 som ökar till 20 nya system 2025. En kombinerad värdering genom en DCF, jämförelsebolag och multiplar, inklusive en osäkerhetsrabatt på 25% till bolaget hittat rätt finansiering- och fastighetspartner ger sammantaget stöd för ett motiverat värde på 31-44 SEK per aktie (14-18) på 18-24 mån sikt, med hänsyn tagen till en förväntad nyemission på 20 MSEK under 2022. De viktigaste katalysatorerna för en fortsatt omvärdering är att bolaget lyckas knyta till sig partners för finansiering och fastigheter, samt nya systemavtal med butiker, samtidigt som vi noterar en ännu högre potential på sikt vid en internationell utrullning.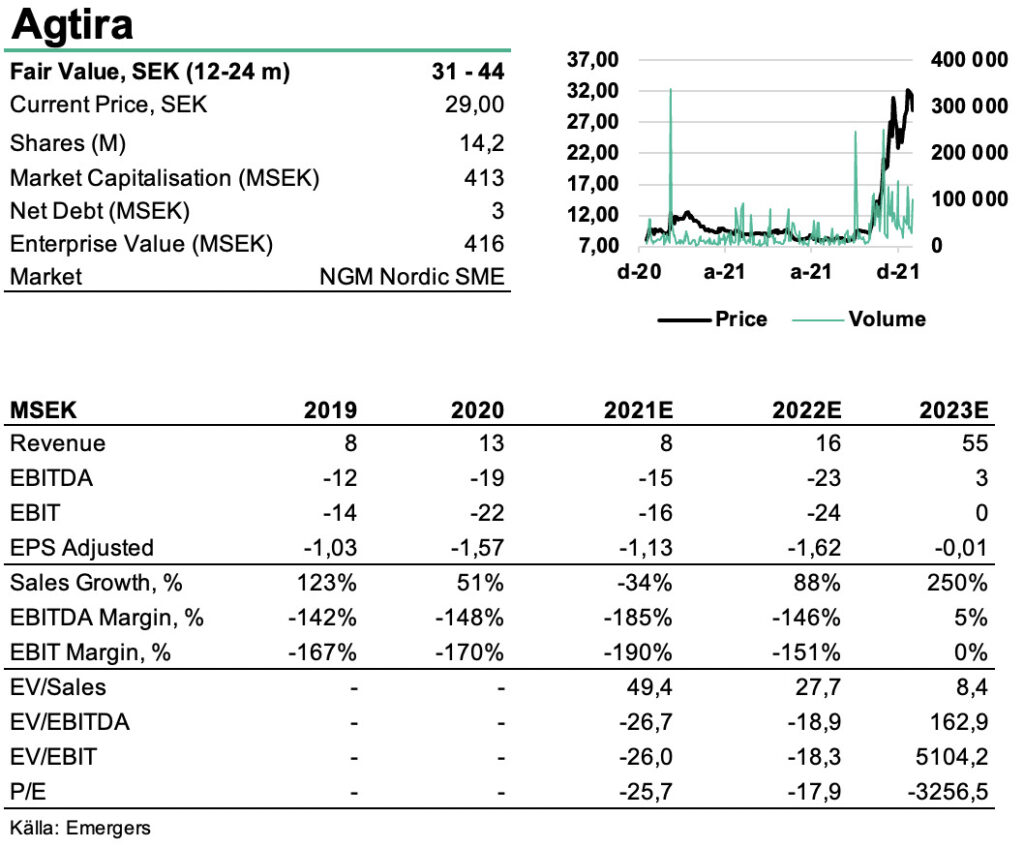 DISCLAIMER
Information som tillhandahålls av Emergers eller på Emergers webbplats, emergers.se är inte avsedd att vara finansiell rådgivning. Emergers mottar ersättning för att skriva om bolaget på den här sidan. Bolaget har givits möjlighet att påverka faktapåståenden före publicering, men prognoser, slutsatser och värderingsresonemang är Emergers egna. Analysartiklar skall ej betraktas som en rekommendation eller uppmaning att investera i bolagen som det skrivs om. Emergers kan ej garantera att de slutsatser som presenteras i analysen kommer att uppfyllas. Emergers kan ej hållas ansvariga för vare sig direkta eller indirekta skador som orsakats av beslut fattade på grundval av information i denna analys. Investerare uppmanas att komplettera med ytterligare material och information samt konsultera en finansiell rådgivare inför alla investeringsbeslut.

HANTERING AV PERSONUPPGIFTER
Emergers skickar ut enkäter för att samla in kvantitativa och kvalitativa data. Syftet är att förstå hur ett visst bolag uppfattas på marknaden. Dina personuppgifter behandlas bara om du deltar i undersökningen. De data som Emergers publicerar eller delar med bolag är alltid anonymiserade och går inte att knyta till dig som person. För mer information om hur vi hanterar personuppgifter, se https://www.emergers.se/personuppgifter-i-enkater/