Det händer mycket på marknaden för vertikalodling och urban farming just nu, och trenden har vuxit sig allt starkare även i Sverige. Med en första avsiktsförklaring med Greenfood, ägare av Picadeli, ska Agtira bygga upp till tio större system i främst storstadsregioner, med en sannolik framtida utökning. Samtidigt kommer Agtira inviga sitt första InStore-system hos ICA Maxi Sundsvall nästa vecka. Vi behåller för närvarande vårt motiverade värde på 32-46 SEK per aktie, då Agtira ännu saknar partners för fastigheter och finansiering, vilket vi ser som centrala triggers för en omvärdering.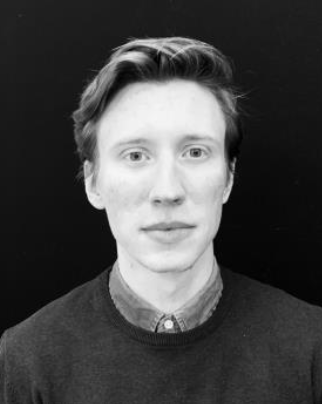 ---
Andreas Eriksson | 2022-04-25 08:00 
This commissioned research report is for informational purposes only and is to be considered marketing communication. This research report has not been prepared in accordance with legal requirements designed to promote the independence of investment research and Emergers is not subject to any prohibition on dealing ahead of the dissemination of investment research. This research does not constitute investment advice and is not a solicitation to buy shares. For more information, please refer to disclaimer.

---
Storsatsning tillsammans med ägaren till Picadeli
Agtira har ingått en första avsiktsförklaring med livsmedelkoncernen Greenfood där bolagen tillsammans gör en större satsning på urban farming. Avsiktsförklaringen omfattar initialt upp till tio system av typen Greens, men vi ser stora möjligheter för ett betydligt större samarbete på sikt med tanke på Greenfoods starka närvaro både i Sverige och övriga Europa. Systemen ska uppföras och driftas av Agtira enligt en FaaS-modell, där Greenfood åtar sig köpa allt som produceras. Vi räknar med att varje Greenssystem kommer att inbringa årliga intäkter på ca 3 MSEK, och bolaget kommunicerar själva att de ser en potential i hundramiljonersklassen förutsatt att hela planen blir verklighet. Vi tror att vi kommer få se fler avtal och samarbeten av den här sorten framöver, där beställningar kommer i tiotal istället för enskilda system, framför allt när Agtira ser öppningen för en internationell utrullning.
Historisk milstolpe för Agtira
Sedan någon vecka tillbaka är Agtiras första system, InStore som uppförts hos ICA Maxi Sundsvall, i drift, och än så länge har systemet driftats helt enligt plan. På torsdag den 29/4 sker den officiella invigningen och vi anser att milstolpen är av stor vikt, dels för att det blir bolagets första intäkter från FaaS, men framför allt för att Agtira nu har en första operationell installation ute i butik som de kan visa för potentiella kunder. Samtidigt har vertikalodling och urban farming fått allt större uppmärksamhet på hemmaplan. Tidigare i år tog foodtechbolaget Ljusgårda in 170 MSEK, vilket värderar bolaget till över miljarden samtidigt som hydroponibolaget Farmy framgångsrikt hoppat på urban farming-tåget med hemmaodlade örter som säljs till restauranger och butiker. Marknaden gynnas av starka underliggande hållbara drivkrafter, där betydelsen av närodlat utan bekämpningsmedel blir allt viktigare, samtidigt som det erbjuder butiker, restauranger och hotell en "wow-faktor" med egenproducerade livsmedel. Allt detta ser vi som indikation på att branschen utvecklas och växer, vilket öppnar dörrar till nya slutkunder för Agtiras system.
Läs vår initieringsanalys på Agtira här 
Med sikte på ledartröjan inom industriell akvaponi och inomhusodling tar nu foodtechbolaget Agtira steget från enbart producent till försäljning av system för produktion av närodlad fisk och grönsaker
Läs analysen här »
Viktig trigger ger stöd för omvärdering
Samarbetet med Greenfood innebär både en jämförelsevis stor volym av Greenssystem, men visar också att Agtira inte enbart är bundna till livsmedelsbutiker som kunder. I takt med att fler pusselbitar faller på plats ser vi en fastighets- och finansieringspartner för Agtiras FaaS-avtal som en allt mer central trigger. Med ett sådant upplägg på plats ser vi att utrullningstakten kan öka avsevärt jämfört med vad vi tidigare räknat med. Till dess och vi sett detaljerna på sådana avtal behåller vi vårt motiverade värde på 32-46 SEK per aktie på 18-24 mån sikt, samtidigt som vi är fortsatt positiva till en upptrappad utrullning i Sverige med stora möjligheter internationellt. Verksamheten är dock förknippad med betydande risker, såsom att hitta attraktiva platser för fastigheter i urbana miljöer och tröghet i beslutfattande hos kunder.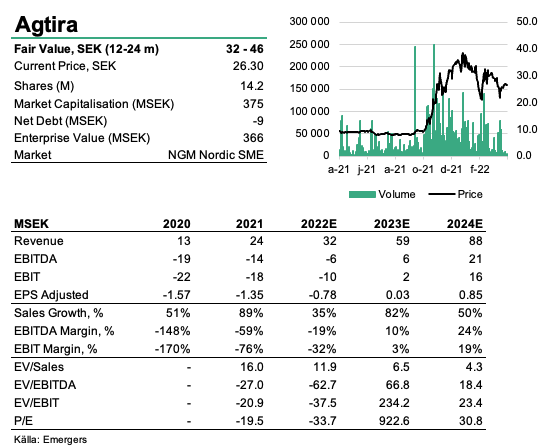 DISCLAIMER
Information som tillhandahålls av Emergers eller på Emergers webbplats, emergers.se är inte avsedd att vara finansiell rådgivning. Emergers mottar ersättning för att skriva om bolaget på den här sidan. Bolaget har givits möjlighet att påverka faktapåståenden före publicering, men prognoser, slutsatser och värderingsresonemang är Emergers egna. Analysartiklar skall ej betraktas som en rekommendation eller uppmaning att investera i bolagen som det skrivs om. Emergers kan ej garantera att de slutsatser som presenteras i analysen kommer att uppfyllas. Emergers kan ej hållas ansvariga för vare sig direkta eller indirekta skador som orsakats av beslut fattade på grundval av information i denna analys. Investerare uppmanas att komplettera med ytterligare material och information samt konsultera en finansiell rådgivare inför alla investeringsbeslut.

HANTERING AV PERSONUPPGIFTER
Emergers skickar ut enkäter för att samla in kvantitativa och kvalitativa data. Syftet är att förstå hur ett visst bolag uppfattas på marknaden. Dina personuppgifter behandlas bara om du deltar i undersökningen. De data som Emergers publicerar eller delar med bolag är alltid anonymiserade och går inte att knyta till dig som person. För mer information om hur vi hanterar personuppgifter, se https://www.emergers.se/personuppgifter-i-enkater/