Rapporten för Q2'21 visar att dLabs sikte på en världsomspännande ström av återkommande Saas-intäkter är förknippad med långa ledtider som kommer kräva en del tålamod. Samtidigt rapporterar bolaget om uppmuntrade aktivitet internationellt, parallellt med förvärvet av Svensk Linjebesiktning som vi räknar med kan bidra till att bolaget visar vinst redan 2024E. Trots en något svag adaption i kvartalet behåller vi våra långsiktiga utsikter för bolaget, och ser stöd för ett motiverat ett värde på 14-17 SEK på 18-24 mån sikt, till en medelhög risk.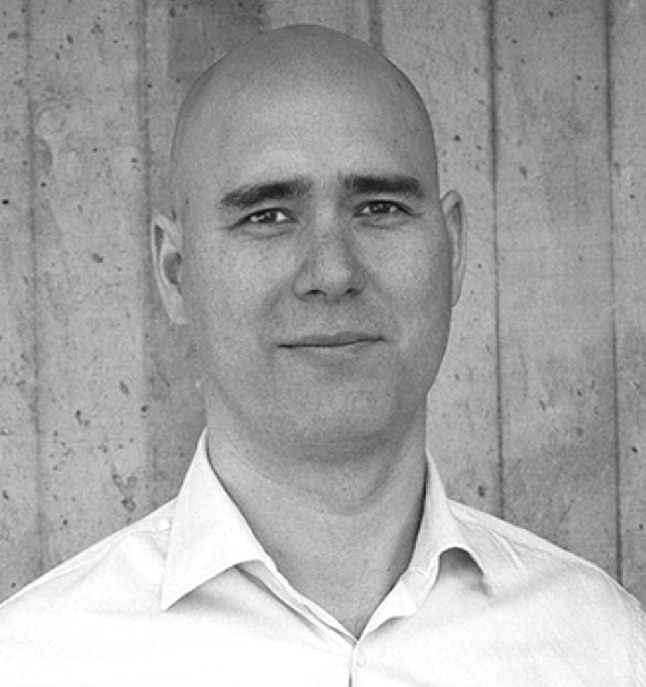 ---
Johan Widmark | 2021-08-27 09:30
This commissioned research report is for informational purposes only and is to be considered marketing communication. This research report has not been prepared in accordance with legal requirements designed to promote the independence of investment research and Emergers is not subject to any prohibition on dealing ahead of the dissemination of investment research. This research does not constitute investment advice and is not a solicitation to buy shares. For more information, please refer to disclaimer.

---
Intäktsutveckling i Q2'21 svagare än förväntat
Rapporten för andra kvartalet speglade en långsammare adaption av dLabs erbjudande än vad vi ursprungligen räknat med, med totala intäkter på knappt 1 MSEK hittills i år. Halveringen jämfört med samma period förra året är dock inte så alarmerande som den kan verka, då bolaget sedan dess ändrat affärsmodellen mot ett kraftigt minskat påslag på hårdvarudelen vid installation och högre återkommande abonnemangsintäkter. Bolaget rapporterar dock om en hög sälj- och marknadsaktivitet, med räckvidd ända från USA till Indonesien, som vi räknar med ska kunna omsättas i affärer kommande året.
Förvärv av SLB förändrar profilen på dLab framöver
Från tredje kvartalet så räknar vi med att se en helt annan profil på resultaträkningen då Svensk Linjebesiktning (SLB) förvärvades 2 augusti i år, och bidrar med 50 MSEK i årstakt. Med förvärvet utökar dLab sitt erbjudande från övervakning och tidig varning om fel i näten till att exakt kunna peka ut fel och föreslå åtgärd, från fokus på fördelningsstationerna till hela elnäten, och från en helt digital tjänst till kompletterande fysisk närvaro. Med nya erbjudanden under utrullning räknar vi med att 2021 blir ett mellanår för SLB som sedan bör kunna prestera 8-10% EBIT-marginal från 2022 och även växa tvåsiffrigt drivet av en ökad kundnytta i erbjudandet. Sammantaget med uppbyggnaden av en bas av återkommande abonnemangsintäkter från dLabs digitala tjänst räknar vi med att förvärvet kommer bidra till lönsamhet redan 2024E och 14% EBIT-marginal 2025E.
Läs vår initieringsanalys på Dlab här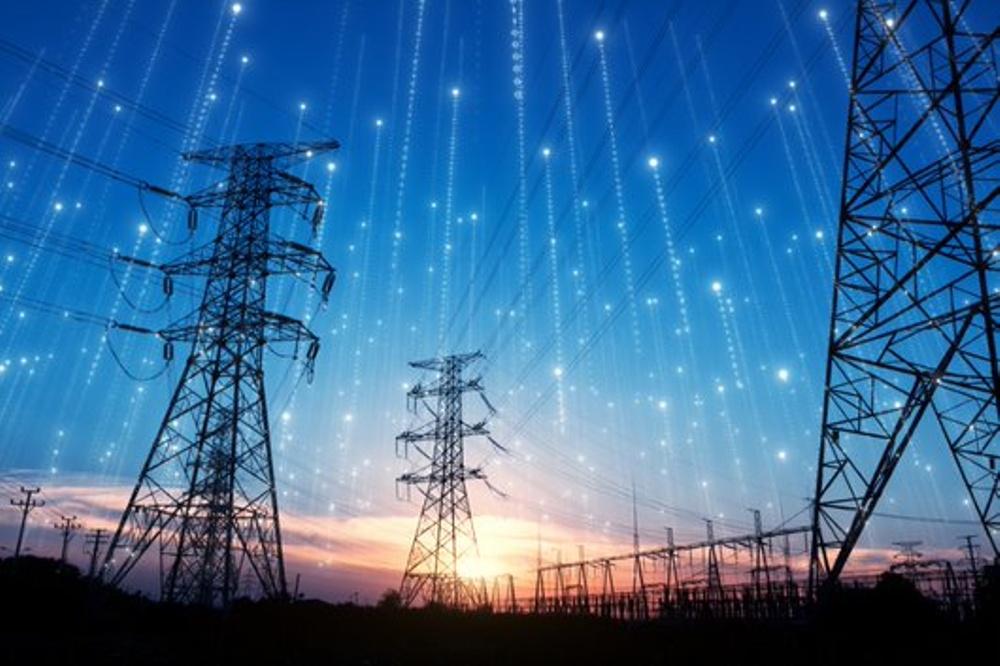 Dlaboratory Sweden AB Baserat på en unik databas av 10 års driftsdata och en patenterad mjukvara erbjuder dLab ägare av elnät analys och realtidsövervakning som både optimerar drift och underhåll,
Läs analysen här »
Fortsatt förväntan om hög utrullningstakt till 2025
Sammantaget har vi justerat ner våra förväntningar i närtid på dLab efter rapporten och räknar nu med intäkter på ca 24 MSEK på helåret 2021, där SLB väntas bidra med 19 MSEK. Vi behåller dock vår långsiktiga förväntan på 600 enheter anslutna på hemmamarknaderna och 800 enheter anslutna utanför hemmamarknaderna till slutet av 2025, vilket översätter till återkommande intäkter på 80 MSEK per år för den ursprungliga kärnverksamheten. Tillsammans med en del hårdvaruintäkter och SLBs verksamhet ger det stöd för ett motiverat värde på 14-17 SEK på 18-24 månader, baserat på DCF och multiplar. Vi fortsätter se en medelhög risk i dLab, där de viktigaste riskerna utgörs av långa ledtider och trösklar till adaption, som Q2-rapporten gav ett litet prov på. En viktig potentiell trigger framöver är pilotprojektet hos jättekunden i Jakarta, som är igång, levererar data och befinner sig i utbildnings- och utvärderingsfas, med en långsiktig potential på 150 MSEK.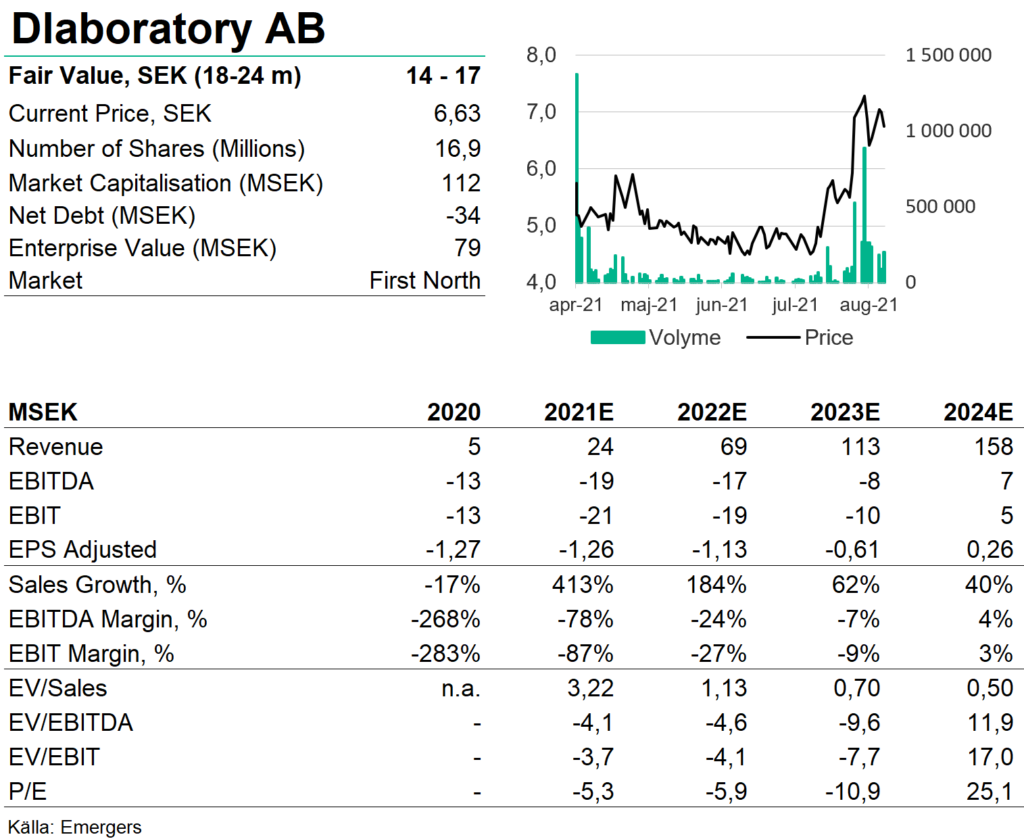 DISCLAIMER
Information som tillhandahålls av Emergers eller på Emergers webbplats, emergers.se är inte avsedd att vara finansiell rådgivning. Emergers mottar ersättning för att skriva om bolaget på den här sidan. Bolaget har givits möjlighet att påverka faktapåståenden före publicering, men prognoser, slutsatser och värderingsresonemang är Emergers egna. Analysartiklar skall ej betraktas som en rekommendation eller uppmaning att investera i bolagen som det skrivs om. Emergers kan ej garantera att de slutsatser som presenteras i analysen kommer att uppfyllas. Emergers kan ej hållas ansvariga för vare sig direkta eller indirekta skador som orsakats av beslut fattade på grundval av information i denna analys. Investerare uppmanas att komplettera med ytterligare material och information samt konsultera en finansiell rådgivare inför alla investeringsbeslut.

HANTERING AV PERSONUPPGIFTER
Emergers skickar ut enkäter för att samla in kvantitativa och kvalitativa data. Syftet är att förstå hur ett visst bolag uppfattas på marknaden. Dina personuppgifter behandlas bara om du deltar i undersökningen. De data som Emergers publicerar eller delar med bolag är alltid anonymiserade och går inte att knyta till dig som person. För mer information om hur vi hanterar personuppgifter, se https://www.emergers.se/personuppgifter-i-enkater/