Den starka tillväxten (om än från mycket låga nivåer) i Bonzuns första rapport som noterat bolag skänker trovärdighet åt ledningens plan att skaka liv i Bonzun evolve (tidigare Papillys Stressprogrammet), samtidigt som rapporteringen ännu inte omfattar bolagets kärnverksamhet, Bonzun IVF. Med kapacitet att öka sannolikheten för en IVF-graviditet med 49%, en kombinerad D2C & B2B-strategi och en långsiktig strukturell tillväxt för IVF, ser vi stöd för en uppskalning mot 50 000 användare till 2024. Efter att förutsättningarna för att ta in kapital för att accelerera tillväxten försämrats med kursnedgången ser vi stöd för ett motiverat värde på 7,00-9,50 SEK på 18-24 mån sikt.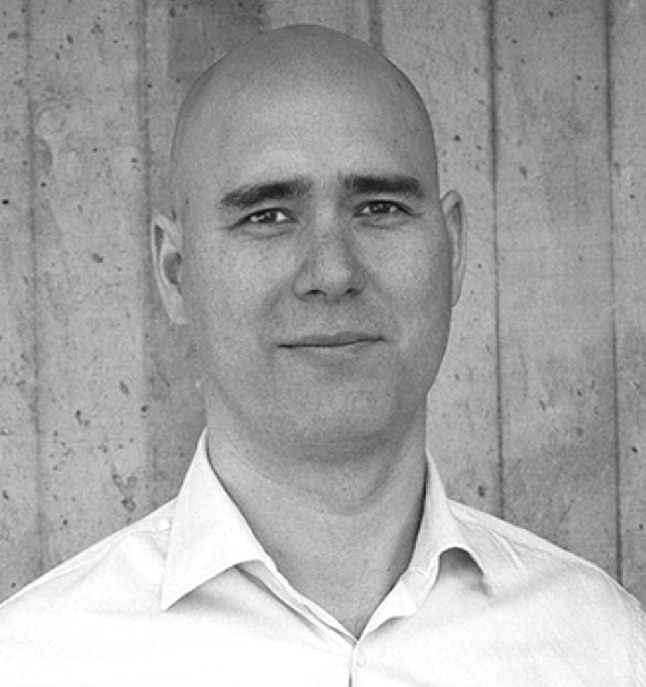 ---
Johan Widmark | 2021-11-18 08:00 | DISCLOSURE: Emergers ägarbolag Incirrata AB äger aktier i Bonzun AB.
This commissioned research report is for informational purposes only and is to be considered marketing communication. This research report has not been prepared in accordance with legal requirements designed to promote the independence of investment research and Emergers is not subject to any prohibition on dealing ahead of the dissemination of investment research. This research does not constitute investment advice and is not a solicitation to buy shares. For more information, please refer to disclaimer.

---
Överraskande framsteg med Bonzun evolve
Trots ett organisatoriskt och strukturellt händelserikt kvartal, med det omvända förvärvet av Papilly och tillhörande notering av Bonzun, har den nya ledningen hunnit doppa tårna i sin plan att accelerera försäljningen av Bonzun evolve (tidigare Papillys kärnprodukt Stressprogrammet), där man annonserat nya affärer med IVL Svenska Miljöinstitutet, KTH och Transportföretagen. Q3-rapporten visar dessutom en mycket stark tillväxt för evolve på över 1100% i kvartalet och 59% hittills i år. Även om det är från mycket låga nivåer skänker det ändå kredibilitet åt bolagets syn att det finns en livskraftig produkt att bygga vidare på, i tillägg till Bonzuns kärnverksamhet, Bonzun IVF.
Tillväxt i bootstrap-mode tills kursen stabiliserats
Eftersom det omvända förvärvet ägde rum 30:e september, alltså vid utgången av Q3, omfattar rapporten inte Bonzun IVF:s verksamhet. Det kraftiga tappet i aktiekursen, på ca -60% sedan dess gör att vi tror att bolaget avvaktar med den emission man flaggat för tidigare, tills kursen stabiliserats. Men med rätt partnerskapsavtal med IVF-klinker och andra B2B-aktörer, ser vi ändå goda chanser att bolaget ska lyckas accelerera tillväxten och sänka kostnaden för att växa, även om det inledningsvis kan bli en skakigare resa i bootstrap-mode. Sammantaget behåller vi vår långsiktiga syn på utsikterna, där vår förväntan om 50 000 betalande användare 2024 motsvarar intäkter över 50 MSEK.
BV <40 MSEK lämnar betydande utrymme för omvärdering
Även justerat för de försämrade villkoren att resa tillväxtkapital genom en företrädesemission på nuvarande nivåer, ger dagens börsvärde <40 MSEK utrymme för en betydande omvärdering i takt med att bolaget ökar förståelsen på marknaden för bolagets kärnaffär, Bonzun IVF och rapporterar om framsteg med partnerskapsavtal och kundintag. Baserat på jämförelsemultiplar och DCF ser vi nu stöd för ett motiverat värde 7,00-9,50 SEK (12-15) på ett till två års sikt. Samtidigt fortsätter vi notera risker med verkställande, uppskalning och tröghet i beslutsvägar hos partners.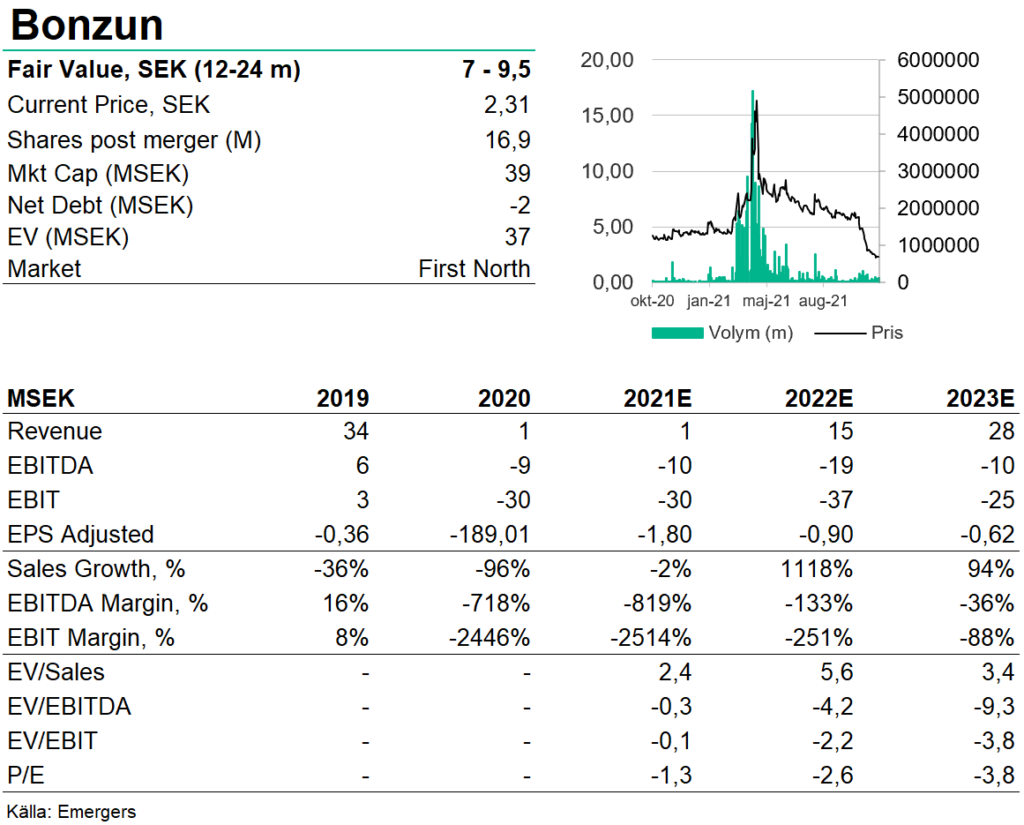 Läs vår initieringsanalys på Bonzun här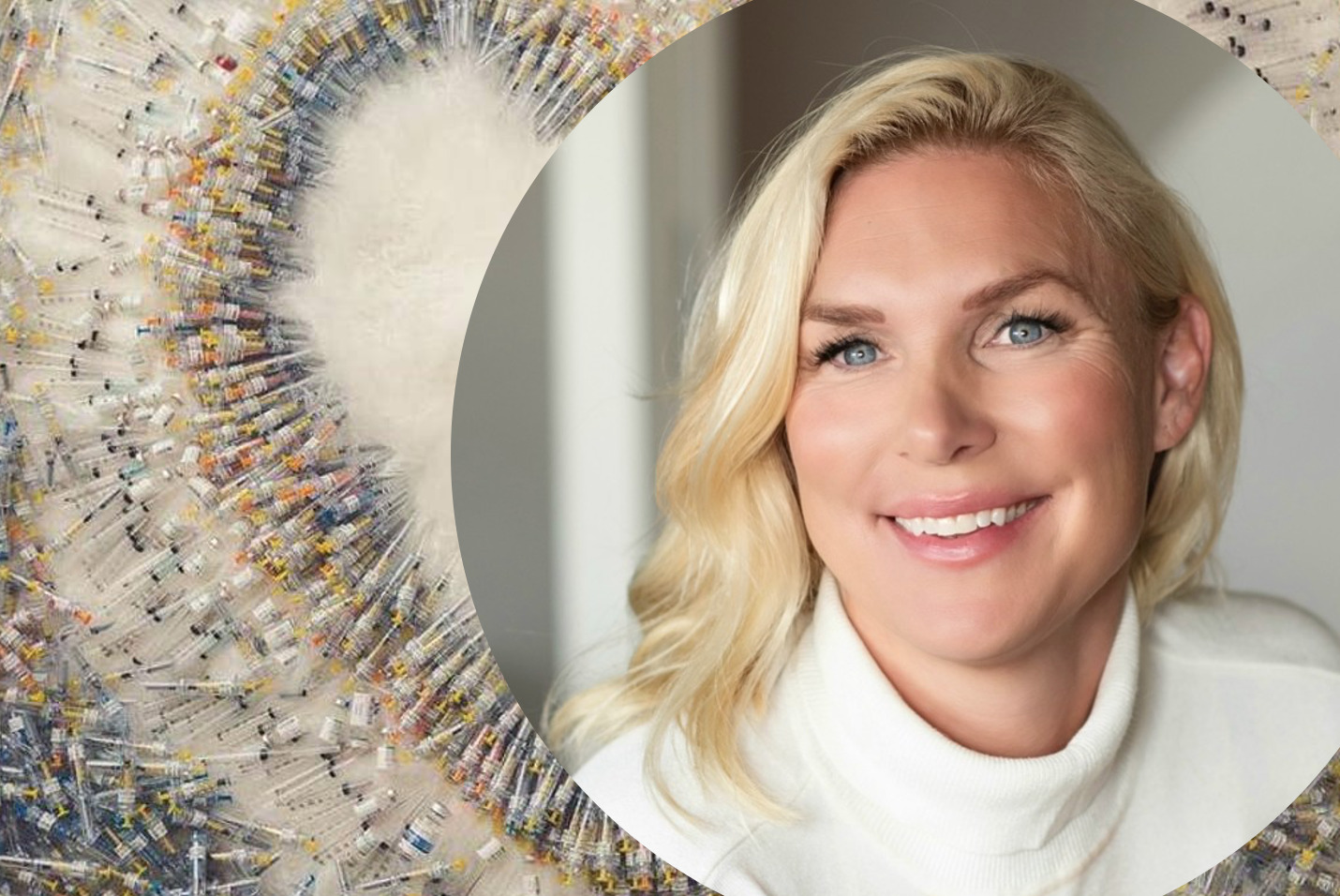 Efter Papillys omvända förvärv av Bonzun är fokus inställt på att på digital väg stötta de kvinnor som genomgår psykiskt påfrestande IVF-behandlingar för att avhjälpa sin infertilitet. Genom att kraftigt
Read research report here
DISCLAIMER
Information som tillhandahålls av Emergers eller på Emergers webbplats, emergers.se är inte avsedd att vara finansiell rådgivning. Emergers mottar ersättning för att skriva om bolaget på den här sidan. Bolaget har givits möjlighet att påverka faktapåståenden före publicering, men prognoser, slutsatser och värderingsresonemang är Emergers egna. Analysartiklar skall ej betraktas som en rekommendation eller uppmaning att investera i bolagen som det skrivs om. Emergers kan ej garantera att de slutsatser som presenteras i analysen kommer att uppfyllas. Emergers kan ej hållas ansvariga för vare sig direkta eller indirekta skador som orsakats av beslut fattade på grundval av information i denna analys. Investerare uppmanas att komplettera med ytterligare material och information samt konsultera en finansiell rådgivare inför alla investeringsbeslut.

HANTERING AV PERSONUPPGIFTER
Emergers skickar ut enkäter för att samla in kvantitativa och kvalitativa data. Syftet är att förstå hur ett visst bolag uppfattas på marknaden. Dina personuppgifter behandlas bara om du deltar i undersökningen. De data som Emergers publicerar eller delar med bolag är alltid anonymiserade och går inte att knyta till dig som person. För mer information om hur vi hanterar personuppgifter, se https://www.emergers.se/personuppgifter-i-enkater/