Pegrocos åtagande om att partiellt garantera finansieringen sänker risken i caset och sänder en särskilt positiv signal då man åtar sig att teckna till en kurs ca 35% över dagens mindre än 6 mån bort. Trots en kraftig korrigering är järnmalmspriset på en historiskt hög nivå som borgar för god lönsamhet på Dannemora med en IRR på 34%. Med förväntan om ytterligare besked om båda projekt i Q4'21 och miljötillståndsansökan i Q1'22 ser vi stöd för ett motiverat värde på 0,12-0,19 SEK justerat för full finansiering av projekten på 18-24 mån sikt.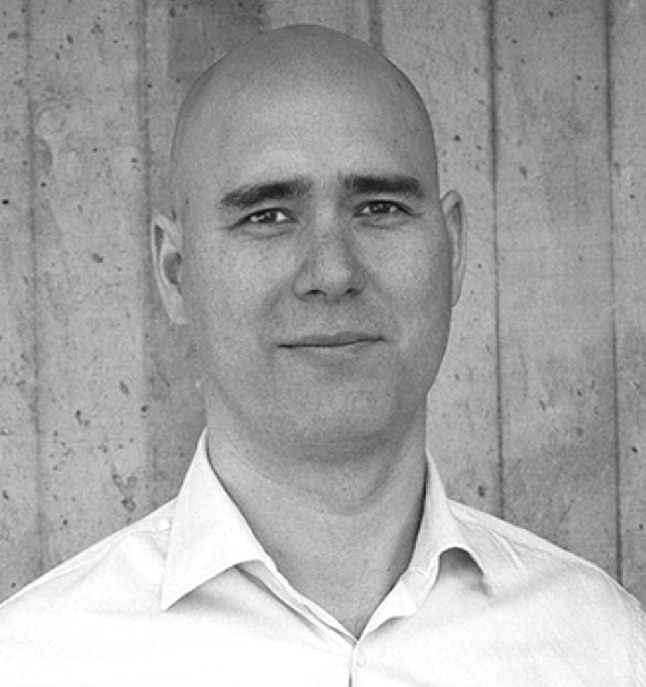 ---
Johan Widmark | 2021-09-28 08:40 
This commissioned research report is for informational purposes only and is to be considered marketing communication. This research report has not been prepared in accordance with legal requirements designed to promote the independence of investment research and Emergers is not subject to any prohibition on dealing ahead of the dissemination of investment research. This research does not constitute investment advice and is not a solicitation to buy shares. For more information, please refer to disclaimer.

---
Starkt positiv signal från storägare
Med avtalet med femte största ägaren Pegroco på 15 MSEK, och styrelse, ledning och andra närståendes teckningsåtagande på 1,1 MSEK, har GRANGEX nu säkerställt full teckning av det återstående beloppet i TO3. Enligt överenskommelsen åtar Pegroco sig att i en riktad nyemission teckna det antal aktier i GRANGEX som inte har tecknats av optionsinnehavare genom utnyttjande av teckningsoptioner av serie TO3. Pegroco gör ett liknande åtagande för TO4 i januari 2022, till högst 15 MSEK vilket motsvarar 32% av TO4. För bägge emissioner är teckningskursen för Pegroco densamma som för optionsinnehavarna, 5,4 öre resp. 7,2 öre. I synnerhet åtagandet för TO4 sänder en särskilt positiv signal då det innebär ett åtagande om att teckna aktier på en kurs ca 35% över senaste betalt i aktien, mindre än ett halvår bort.
"Från fossilberoende till metallberoende"
EU-kommissionen har varnat för att kilmatteknologierna i den gröna omställningen är förknippade med ett ökat metallbehov som riskerar att skapa ett metallberoende. Samtidigt har det stormat kring råvaruprojekt, inte minst med osäkerheten med Cementa. Tidigare i september klargjorde dock avgående statsminister Stefan Löfven att "Sverige behöver fler gruvor för att klara klimatomställningen" i en intervju med Norrländska Socialdemokraten. Även om ingen ersättare utsetts ännu så syns samma budskap i partistyrelsens gemensamma förslag till kongressen 3-7 november: "Nya gruvor ska kunna öppnas för att säkra tillgång till nödvändiga och innovationskritiska metaller och mineraler. Det är viktigt både för jobben och klimatet. Tillståndsprocesser ska effektiviseras för både befintliga och nya verksamheter."
Sänkt risk och flertal potentiella triggers framöver
Sedan rekordnoteringen på långt över 200 USD i somras har järnmalmspriset droppat brant, till en fortfarande historiskt hög nivå, på 136 USD per ton för 65% järnhalt. GRANGEX planerade produkt på 68% kan förväntas betinga ytterligare några tiotal USD i premie. Med den förväntade produktionskostnaden på drygt 52 USD per ton som presenterades i scoping-studien innan sommaren, lämnar det utrymme för en mycket god lönsamhet i Dannemora-projektet. Vår modell visar nu en IRR på 34% för Dannemora-projektet, som inte innefattar möjligheterna till livstidsförlängning. Sammantaget ser vi nu ett motiverat värde på 0,12-0,19 SEK för aktien på 18-24 månaders sikt, samtidigt som säkerställandet av hela finansieringen i TO3 och Pegrocos åtagande för TO4 sänkt risken i caset markant. Med avseende på triggers räknar vi nu med scopingstudien för Apaptit-projektet i oktober (något fördröjt från tidigare förväntan Q3'21), pre feasibility-studien för Dannemora i december 2021 och inlämnandet av miljötillståndsansökan för båda projekt i Q1 2022.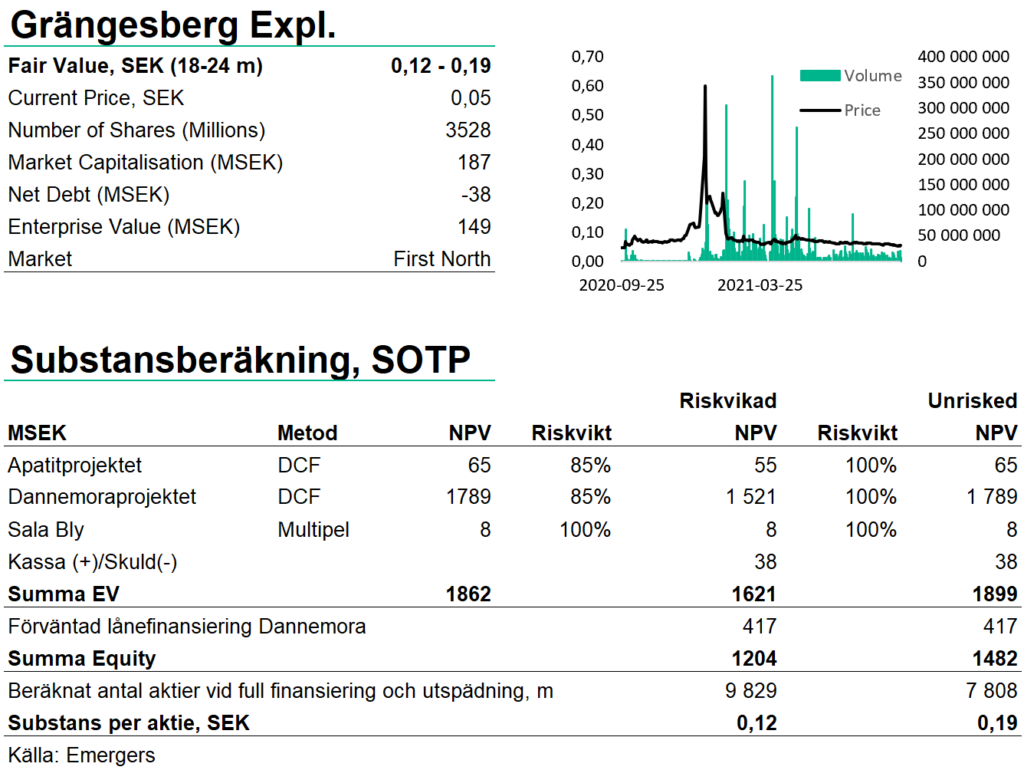 Läs vår analys på Gränsgesberg Exploration här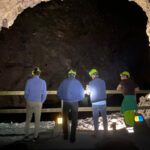 Den nyliga scoping-studien ger tillsammans med rusningen i järnmalmspriset stöd för en IRR på 37% för Dannemora samtidigt som den höga koncentrationen på 68% öppnar för GRANGEX
Läs analysen här »
DISCLAIMER
Information som tillhandahålls av Emergers eller på Emergers webbplats, emergers.se är inte avsedd att vara finansiell rådgivning. Emergers mottar ersättning för att skriva om bolaget på den här sidan. Bolaget har givits möjlighet att påverka faktapåståenden före publicering, men prognoser, slutsatser och värderingsresonemang är Emergers egna. Analysartiklar skall ej betraktas som en rekommendation eller uppmaning att investera i bolagen som det skrivs om. Emergers kan ej garantera att de slutsatser som presenteras i analysen kommer att uppfyllas. Emergers kan ej hållas ansvariga för vare sig direkta eller indirekta skador som orsakats av beslut fattade på grundval av information i denna analys. Investerare uppmanas att komplettera med ytterligare material och information samt konsultera en finansiell rådgivare inför alla investeringsbeslut.

HANTERING AV PERSONUPPGIFTER
Emergers skickar ut enkäter för att samla in kvantitativa och kvalitativa data. Syftet är att förstå hur ett visst bolag uppfattas på marknaden. Dina personuppgifter behandlas bara om du deltar i undersökningen. De data som Emergers publicerar eller delar med bolag är alltid anonymiserade och går inte att knyta till dig som person. För mer information om hur vi hanterar personuppgifter, se https://www.emergers.se/personuppgifter-i-enkater/