Med ökad egen säljkapacitet och utländsk representation, där bolagets partner i Turkiet redan levererat flera affärer, samt ett flertal pågående affärsmöjligheter och utvecklingsprojekt med högt intresse från kunder, ser allt upplagt ut för ett kraftigt lyft i affärsaktivitet 2022 och 2023, vilket ger stöd åt bolagets strategiska mål om positivt rörelseresultat H2 2023. Samtidigt tär satsningarna på kassan och justerat för ett förnyat kapitalbehov under 2022 ger vår prognos stöd för ett motiverat värde på 1,2-1,6 SEK per aktie på 18-24 månaders sikt.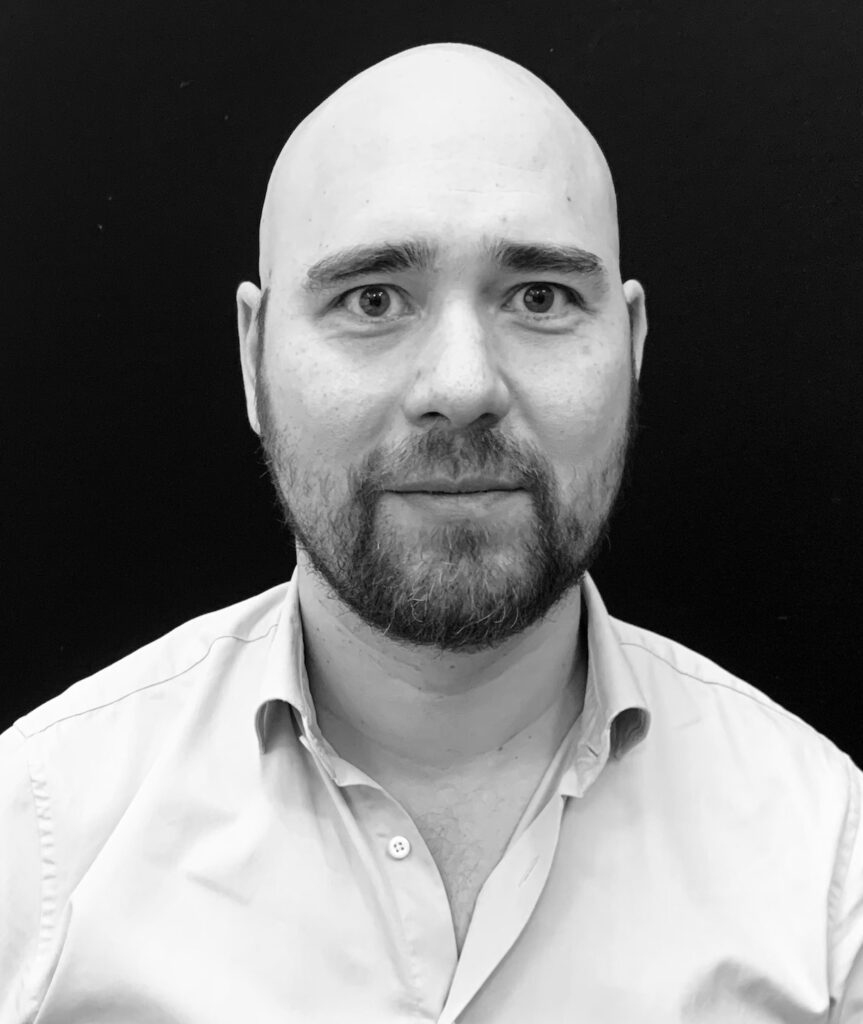 ---
Johan Widmark | 2022-02-28 08:00
This commissioned research report is for informational purposes only and is to be considered marketing communication. This research report has not been prepared in accordance with legal requirements designed to promote the independence of investment research and Emergers is not subject to any prohibition on dealing ahead of the dissemination of investment research. This research does not constitute investment advice and is not a solicitation to buy shares. For more information, please refer to disclaimer.

---
Förskjutning av slutleverans till IAI till Q1'22
Rapporten för fjärde kvartalet visade en fortsatt återhämtning jämfört med den omsättningsmässigt svaga starten på året, med en försäljning på helåret på 18 MSEK, strax under 21 MSEK i vår prognos. Det är lägre än vår ursprungliga prognos då slutleveransen till IAI förskjutits till Q1 2022. Sett till aktivitet innefattade fjärde kvartalet 2021 ett antal punkter som stödjer bolagets strategiska plan för 2022-2026, där exempelvis Satmissions ramavtal för Drive Away-antenner till Turkiet fått en förvånande stark start med tre beställningar på totalt 5 MSEK. För IMU-arbetet för Saabs bärbara antitankvapen NLAW flaggar bolaget för att invasionen i Ukraina (där det just nu sprids bilder på sociala medier av en brinnande rysk pansarvagn som uppges ha skjutits med NLAW som Ukraina fått via britterna), kan innebära en kortad tidsplan om en ökad efterfrågan tidigarelägger Saabs behov.
Ökad affärsaktivitet och räckvidd
Säljorganisationen har nu ökat från 1,4 till 4 personer samtidigt som bolaget ökat den utländska representationen från ett till 17 länder. Tillsammans med ett flertal befintliga affärsmöjligheter och pågående diskussioner inom maritima satelliter, den nya IMU-familjen SensAItion och möjligheten att introducera bolagets kommande applikation för ställningsövervakning i Sydkorea, ger det stöd för ett kraftigt lyft i affärsaktivitet under 2022 och 2023. Samtidigt noterar vi att EU-kommissionen i februari i år lanserade en ny plan för satellitkommunikation på 6 MDR EUR för att minska EUs beroende av företag utanför EU och möta Ryssland och Kinas ökade satellitaktivitet. Sammantaget ger allt det här stöd för KebNis strategiska plan för 2022-2026, att växa SatCom i en takt över marknadstillväxten samt att matcha Inertial Sensing i storlek 2025, visa positivt rörelseresultat H2 2023 och positivt kassaflöde 2024.
Stöd för hög omvärderingspotential till 1,2-1,6 SEK
Efter slutleveransen till IAI under Q1'22 räknar vi med att bolagets IMU-satsningar och ökade marknadsaktivitet inom SatCom ska börja bära frukt under 2022 och vidhåller vår prognos om en kraftig omsättningsökning i år och nästa år till 46 MSEK resp. 83 MSEK, vilket rimmar med bolagets mål att visa positivt rörelseresultat H2'23. Vi har tidigare framhållit KebNis behov av att stärka kassan, då brygglånet på 12 MSEK och kassan på 15 MSEK inte kan väntas räcka fram till positivt kassaflöde, där en nyemission på 20 MSEK vid dagens pressade kurs nu skulle motsvara en utspädning omkring 35%. Med ett accelererande momentum i aktivet och utvecklingssatsningar, med goda utsikter för utväxling under 2022 och 2023 ser vi stöd för ett motiverat värde baserat på DCF och jämförelsemultiplar på 1,2-1,6 SEK (1,2-1,8) per aktie på 18-24 månaders sikt.
Läs vår analys på KebNi här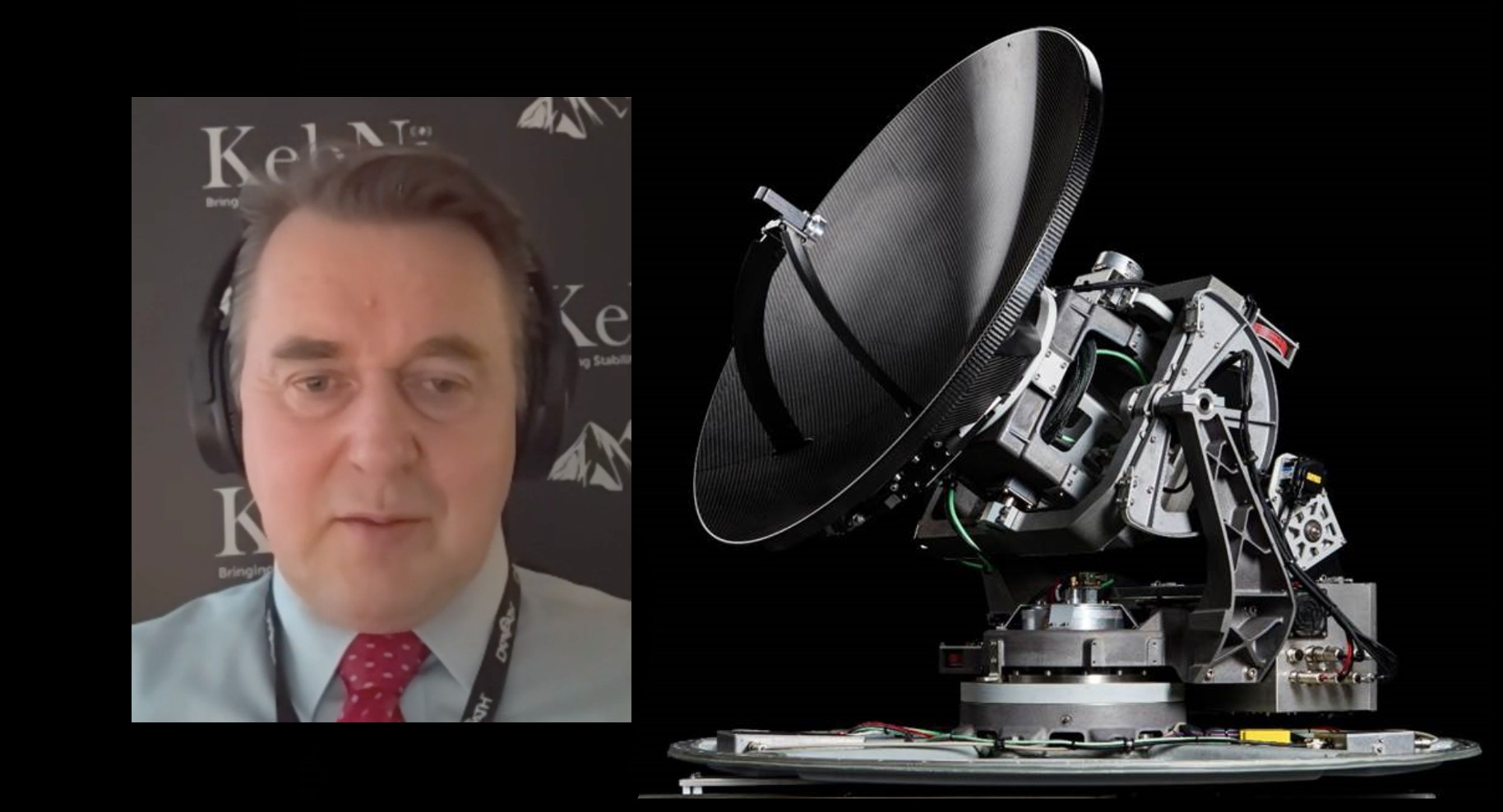 KebNis rapportering fortsätter präglas av ett genomgripande internt arbete, där säljorganisationen nått full styrka i augusti, och bolaget laddar för aktiviteter under hösten parallellt med utvecklingen av en egen IMU-applikation
Läs analysen här »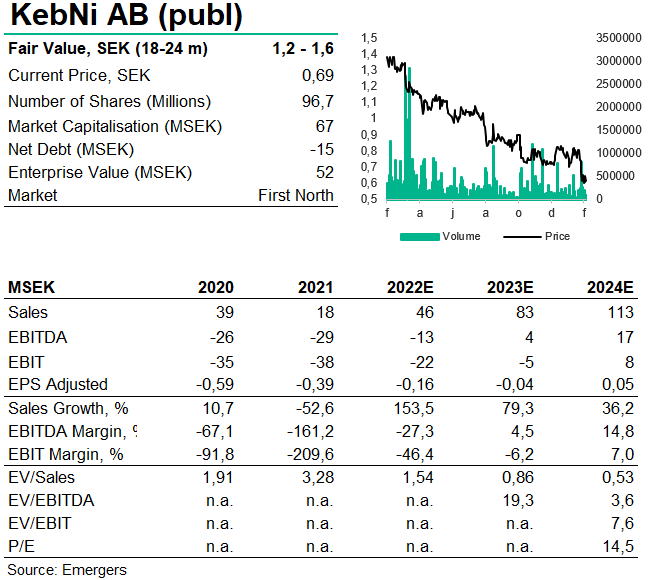 DISCLAIMER
Information som tillhandahålls av Emergers eller på Emergers webbplats, emergers.se är inte avsedd att vara finansiell rådgivning. Emergers mottar ersättning för att skriva om bolaget på den här sidan. Bolaget har givits möjlighet att påverka faktapåståenden före publicering, men prognoser, slutsatser och värderingsresonemang är Emergers egna. Analysartiklar skall ej betraktas som en rekommendation eller uppmaning att investera i bolagen som det skrivs om. Emergers kan ej garantera att de slutsatser som presenteras i analysen kommer att uppfyllas. Emergers kan ej hållas ansvariga för vare sig direkta eller indirekta skador som orsakats av beslut fattade på grundval av information i denna analys. Investerare uppmanas att komplettera med ytterligare material och information samt konsultera en finansiell rådgivare inför alla investeringsbeslut.

HANTERING AV PERSONUPPGIFTER
Emergers skickar ut enkäter för att samla in kvantitativa och kvalitativa data. Syftet är att förstå hur ett visst bolag uppfattas på marknaden. Dina personuppgifter behandlas bara om du deltar i undersökningen. De data som Emergers publicerar eller delar med bolag är alltid anonymiserade och går inte att knyta till dig som person. För mer information om hur vi hanterar personuppgifter, se https://www.emergers.se/personuppgifter-i-enkater/