Parallellt med förberedelserna för att ta Lipisense in i kliniska studier pågår arbetet med att validera de 20-talet resultat från screeningsamarbetet med HitGen. Dessutom noterar vi en ökad internationell uppmärksamhet för Lipigon. Med låga trösklar för produktgodkännande för Lipisense, flertal närtida möjliga triggers, stöd av insiderköp, starka finanser och en fortsatt anmärkningsvärt pressad värdering ser vi en hög potential för aktien.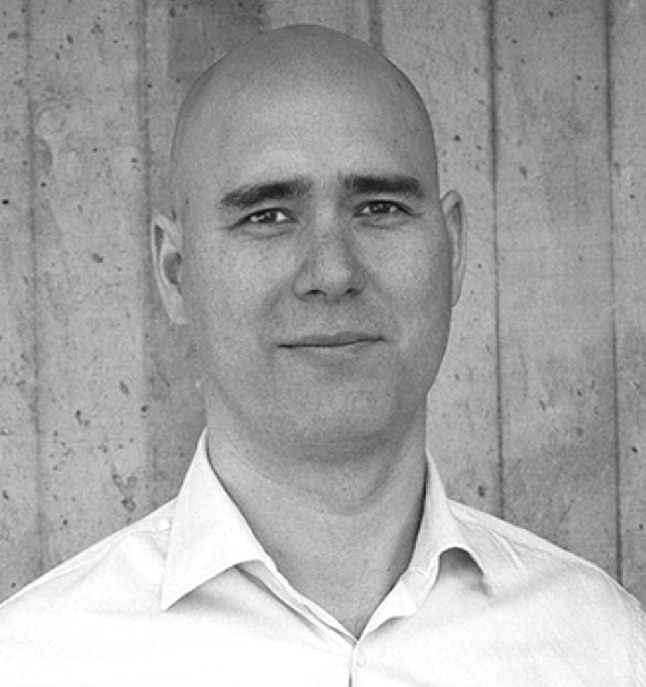 ---
Johan Widmark | 2021-08-09 15:45
This commissioned research report is for informational purposes only and is to be considered marketing communication. This research report has not been prepared in accordance with legal requirements designed to promote the independence of investment research and Emergers is not subject to any prohibition on dealing ahead of the dissemination of investment research. This research does not constitute investment advice and is not a solicitation to buy shares. For more information, please refer to disclaimer.

---
Hög aktivitet i flera av bolagets projekt
Under sommaren har arbetet fortlöpt med förberedelserna inför studiestarten för Lipigons huvudprojekt, P1 Lipisense för behandling av kraftigt förhöjda triglycerider (blodfett) med förväntad start under Q2 2022. Lipigon har anlitat kontraktsforskningsorganisationen CTC i Uppsala för den kliniska fas I-studien som fokuserar på säkerhet, tolererbarhet och farmakokinetik. Vanligen kan man inte se effekt i den sortens studie men i fallet med Lipisense kommer man kunna inkludera personer med lätt förhöjda triglyceridnivåer och se om Lipisense sänker deras triglyceridnivåer, och alltså även få effektmått i detta tidiga stadium. För närvarande håller substansen på att produceras och GMP-batcher väntas klara under slutet på sommaren/tidiga hösten. Därefter väntas resultaten från de toxikologiska studierna avrapporteras mot slutet på året, med inskick till Läkemedelsverket i februari 2022. Under början på sommaren avslutades också den första screeningen i samarbetet med HitGen, där HitGens patenterade DEL-screeningplattform screenade tusentals gånger fler substanser än vid traditionell höghastighetsscreening och genererade ett 20-tal hits som nu ska valideras av Lipigon de kommande månaderna, innan fortsättningsplanen utformas under hösten.
Presentation på branschens mest väl ansedda event
I slutet av september kommer Vd Stefan K Nilsson även presentera på TIDES USA: Oligonucleotide and Peptide Therapeutics i Boston vilket är "branschens mest väl ansedda event för att påskynda oligo-, peptid- och mRNA/vaccinbehandlingar till marknaden" och kan antas vara särskilt välbesökt och uppmärksammad just i år då mRNA nått särskild ryktbarhet pga covid-vaccinen. Möjligheten att få presentera på konferensen vittnar om intresset för Lipisense och kommer gynna Lipigons arbete med att hitta en möjlig licenspartner för Lipisense framöver. Därtill kommer Lipigon självt arrangera en online-konferens om RNA den 26 augusti för svenska och internationella investerare.
Läs vår initieringsanalys på Lipigon här 
LIPIGON – Med fokus på sjukdomar orsakade av störningar i kroppens fettomsättning har Lipigon Pharmaceuticals fyra attraktiva projekt i pipeline baserade på olika högaktuella terapeutiska teknologier som genterapi
Läs analysen här »
Anmärkningsvärd värdering lockar till insynsköp
Parallellt med utvecklingen av bolagets projekt har man även stärkt både styrelse, med Jessica Martinsson (co-founder Sprint Bioscience, First North Mkt Cap 170 MSEK), och ledning, med Eva Arlander som COO. Dessutom har tre styrelseledamöter inklusive ordföranden, plus COO och CFO köpt aktier i Lipigon, även om den totala köpeskillingen var i sammanhanget blygsam på drygt 0,5 MSEK. Aktien fortsätter dock handlas till en anmärkningsvärt låg värdering, med ett börsvärde omkring 75 MSEK där 59 MSEK motsvarades av kassan vid slutet av Q1'21. Vi ser därför en hög potential från dagens nivå med effektmått från Lipisense under 2022/2023 och en efterföljande utlicensiering som viktigaste triggers. Vi fortsätter räkna med ett samlat riskjusterat nettonuvärde för bolagets projekt på motsvarande 28-35 SEK per aktie på 18-24 månaders sikt, vilket inkluderar en riskjusterad förväntan om en utlicensiering av Lipisense. Som med all läkemedelsutveckling är dock den höga potentialen också förknippad med hög risk.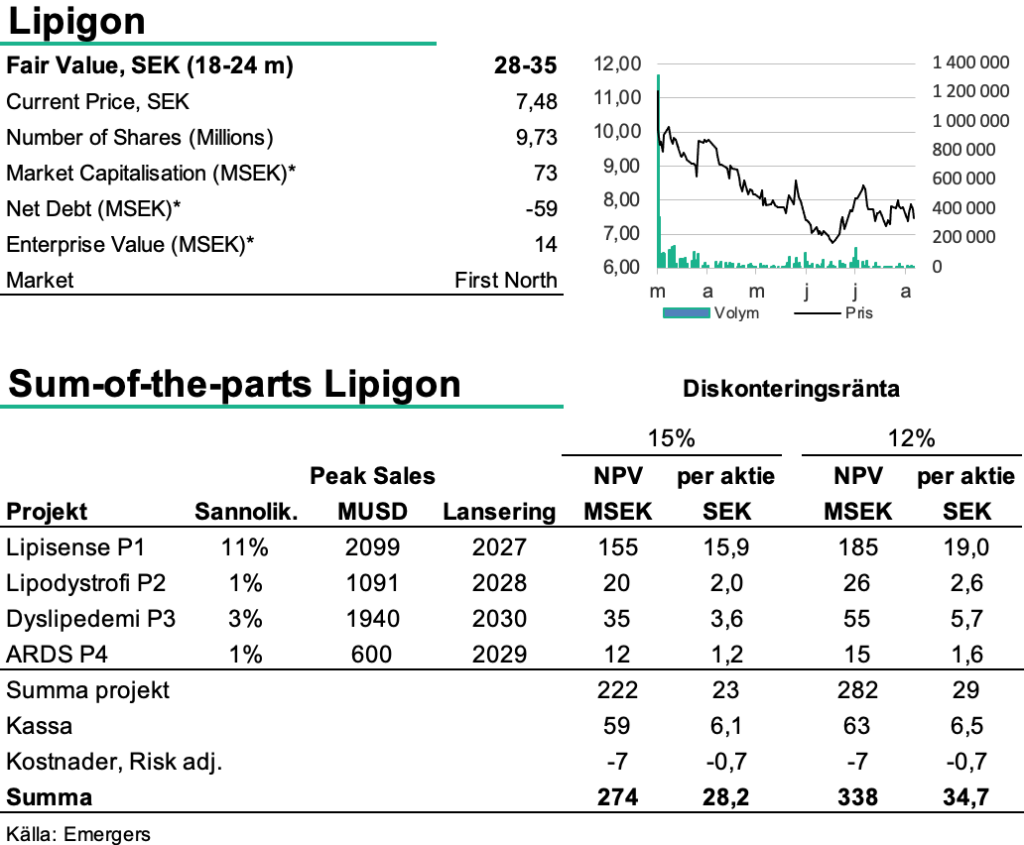 DISCLAIMER
Information som tillhandahålls av Emergers eller på Emergers webbplats, emergers.se är inte avsedd att vara finansiell rådgivning. Emergers mottar ersättning för att skriva om bolaget på den här sidan. Bolaget har givits möjlighet att påverka faktapåståenden före publicering, men prognoser, slutsatser och värderingsresonemang är Emergers egna. Analysartiklar skall ej betraktas som en rekommendation eller uppmaning att investera i bolagen som det skrivs om. Emergers kan ej garantera att de slutsatser som presenteras i analysen kommer att uppfyllas. Emergers kan ej hållas ansvariga för vare sig direkta eller indirekta skador som orsakats av beslut fattade på grundval av information i denna analys. Investerare uppmanas att komplettera med ytterligare material och information samt konsultera en finansiell rådgivare inför alla investeringsbeslut.

HANTERING AV PERSONUPPGIFTER
Emergers skickar ut enkäter för att samla in kvantitativa och kvalitativa data. Syftet är att förstå hur ett visst bolag uppfattas på marknaden. Dina personuppgifter behandlas bara om du deltar i undersökningen. De data som Emergers publicerar eller delar med bolag är alltid anonymiserade och går inte att knyta till dig som person. För mer information om hur vi hanterar personuppgifter, se https://www.emergers.se/personuppgifter-i-enkater/