Med en plan framåt för NEX-18 och nya produktionsanläggningen snart i drift ser vi ljust på chanserna för ett avtal om plattformslicens för PharmaShell, vilket skulle dämpa det framtida finanseringsbehovet, erbjuda en viktig referenspunkt för värdet på plattformen och utgöra en viktig trigger för att lyfta sentimentet i aktien. Med en god finansiell ställning och potentiella triggers kommande året ser vi stöd för ett motiverat värde på 6,3-7,7 SEK per aktie.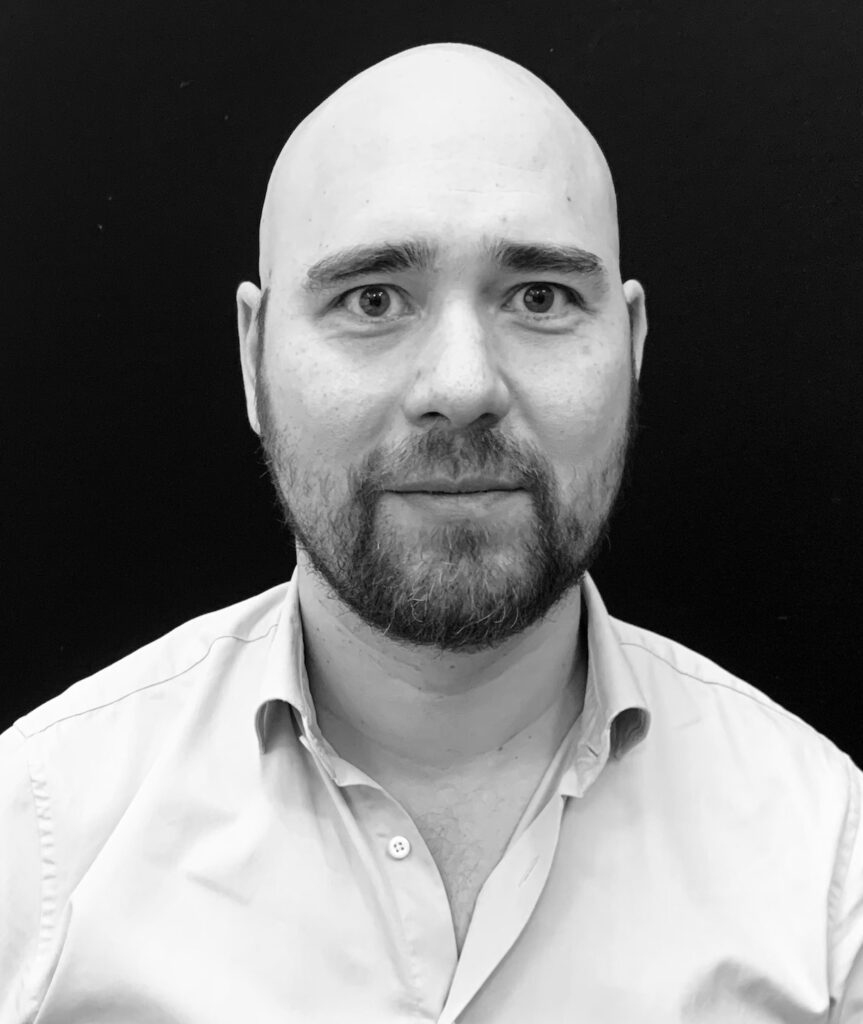 ---
Johan Widmark | 2022-04-21 08:00 
This commissioned research report is for informational purposes only and is to be considered marketing communication. This research report has not been prepared in accordance with legal requirements designed to promote the independence of investment research and Emergers is not subject to any prohibition on dealing ahead of the dissemination of investment research. This research does not constitute investment advice and is not a solicitation to buy shares. For more information, please refer to disclaimer.

---
Möjlig återstart av kliniska studier med NEX-18 2023
Vinterhalvårets osäkerhet efter beskedet i september 2021 att man pausar fas I-studien med NEX-18, har nu skingrats med en plan framåt där Nanexa tar fram en omformulering av NEX-18 som man ska fortsätta pre-kliniska studier med under 2022 med sikte på en återstart av kliniska studier under 2023. Därtill fortskrider utvecklingen av NEX-20, en depåberedning av lenalidomid för behandling av multipelt myelom, som förväntas påbörja fas I under Q4 2022, och avslutas redan under Q2/Q3 2023.
Nya anläggningen med brett erbjudande snart i drift
Det främsta budskapet i rapporten för första kvartalet var att Nanexas nya anläggning för uppskalning av produktionen av PharmaShell nu är färdig och snart i drift. Vid sidan av produktion av kliniskt prövningsmaterial till bolagets egna projekt kommer anläggningen även kunna arbeta med cytostatika och biologiska läkemedel. Med ett möjligt undantag för projekt som kommer via teknikpartnern Applied Materials kommer produktionskapaciteten dock vara dedikerad till bolagets egna och PharmaShell-partnernas projekt, där bolaget annonserade ett utvärderingsprojekt av ett biologiskt läkemedel i slutet på förra året. Medan det innebär att kapaciteten i anläggningen sannolikt överstiger produktionsbehovet närmaste tiden så sänder det en viktig signal om Nanexa och PharmaShells förmåga att skala upp produktion i framtiden, vilket bedöms kunna bidra till att attrahera potentiella partners.
Stöd för motiverat värde på 6,3-7,7 SEK per aktie
Med en förstärkning av organisationen, nya anläggningen med en hög och bred produktionskapacitet av PharmaShell snart i drift, start av fas I med NEX-20 i Q4 2022 och återstart av NEX-18 under 2023 ser vi goda förutsättningar för Nanexa att vända senaste årets motvind. Nettokassan uppgår nu till 85 MSEK vilket väntas finansiera den fortsatta utvecklingen in till H1 2023. Samtidigt erbjuder bolagets breda pipeline av utvärderingsprojekt av PharmaShell potential för avtal om plattformslicenser, vilket skulle a) minska behovet av extern finansiering 2023, b) erbjuda en viktig referenspunkt för värdet på plattformen och c) en viktig trigger för att lyfta sentimentet mot aktien. Sammantaget ser vi en ackumulerad sannolikhet för bolagets två prekliniska projekt på 6,4% från pre-klinik till godkännande vilket med ett riskjusterat NPV för NEX-18, NEX-20 och plattformen PharmaShell (2,6 + 1,7 + 2,8 SEK per aktie) ger stöd för ett motiverat värde på 6,3-7,7 SEK per aktie. Vidare ser vi att en framgångsrik start av kliniska studier för både NEX-18 och NEX-20 kan väntas motivera en omvärdering till 9 SEK per aktie på sikt.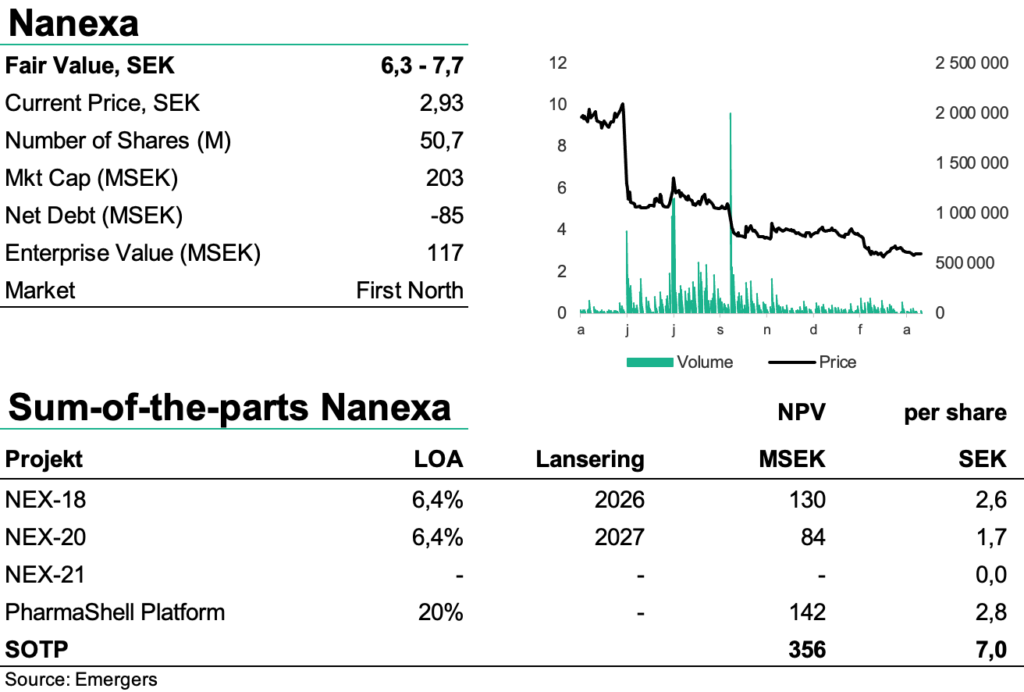 Läs vår intiteringsanalys på Nanexa här 
Nanexas patenterade PharmaShell ALD-teknologi för vidareutveckling av befintliga preparat till långverkande injicerbara läkemedel ger betydande fördelar åt både patienter och vårdgivare. Egna onkologiprojektet NEX-18 har påbörjat klinisk
Läs analysen här »
DISCLAIMER
Information som tillhandahålls av Emergers eller på Emergers webbplats, emergers.se är inte avsedd att vara finansiell rådgivning. Emergers mottar ersättning för att skriva om bolaget på den här sidan. Bolaget har givits möjlighet att påverka faktapåståenden före publicering, men prognoser, slutsatser och värderingsresonemang är Emergers egna. Analysartiklar skall ej betraktas som en rekommendation eller uppmaning att investera i bolagen som det skrivs om. Emergers kan ej garantera att de slutsatser som presenteras i analysen kommer att uppfyllas. Emergers kan ej hållas ansvariga för vare sig direkta eller indirekta skador som orsakats av beslut fattade på grundval av information i denna analys. Investerare uppmanas att komplettera med ytterligare material och information samt konsultera en finansiell rådgivare inför alla investeringsbeslut.

HANTERING AV PERSONUPPGIFTER
Emergers skickar ut enkäter för att samla in kvantitativa och kvalitativa data. Syftet är att förstå hur ett visst bolag uppfattas på marknaden. Dina personuppgifter behandlas bara om du deltar i undersökningen. De data som Emergers publicerar eller delar med bolag är alltid anonymiserade och går inte att knyta till dig som person. För mer information om hur vi hanterar personuppgifter, se https://www.emergers.se/personuppgifter-i-enkater/