Rentunder Holding AB

 Med en framgångsrik etablering i Europa där distributionsnätverket fortsätter att växa efter att flera nya avtal ingåtts under sommaren ser utrullningen ut att gå enligt plan. Ännu en försäljning av en patenterad båttvätt och planer på en ökad marknadsföring ger fortsatt stöd för ett motiverat värde på 1,6–2,0 SEK per aktie på 12–24 mån sikt, med hänsyn tagen till en framtida utspädning.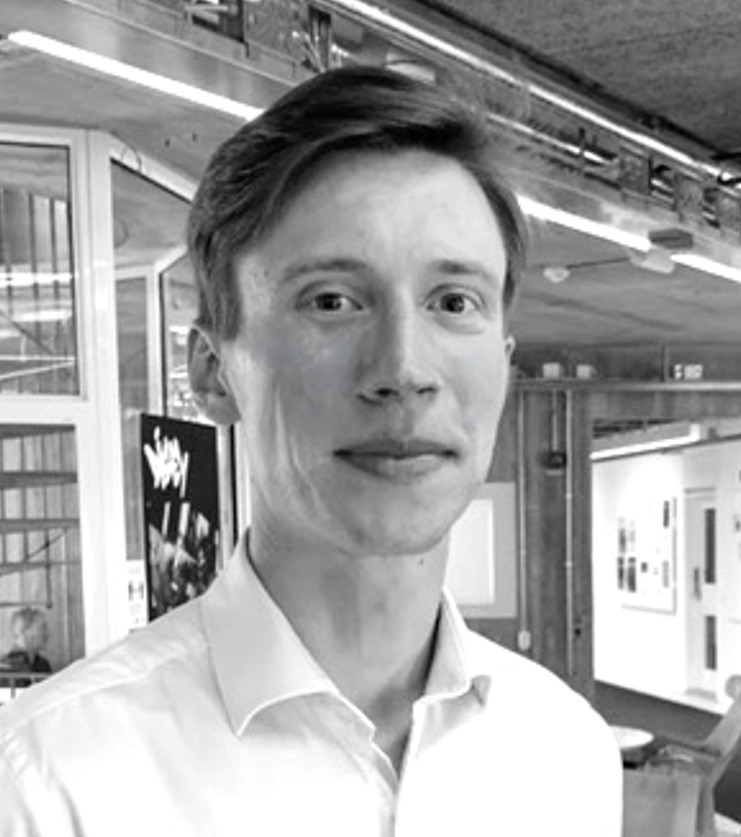 ---
Andreas Eriksson | 2021-07-28 08:30 
This commissioned research report is for informational purposes only and is to be considered marketing communication. This research report has not been prepared in accordance with legal requirements designed to promote the independence of investment research and Emergers is not subject to any prohibition on dealing ahead of the dissemination of investment research. This research does not constitute investment advice and is not a solicitation to buy shares. For more information, please refer to disclaimer.

---
Fortsatt lyckosam bearbetning av viktiga marknader
Rentunder har under sommaren etablerat sig på ett flertal nya marknader med utbyggnaden av bolagets distributionsnätverk. Senast beskedet från bolaget är att man ingått avtal med en distributör verksam i Portugal och stora delar av Spanien. Distributören är densamme som man sålt en av sina tvättar via i Frankrike. I samband med avtalet lades en order på den miljövänliga BOATWASH med ett ordervärde på 3,0 MSEK. Även samarbetet med bolagets schweiziska distributör har utökats och omfattar nu även den italienska marknaden. Att bolaget så tätt kan presentera nya avtal och försäljningar ser vi som ett kvitto på att det finns en hög efterfrågan på bolagets lösning och att utrullningen fortsätter att gå enligt plan.
Ökad marknadsföring för att nå nya kunder utomlands
Samtidigt finns det en stor obearbetad marknad. Rentunder har därför valt att öka sin marknadsföring utomlands och som ett led i detta kommer man att ställa ut sin båttvätt på Metstrade i Amsterdam 16–18 november. Metstrade är världens största mässa för kommersiella aktörer inom fritidsbåtar där besökare kommer från hela världen. Vi bedömer att den här typen av aktiviteter tillsammans med att distributionsnätverket får allt fler referensanläggningar i drift kommer att skapa tillräckligt med uppmärksamhet för att utrullningen ska dra igång på allvar under nästa år.
Läs våra andra analyser på Rentunder här 
Rentunder Holding AB Med flera strategiskt viktiga ordrar från kunder i Europa och bolagets patentsökta helautomatiserade tvättar är vi fortsatt positiva till bolagets utveckling där högre priser och en högre försäljningstakt
Läs analysen här »
Ljusa utsikter men med vissa frågetecken
Vi ser fortsatt ljust på framtiden för Rentunder. De politiska drivkrafterna kommer enligt oss att bana väg för den här typen av produkter och tjänster som minimerar miljöpåverkan inom annars smutsiga branscher. Vi saknar dock närmare besked om utvecklingen på den viktiga amerikanska marknaden som man så framgångsrikt etablerade sig på under 2020 med det 50% ägda bolaget och ett flertal underdistributörer. Sammantaget behåller vi vår prognos för Rentunder, och eftersom försäljningen utvecklas i linje med vår prognos ser vi fortsatt stöd för ett motiverat värde på 1,6–2,0 SEK per aktie på 12-24 månaders sikt, justerat för utspädningen vid en förväntad framtida nyemission för att stärka kassan.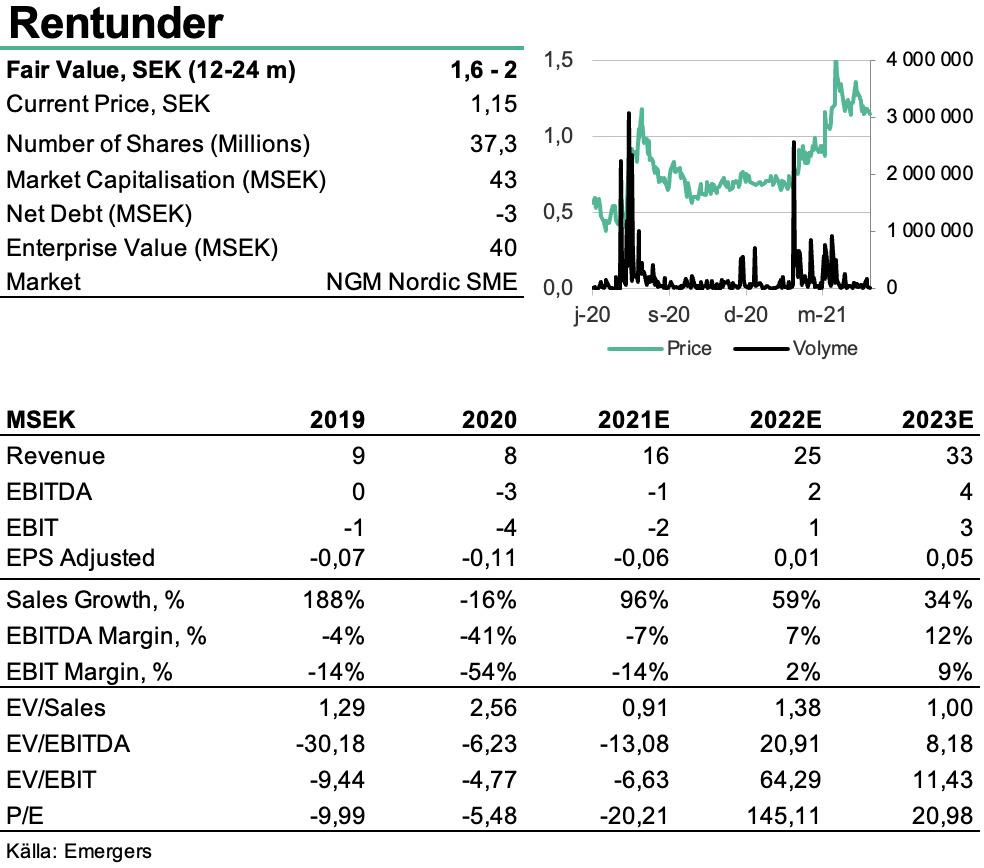 DISCLAIMER
Information som tillhandahålls av Emergers eller på Emergers webbplats, emergers.se är inte avsedd att vara finansiell rådgivning. Emergers mottar ersättning för att skriva om bolaget på den här sidan. Bolaget har givits möjlighet att påverka faktapåståenden före publicering, men prognoser, slutsatser och värderingsresonemang är Emergers egna. Analysartiklar skall ej betraktas som en rekommendation eller uppmaning att investera i bolagen som det skrivs om. Emergers kan ej garantera att de slutsatser som presenteras i analysen kommer att uppfyllas. Emergers kan ej hållas ansvariga för vare sig direkta eller indirekta skador som orsakats av beslut fattade på grundval av information i denna analys. Investerare uppmanas att komplettera med ytterligare material och information samt konsultera en finansiell rådgivare inför alla investeringsbeslut.

HANTERING AV PERSONUPPGIFTER
Emergers skickar ut enkäter för att samla in kvantitativa och kvalitativa data. Syftet är att förstå hur ett visst bolag uppfattas på marknaden. Dina personuppgifter behandlas bara om du deltar i undersökningen. De data som Emergers publicerar eller delar med bolag är alltid anonymiserade och går inte att knyta till dig som person. För mer information om hur vi hanterar personuppgifter, se https://www.emergers.se/personuppgifter-i-enkater/