REPORT SIMRIS ALG (SIMRIS-B.ST) Swedish Simris Alg is a biotech company at the absolute forefront of green development. Founded in 2011, the company develops and manufactures bioactive substances from cultured microalgae. Simris focuses on the algae's essential, unique and commercially attractive bioactive substances and properties to glean applications for high-value products with large markets, high growth and high margins. The company's first product to reach the market, omega-3 supplements sold under its own brand, are in the midst of a breakthrough in the United States. Meanwhile, its development work in cosmeceuticals has begun to show initial results. Simris is also evaluating a number of promising high-potential pharmacological applications.
The company's technology replaces unsustainable raw materials from endangered species and sensitive marine ecosystems, and provides access to completely new substances originating from the sea. Simris was founded by CEO Fredrika Gullfot, a doctor of biotechnology at the Swedish KTH Royal Institute of Technology, and has its head office and its own facility in Hammenhög outside Simrishamn in Sweden (hence the name).
"Unlike other bioprocess technologies in bacteria or yeast cells, where you add sugar, starch or some other carbon source, Simris algae capture carbon dioxide that is converted into the substances we want. This also means that the culture leaves a positive climate footprint," says Fredrika Gullfot, CEO at Simris Alg.
The cultivation takes place in nutrient-poor salt water, which means that bacteria and other pathogens are inhibited. The company's technology employs closed systems, which enables the production of high purity substances such as for the pharmaceutical industry.
Perhaps the best-known substance that originates in algae, and which normally comes to humans through fish, is omega-3. But there is no shortage of possible applications for algae. Numerous start-ups and larger companies are exploring the potential of algae in everything from fuel production, animal feed and soil improvement to pharmaceuticals, specialty chemicals and cosmetics. And it is not just the algal raw material itself that offers opportunities. Microalgae also contain substances that may have antiviral properties, or be used as markers in advanced diagnostics and for targeted cancer therapy. They also have interesting potential in the production of second-generation peptide and protein-based drugs, including vaccines, that are produced by cell cultures with introduced genes to encode the required substance. Microalgae have unique biochemical mechanisms that make it possible to produce substances that are currently very difficult to manufacture with existing bioprocesses.
With its strategy to focus on applications with large markets, high growth and high margins, the company has already made the entire journey from concept, lab and pilot to production on an industrial scale and commercialisation of its first product vertical − dietary supplements containing omega-3. The next product candidate for commercialisation is in cosmeceuticals, which are active substances for advanced skin care, and Simris has just begun to obtain initial results from a research project that began in 2019. It is also evaluating pharmacological applications for substances with antiviral and antibacterial properties in microalgae, as well as the manufacturing of second-generation peptide and protein-based drugs.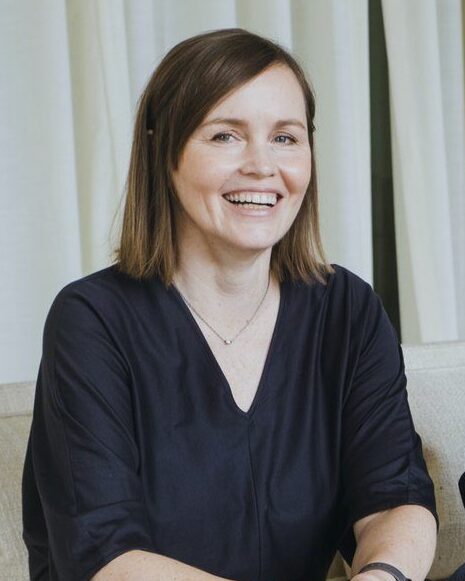 Although a normal varied diet should provide sufficient vital omega-3, studies clearly show that fewer and fewer people are eating enough fish to meet the body's need for this essential fatty acid.
Expanding global health awareness is contributing to a rapidly growing and profitable omega-3 market, and intensified demand for environmental sustainability and traceable production mean that algae oil has an increasing advantage. Omega-3 supplements, which are the largest and most profitable segment in the omega-3 market, are traditionally sold through the specialist health trade and on the dietary supplement shelves of supermarkets.
"We are focusing on the new wellness category emerging at the intersection of fashion, beauty, health and fitness, where there is strong demand for unique new brands that are sophisticated enough to fit on the more exclusive store shelves," says Fredrika Gullfot.
Simris Alg's omega-3 products are categorised as novel foods under EU regulations, and the company has not yet been able to launch its range in Europe. Instead, it has set its sights on the international market, and especially the United States, where its sales of omega-3 are growing rapidly. It announced in a press release this summer that online orders had increased by 322 percent in July, with a sustained increase in sales. The products are sold through trend-setting retailers such as actress Gwyneth Paltrow's Goop, and through the company's own online outlets. The commercial breakthrough during the summer gives a clear indication that Simris seems to have found the right strategy. In addition to sales in the US, Simris has a distributor in South Korea with a sales agreement worth SEK 7 million over three years.
The initiatives in cosmeceuticals and pharma are at an earlier phase and could possibly reach the market in other ways, such as through out-licensing to other companies and brands. This means that the company's research projects and collaborations are an important indicator for determining its long-term performance.
More and more investors in the international financial markets seem to have opened their eyes in recent times to completely plant-based or vegan companies. According to market researcher Data Bridge, the global market for algae products is expected to show average annual growth of 7 percent by 2027, and according to Coherent Market Insights, the global algae market will turn over close to USD 6 billion in 2027. With just over four years on the stock market, Simris Alg is one of very few listed investments that provide pure exposure to the algae industry.
Simris Algs CEO Fredrika Gullfot presenting the Simris' production facility to HRH Crown princess Victoria of Sweden in August 2019.
HRH Crown princess Victoria visiting Simris Alg's facility in August 2019.
However, there are plenty of algae start-ups outside the stock market. In January this year, for example, Edinburgh-based MiAlgae raised SEK 12 million for its product aimed at, among other things, dog food. Sweden has Gothenburg-based Swedish Algae Factory, which aims to improve the efficiency of solar cells and also offers skin-care creams. To date, Swedish Algae has raised SEK 78 million in venture capital, and in the past year venture capitalists have invested heavily in the algae industry globally, but few companies have reached a commercial phase.
Following its rights issue this summer, which provided Simris Alg with SEK 29 million before costs, the company is well capitalised to support its development projects in cosmeceuticals and pharma while continuing the international rollout of its omega-3 products. With market capitalisation of approximately SEK 46 million, this corresponds to an operating value of around SEK 20 million.
| MSEK | 2019 | 2020e | 2021e | 2022e | 2023e |
| --- | --- | --- | --- | --- | --- |
| | | | | | |
| | | | | | |
| | | | | | |
| | | | | | |
Simris Alg has two listed warrant programmes: TO3B in October could contribute up to SEK 13 million before costs, and TO2B, which expires in December, has a subscription price of SEK 2.47 per share. Beyond this, there are two unlisted option programmes with subscription prices significantly higher than the current share price.
The revenue outlook for Simris is challenging to forecast, other than to say that the ongoing breakthrough in the United States can be expected to boost revenues from omega-3. These revenues alone correspond to an enterprise valuation (EV/sales) of just under 4x Emerger's estimated revenues in 2020, which can be expected to fall closer to 1x by 2023 without particularly aggressive forecasts. In addition, out-licensing or new product verticals in cosmeceuticals and pharma offer significant revenue potential within a few years, although these arms are much more difficult to predict. What is clear is that the VC industry, which often invests with much deeper insight and understanding than the generalists of the stock market, attributes a considerably higher value to the algal industry than the price of the Swedish stock exchange's only algal company would currently suggest.
Johan Widmark
+46739196641
johan@emergers.se
DISCLAIMER: Emerger's analysts have no shareholdings in the listed companies we write about. The content of this website is not investment advice. For full terms see here.