REPORT SIMRIS ALG Swedish Simris Alg operates in the intersection of biotechnology and modern precision agriculture. The company, which was founded by CEO Fredrika Gullfot 10 years ago, specializes in vertical cultivation of microalgae at its own facility in Hammenhög outside Simrishamn (hence the name).
The company's focus on algae is based on the fact that the microalgae form the basis of the sea's food chain and that all marine organisms and higher animals, including humans, are dependent on substances that are ultimately produced by microalgae. The most well-known substance that originates in algae, and normally comes to humans through fish, is omega-3. Algae and algae production, however, have more application areas with great potential.
– Unlike other biotechnological cultures in bacteria or yeast cells, the algae use photosynthesis, which is the plants' ability to capture carbon dioxide in the atmosphere and convert it to oxygen using sunlight. So unlike other bioprocess technology where you add sugar, starch or some other carbon source, Simris algae capture carbon dioxide that is converted into the substances Simris wants, which also means that the cultivation leaves a positive climate imprint, says Fredrika Gullfot, CEO of Simris Alg.
Since the culture also does not contain sugar, bacteria or other pathogens that can contaminate the bioprocess do not thrive, which makes it easier to maintain a sterile environment and enables the production of very sensitive substances for e.g. the pharmaceutical industry.
There are plenty of possible application areas for algae. Numerous startups and larger companies are exploring the potential of algae for everything from fuel production, animal feed and soil improvement to pharmaceuticals, specialty chemicals and cosmetics. And it is not just the algae raw material itself that offers opportunities. Algae can also be used as a marker in advanced diagnostics and have interesting antiviral properties. They also have an interesting potential in genetics where genetic modification can clone genes into algae and produce substances that are not otherwise possible with traditional genetic modification of yeast cells or bacteria.
However, for strategic reasons, Simris will focus on application areas with high-value products with large markets, high growth and high margins. This primarily means "cosmeceuticals", which refers to active substances for advanced skin care where Simris have started to get the first results from a research project that began in 2019, and pharma, where they look at applications based on the algae's antiviral properties. Based on this strategy, the company has already made the entire journey from idea, lab and pilot all the way to industrial scale production and commercialization of the company's first product vertical, dietary supplements with omega-3.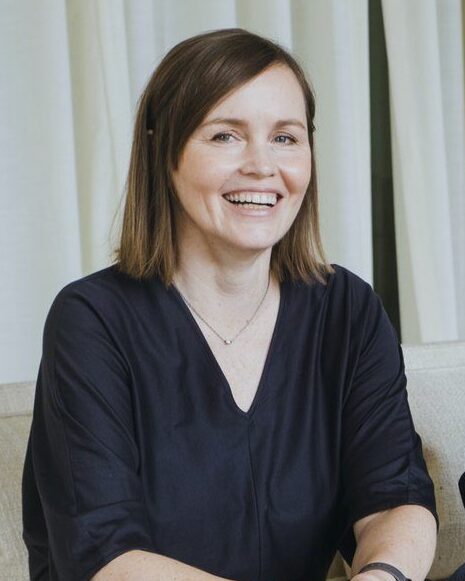 Even if a person with a normal varied diet gets enough of the vital omega-3, studies clearly show that fewer and fewer people eat enough fish to meet the body's needs of the vital oil.
However, increasing global health awareness contributes to a rapidly growing and profitable global omega-3 market. At the same time, the demands on environmental sustainability and traceable production are increasing, which gives algae oil increasing advantages. Omega-3 supplements, which are the largest and most profitable segment in the omega-3 market, are traditionally sold in the health specialist trade and on the grocery trade's dietary supplement shelves. 
– We target the new wellness category that is emerging at the intersection of fashion, beauty, health and fitness, where there is a strong demand for new, unique brands that are sophisticated enough to fit the more exclusive store shelves, says Fredrika Gullfot.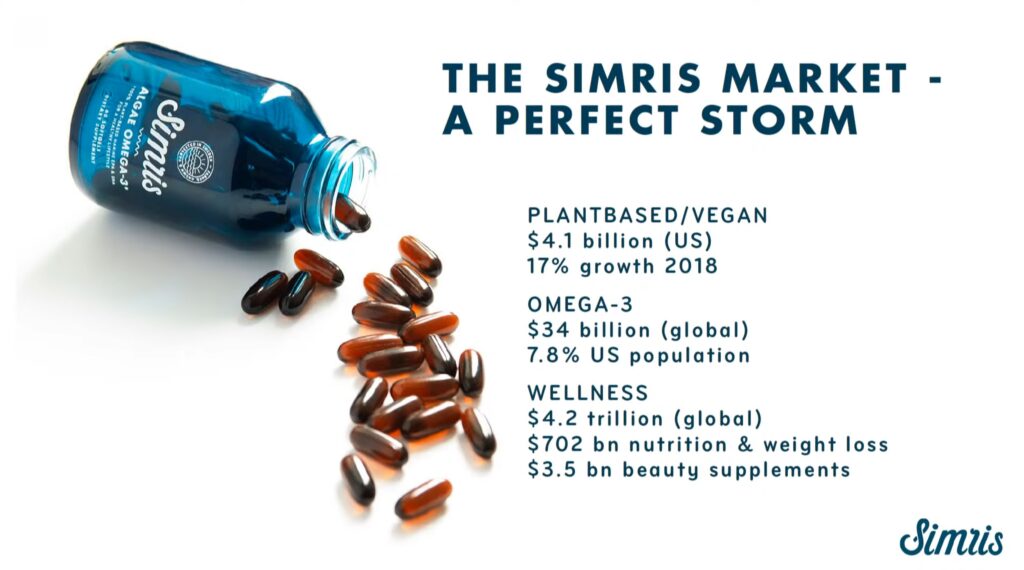 Since Simris Alg's omega-3 products fall under the EU regulation on new foods, so-called Novel foods, the company has not yet been able to launch its products in Europe. Instead, Simris Alg has set its sights on the international market.
Simris sells its products through distributors, directly to retailers and through its own e-commerce. The company has a distributor in South Korea with an agreement on sales of SEK 7 million over three years. But as with so many other companies, the most important market opportunity is in the United States. Following adjustments to its marketing strategy, Simris Alg is now working with influencers and key opinion leaders such as actress Gwyneth Paltrow's goop. The fact that online sales in the US increased by 322 percent in July compared to the previous month gives a clear indication that Simris seem to have found the right strategy.
Simris Algs CEO Fredrika Gullfot presenting the Simris' production facility to HRH Crown princess Victoria of Sweden in august 2019.
HRH Crown princess Victoria visiting Simris Alg's facility in august 2019.
As for the other initiatives in cosmeceuticals and pharma, they are in an earlier phase and can possibly reach the market in other ways such as licensing to other companies and brands. Therefore, the company's research projects and collaborations are also an important indicator for determining the long term development of Simris.
In terms of industry colleagues, more and more investors in the international financial market seem to have opened their eyes to investments in completely plant-based or vegan companies in recent times. But with just over four years on the stock exchange, Simris Alg is the only listed investment alternative that provides a pure exposure to the algae industry.
Outside the stock market, there are plenty of algae startups. In January this year, Edinburgh-based MiAlgae raised SEK 12 million for its algae product, which is aimed at, among other things, dog food. In Sweden, there is also the Gothenburg-based Swedish Algae Factory, which has set its sights on improving the efficiency of solar cells with algae, but which has also launched skin care creams with their algae content. To date, Swedish Algae has raised SEK 78 million in venture capital. In the past year, algae companies have raised a total of more than SEK 120 million in financing, Simris included. But few of them have reached commercial stage and no one has reached Simris' position.
| | 2019 | 2020e | 2021e | 2022e | 2023e |
| --- | --- | --- | --- | --- | --- |
| | | | | | |
| | | | | | |
| | | | | | |
| | | | | | |
Following the rights issue during the summer, which provided the company with SEK 29 million before costs, the company is now well capitalized to support its development projects in cosmeceutical and pharma while continuing the international rollout of omega-3 products. With a market capitalization of approximately SEK 50 million, this corresponds to an Enterprise value of approximately SEK 25 million.
The company also has a rich flora of warrant programs, where the most recent can be expected to bring in around SEK 15 million depending on the price development during September 2020, and the others have subscription prices significantly higher than the current share price.
In terms of revenue, the outlook is difficult to forecast other than that an ongoing breakthrough in the US can be expected to lift revenue from omega-3 in the future. These revenues alone correspond to an Enterprise value (EV / Sales) of just over 4x Emerger's estimated revenues in 2020, which can be expected to fall closer to 1x by 2023 without particularly aggressive forecasts. In addition, out-licensing or new product verticals in cosmeceuticals and pharma offer significant revenue potential within a few years, even if those legs are much more difficult to quantify. It is clear, however, that the VC industry, which often invests with much deeper insights and understanding of the companies they invest in, than the generalists of the stock market, attributes a much higher value to the algal industry than the price of the stock exchange's only algae company reflects today.
Johan Widmark
0739196641
johan@emergers.se
DISCLAIMER: Emergers skribenter har inga aktieinnehav i de bolag vi skriver om. Innehållet på den här webbplatsen är inte investeringsrådgivning. För fullständiga villkor se här.