Efter en period av starkt fokus på försäljning och lönsamhet sammanfattar vi Meltrons tre första månader på året med dur. En ny säljorienterad VD med lång erfarenhet i branschen är på plats, orderingången har ökat 150% jämfört med H2'21 och ett effektiviseringsprogram är i gång vilket ska minska fasta driftkostnader med 30%. Vi behåller vår prognos för räkenskapsåret 2021/22 och ser fortsatt stöd för ett motiverat värde på 0,10 – 0,13 SEK per aktie på 12 – 24 mån sikt, med hänsyn tagen till en förväntad nyemission, där vi ser avtal i Oman och ett fördjupat samarbete med Huawei som viktigaste katalysatorer för en omvärdering.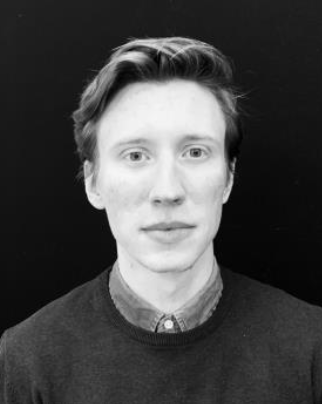 ---
Andreas Eriksson | 2022-04-08 08:00 
This commissioned research report is for informational purposes only and is to be considered marketing communication. This research report has not been prepared in accordance with legal requirements designed to promote the independence of investment research and Emergers is not subject to any prohibition on dealing ahead of the dissemination of investment research. This research does not constitute investment advice and is not a solicitation to buy shares. For more information, please refer to disclaimer.

---
Stadig ökning i inhemsk orderingång
Efter den motvind Meltron upplevt under andra halvåret 2021 har bolaget nu kunnat kommunicera betydligt ljusare siffror för årets tre första månader. En orderingång på 3,5 MSEK innebär en ökning på 150% jämfört med försäljningen på 1,4 MSEK under hela H2'21. Siffrorna är i linje med vårt estimat om en omsättning för helåret på 7 MSEK. Det är främst befintliga kunder inom industri och skog som lagt återkommande ordrar, vilket vi ser som ett kvitto på kvaliteten på Meltrons produkter inom den smala nischen högpresterande och explosionssäkra LED-lösningar. Avsiktsförklaringen med regeringen i Oman, som initialt omfattar ordrar på ca 20 MSEK, tror vi kommer konkretiseras till rena beställningar senare under våren och början på sommaren för leverans under höst och vinter.
Ny säljorienterad VD på plats
Nye VD Stefan Kåla tillträdde tjänsten 1 mars 2022. Det är ingen hemlighet att Meltron länge har brottats med att få fart på försäljningen, och vi tror att Kåla med sin erfarenhet och nätverk inom branschen kan vara den pusselbit som saknats. I samband med Kålas tillträde har bolaget även lanserat ett program för effektivisering och kostnadsreduktion, vilket ska sänka de fasta kostnaderna med 30% från och med april, samtidigt som finansiering säkrats fram till att en nyemission kan genomföras senare i sommar/höst. Förutsatt att bolaget lyckas skala upp försäljningen under räkenskapsåret 22/23 räknar vi med att det kommer behövas ett kapitaltillskott på ytterligare 15-20 MSEK för att ta bolaget till positivt kassaflöde, vilket vi uppskattar skulle innebära en utspädning på över 50% för befintliga aktieägare vid en nyemission.
Låga inträdesnivåer för långsiktiga ägare
Den tuffa hösten och vintern har satt sitt avtryck även i bolagets aktiekurs som just nu befinner sig på väldigt låga nivåer. Trots en försiktig prognos, med avseende på de stora ordrar som ligger i pipelinen och en hög diskonteringsränta på 30% ser vi stöd för en betydande omvärdering av aktien även på kort sikt. En kombinerad DCF- och multipelvärdering ger sammantaget stöd för ett motiverat värde på 0,10 – 0,13 SEK per aktie, med hänsyn tagen till utspädningseffekten från en kommande nyemission i sommar. Vi bedömer dock att Meltron har goda chanser att etablera sig som en nyckelspelare i de stora infrastrukturprojekt som är på gång i Mellanöstern, där det initiala avtalsvärdet på 20 MSEK sannolikt bara är tröskeln till långt större affärer längre fram. Tillsammans med möjligheterna i samarbetet med Huawei ger det stöd för en än större omvärderingspotential på längre sikt.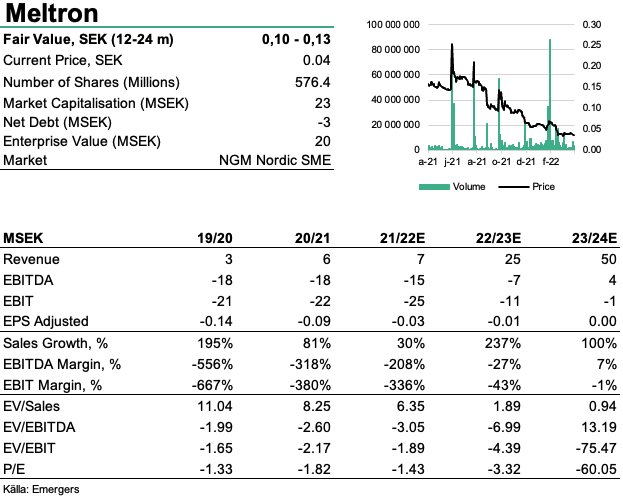 DISCLAIMER
Information som tillhandahålls av Emergers eller på Emergers webbplats, emergers.se är inte avsedd att vara finansiell rådgivning. Emergers mottar ersättning för att skriva om bolaget på den här sidan. Bolaget har givits möjlighet att påverka faktapåståenden före publicering, men prognoser, slutsatser och värderingsresonemang är Emergers egna. Analysartiklar skall ej betraktas som en rekommendation eller uppmaning att investera i bolagen som det skrivs om. Emergers kan ej garantera att de slutsatser som presenteras i analysen kommer att uppfyllas. Emergers kan ej hållas ansvariga för vare sig direkta eller indirekta skador som orsakats av beslut fattade på grundval av information i denna analys. Investerare uppmanas att komplettera med ytterligare material och information samt konsultera en finansiell rådgivare inför alla investeringsbeslut.

HANTERING AV PERSONUPPGIFTER
Emergers skickar ut enkäter för att samla in kvantitativa och kvalitativa data. Syftet är att förstå hur ett visst bolag uppfattas på marknaden. Dina personuppgifter behandlas bara om du deltar i undersökningen. De data som Emergers publicerar eller delar med bolag är alltid anonymiserade och går inte att knyta till dig som person. För mer information om hur vi hanterar personuppgifter, se https://www.emergers.se/personuppgifter-i-enkater/