EMERGERS UNLISTED Based on the simple idea of handing out 30 000 bingo tiles with various in-game turn-outs instead of numbers at Swedish Open Tennis Week in Båstad in a campaign for major Swedish tabloid Expressen, Anders Bernunger's new marketing venture was an immediate success.
Sponsors, advertisers and the event organisers loved the campaign since it increased audience engagement and kept the audience in their seats for the full matches, which made the TV broadcasts look better. Expressen loved it because it associated them with something innovative and entertaining, and gave them a chance for personal contact as the winners visited Expressen's tent to collect their prices.
After Båstad, Anders Bernunger repeated the success at the Australian Grand Prix Formula 1 in a campaign for Foster's Beer, this time printing 150 000 bingo tiles on the back of beer coasters and having winners collect a free beer at Foster's tent.
Although encouraged by this early success, Bernunger also realised that his current setup had some serious flaws as the tiles were expensive to print and handle and the current setup lacked scaleability.
– It was obvious that the idea was best suited for digital distribution, which also opened up a number of possibilities to expand the idea, says Anders Bernunger, founder of 3towin.
So, based on a digital bingo triggered by in-game events, Anders Bernunger and his team have now created a unique new social gaming (non-gambling) app for increased engagement in live and broadcasted sports.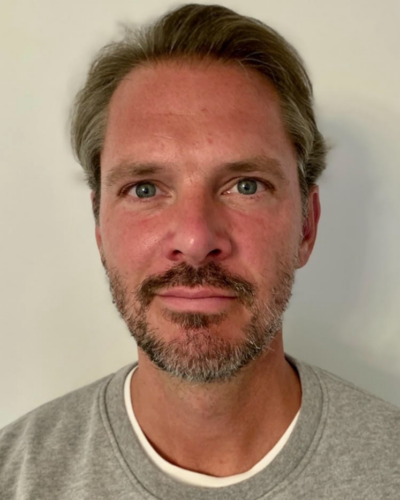 The app offers clubs and teams a way to engage fans ahead of and during events, watching both live and at home. This in turn means that clubs can offer sponsors a personal, high-attention, activity based contact with fans.
The time to launch 3towin couldn't be better as the huge sports sponsorship market, valued at close to USD 0,8 bn in Sweden and a whopping USD 46 bn worldwide, is scrambling to recapture the attention and engagement of fans that has taken a severe beating during the global covid-19 lockdowns.
– The model is very straightforward with a 50/50 revenue share of sponsor proceeds with clubs, but with the possibility to scale with any sports league anywhere in the world, says Anders Bernunger.
First step is now to launch with clubs in the Swedish football league Allsvenskan for the 2021 season, along with Swedish Premiere League fans. With 40 events per club and season, and a rough estimate of 5000 users per game that means 3towin can offer sponsors 200 000 advertiser contacts per club and season, with a 90 minute brand exposure per event. That last number should be compared with the average exposure in printed media of five seconds or the one second average exposure in digital advertising, illustrating 3towin's superiority compared to existing sponsor offerings.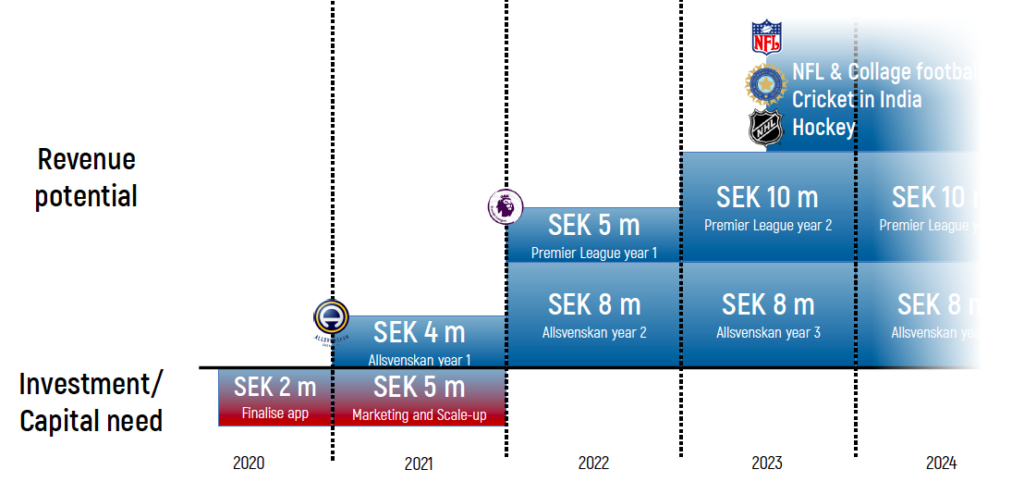 With club revenues stemming from 3towin of SEK 500 000 – 2m per sponsor, 3towin estimate revenues of SEK 8m after the 50/50 split with clubs when up and running, from Allsvenskan alone. In terms of building user base (which will enable 3towin to raise prices charged to sponsors in coming seasons), 3towin will piggyback on the clubs' facebook fan pages and other social media channels. But to expand to other sports or capture e.g. Premier League fans in Sweden (which has just as large a fanbase as the leading Swedish clubs), 3towin will need to invest in marketing, which will require additional capital.  
For more information about 3towin, please fill out your name and e-mail adress below.