Med ett kapitaltillskott på 38,5 MSEK från försäljningen av Agtiras egen anläggning i Härnösand finns nu finansiella muskler att accelerera verksamheten. Efter totalt fyra ordrar under 2021 har de något diffusa avtalen mynnat ut i två olika affärsupplägg, som båda ger återkommande intäkter där vi antar bruttomarginaler på 50-60%. Vi höjer vårt motiverade värde till 32-46 SEK per aktie (31-45 SEK) på 18-24 mån sikt, till följd av att utspädningseffekten från en tidigare förväntad nyemission försvinner.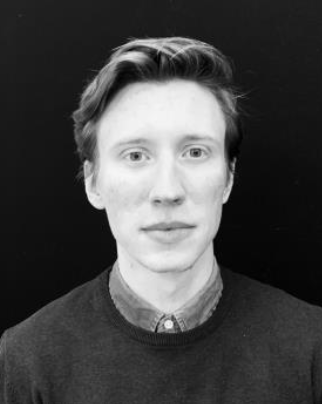 ---
Andreas Eriksson | 2022-02-18 08:00 
This commissioned research report is for informational purposes only and is to be considered marketing communication. This research report has not been prepared in accordance with legal requirements designed to promote the independence of investment research and Emergers is not subject to any prohibition on dealing ahead of the dissemination of investment research. This research does not constitute investment advice and is not a solicitation to buy shares. For more information, please refer to disclaimer.

---
Stadda i kassan utan utspädda aktieägare
Agtira meddelade i början på februari att bolagets egna anläggning i Härnösand på totalt 13 500 kvm sålts i en "sale and lease back"-transaktion. Försäljningen frigör 38,5 MSEK i likvida medel som ger ett välkommet tillskott till kassan utan att befintliga aktieägare späds ut. Vi har tidigare lyft fram vår förväntan om en nyemission, men tror nu att kapitaltillskottet från anläggningsförsäljningen kommer räcka för att ta bolaget till svarta siffror, förutsatt att man kan hitta en fastighetspartner till framtida systembyggen och därmed undvika att finansiera dem själv. "Sale and lease back"-uplägget bör även kunna appliceras på Agtiras FaaS-modell (Farming as a Service), där en fastgihetspartner äger själva anläggningen och Agtira hyr in sig och står för drift och produktion av fisk och grönsaker som sedan köps av den intilliggande stormarknaden.
Flera godkända patent visar på teknikhöjd
Som en del av den tranformationsresa Agtira startade för 1,5 år sedan, när beslutet fattades att systemen skulle säljas i modulformat, har bolaget genomgått en omprofilering från grönsaksodlare till ett foodtech-bolag. Ett kvitto på detta erhölls i slutet på 2021 när bolagets första patent avseende den akvaponiska lösningen i stor skala blev beviljat, alltså möjligheten att odla både fisk och grönt i ett slutet cirkulärt kretslopp. Även Agtiras flytande växtnäring, bestående av växtavfall och fiskslam som möjliggör att systemen kan driftas utan konstgödsel, har nyligen fått patentskydd. Innovationshöjden i Agtiras lösning möjliggör också odling av komplexa grönsaker som tomat och gurka.
Läs vår initieringsanalys på Agtira här 
Med sikte på ledartröjan inom industriell akvaponi och inomhusodling tar nu foodtechbolaget Agtira steget från enbart producent till försäljning av system för produktion av närodlad fisk och grönsaker
Läs analysen här »
Fortsatt fokus på den svenska marknaden
Med en utrullningstakt på totalt fem system under 2022, tio nya system 2023 och ett fortsatt antagande om en 50/50-fördelning mellan direktförsäljning och FaaS-avtal ser vi hur Agtira kan nå en omsättning på knappt 60 MSEK och svarta siffror på EBITDA-nivå 2023. FaaS-avtalen innebär större återkommande intäkter på avtal mellan 7-20 år, medan direktförsäljningen ger en större initial intäkt men en lägre återkommande sådan. Utan nämnvärda justeringar i vår modell resulterar den uteblivna utspädningseffekten från en förväntad nyemission i ett nytt motiverat värde på 32–46 SEK per aktie (31–45 SEK) baserat på en kombinerad DCF- och multipelvärdering. Viktiga triggers framöver kommer vara annonsering av partners gällande fastigheter och finansiering, samt en fortsatt utrullning av nya system på den svenska marknaden. Även om Agtira just nu fokuserar på den svenska marknaden, finns det en stor internationell efterfrågan på den här typen av lösningar, där vi tror att ordrar från länder i t ex Mellanöstern kommer uppgå till 10-tals system, istället för de enstaka som just nu säljs i Sverige.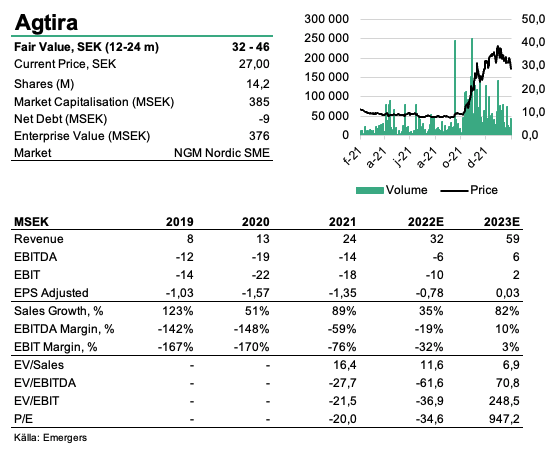 DISCLAIMER
Information som tillhandahålls av Emergers eller på Emergers webbplats, emergers.se är inte avsedd att vara finansiell rådgivning. Emergers mottar ersättning för att skriva om bolaget på den här sidan. Bolaget har givits möjlighet att påverka faktapåståenden före publicering, men prognoser, slutsatser och värderingsresonemang är Emergers egna. Analysartiklar skall ej betraktas som en rekommendation eller uppmaning att investera i bolagen som det skrivs om. Emergers kan ej garantera att de slutsatser som presenteras i analysen kommer att uppfyllas. Emergers kan ej hållas ansvariga för vare sig direkta eller indirekta skador som orsakats av beslut fattade på grundval av information i denna analys. Investerare uppmanas att komplettera med ytterligare material och information samt konsultera en finansiell rådgivare inför alla investeringsbeslut.

HANTERING AV PERSONUPPGIFTER
Emergers skickar ut enkäter för att samla in kvantitativa och kvalitativa data. Syftet är att förstå hur ett visst bolag uppfattas på marknaden. Dina personuppgifter behandlas bara om du deltar i undersökningen. De data som Emergers publicerar eller delar med bolag är alltid anonymiserade och går inte att knyta till dig som person. För mer information om hur vi hanterar personuppgifter, se https://www.emergers.se/personuppgifter-i-enkater/