Scopingstudien av Apatitprojektet visade en betydligt bättre kalkyl än vi räknat med, delvis drivet av en kraftig uppgång i fosforpriset. Även om järnmalmspriset backat brant under hösten ser vi starkt stöd för en betydande prispremie för GRANGEX höghaltiga järn drivet av den framväxande produktionen av fossilfritt stål. Med flera potentiella triggers 2022 och Pegrocos åtagande att finansiera GRANGEX på nivåer 40% över dagens kurs, ser vi stöd för ett motiverat värde på 0,11-0,14 SEK justerat för full finansiering av projekten på 18-24 mån sikt.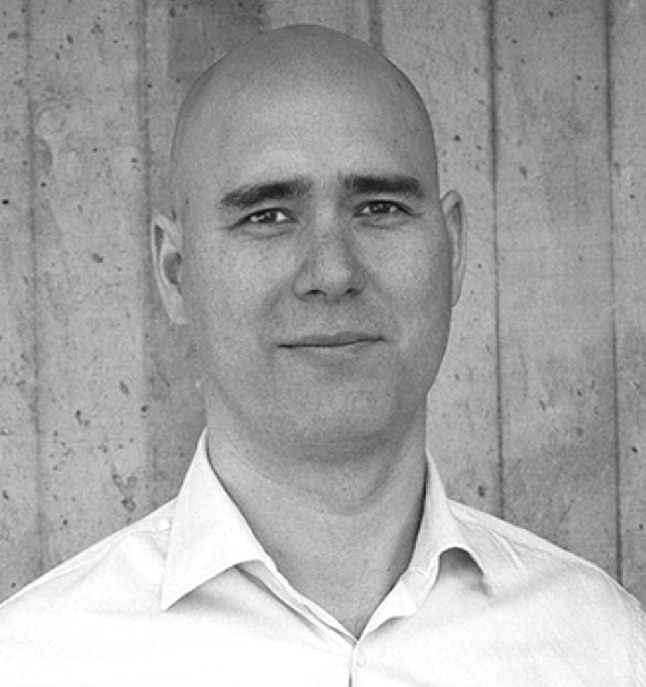 ---
Johan Widmark | 2021-11-30 10:00 
This commissioned research report is for informational purposes only and is to be considered marketing communication. This research report has not been prepared in accordance with legal requirements designed to promote the independence of investment research and Emergers is not subject to any prohibition on dealing ahead of the dissemination of investment research. This research does not constitute investment advice and is not a solicitation to buy shares. For more information, please refer to disclaimer.

---
Betydligt bättre besked om Apatitprojektet än väntat
Så kom slutligen de något försenade resultaten från Scopingstudien av Apatitprojektet i Grängesberg där GRANGEX siktar på att återvinna anrikningssand från den tidigare järnmalmsutvinningen i den nedlagda Grängesberggruvan. Scopingstudien för Apatitprojektet visar ett nettonuvärde, NPV (8%) på 170 MSEK med en IRR på ca 80%, vilket både representerar en imponerande lönsamhetspotential och är betydligt högre än vårt ursprungliga beräknade NPV på 84 MSEK. Skillnaden förklaras både av en kraftig uppgång i fosforpriset senaste året på drygt 80%, en marginellt lägre halt (1ppt) än vi ursprungligen räknat med, en marginellt högre CAPEX och en 50% högre OPEX. Nytt för Scopingstudien var också den förväntade produktionen av 162 000 ton magnetit med 70% järn.
Brant nedgång i järnmalmspriset under hösten
Samtidigt har järnmalmspriset fortsatt droppa under hösten, från sommarens noteringar långt över 200 USD/ton för 65%, till 118 USD/ton, vilket speglar underkanten av ett ungefärligt snittpris för de senaste 15 åren. Därtill betingar Dannemoras planerade produkt på 68% ytterligare ca 17 USD/ton i premie, vilket med den förväntade produktionskostnaden på drygt 52 USD per ton som presenterades i scoping-studien, lämnar utrymme för en mycket god lönsamhet i Dannemora-projektet. Vår modell innefattar inte heller möjligheterna till livstidsförlängning.
Åtagande från Pegroco sänker risken
För Dannemora räknar vi nu med ekonomiska detaljer från PFS under Q4'21, miljöansökan i Q1'22, definite feasibility-studien i Q2'22 och förväntat beslut från mark-och miljödomstolen i Q3'23, medan nästa steg för Apatitprojektet blir definite feasibility-studie och miljöansökan i Q1'22. Därefter väntas produktionsstart för Apatiten slutet 2023 och Dannemora årsskiftet 2024/25. Vi räknar med att fortsatt positiva besked från dessa nämnda milstolpar ska minska risken och driva en omvärdering i kursen. Men den svaga kursutvecklingen hittills gör att utgångsläget för, och den framtida utspädningen vid, den stora projektfinansieringen (där vi även i kombination med lånefinansiering ser ett kapitalbehov på väl över en halv miljard SEK), hämmar den beräknade kurspotentialen. Sammantaget ser vi nu ett motiverat värde på 0,11-0,14 SEK för aktien på 18-24 månaders sikt, där vi också noterar Pegrocos åtagande att teckna 32% av TO4 i januari 2022, till en kurs 40% över dagens, vilket sänker risken i caset påtagligt.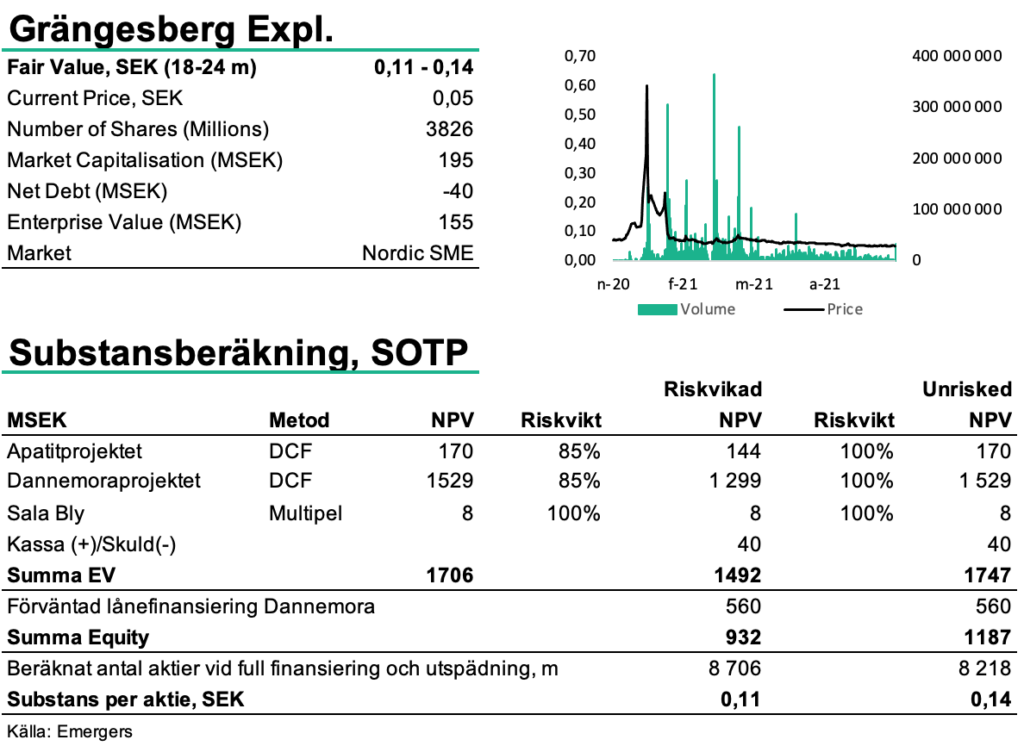 Läs vår analys på Gränsgesberg Exploration här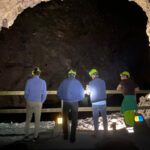 Den nyliga scoping-studien ger tillsammans med rusningen i järnmalmspriset stöd för en IRR på 37% för Dannemora samtidigt som den höga koncentrationen på 68% öppnar för GRANGEX
Läs analysen här »
DISCLAIMER
Information som tillhandahålls av Emergers eller på Emergers webbplats, emergers.se är inte avsedd att vara finansiell rådgivning. Emergers mottar ersättning för att skriva om bolaget på den här sidan. Bolaget har givits möjlighet att påverka faktapåståenden före publicering, men prognoser, slutsatser och värderingsresonemang är Emergers egna. Analysartiklar skall ej betraktas som en rekommendation eller uppmaning att investera i bolagen som det skrivs om. Emergers kan ej garantera att de slutsatser som presenteras i analysen kommer att uppfyllas. Emergers kan ej hållas ansvariga för vare sig direkta eller indirekta skador som orsakats av beslut fattade på grundval av information i denna analys. Investerare uppmanas att komplettera med ytterligare material och information samt konsultera en finansiell rådgivare inför alla investeringsbeslut.

HANTERING AV PERSONUPPGIFTER
Emergers skickar ut enkäter för att samla in kvantitativa och kvalitativa data. Syftet är att förstå hur ett visst bolag uppfattas på marknaden. Dina personuppgifter behandlas bara om du deltar i undersökningen. De data som Emergers publicerar eller delar med bolag är alltid anonymiserade och går inte att knyta till dig som person. För mer information om hur vi hanterar personuppgifter, se https://www.emergers.se/personuppgifter-i-enkater/