Med nyliga positiva besked om både tolerabilitet och effektmått i preklinisk fas för Lipigons huvudprojekt Lipisense ser utsikterna goda ut för en tidig utlicensiering framöver. Vi träffade Lipigons vd Stefan K Nilsson vid bolagets presentation Umeå På Börsen för en uppdatering. Här berättar han om de senaste studieresultaten, betydelsen av tidiga effektmått och de speciella egenskaperna med RNA-läkemedel.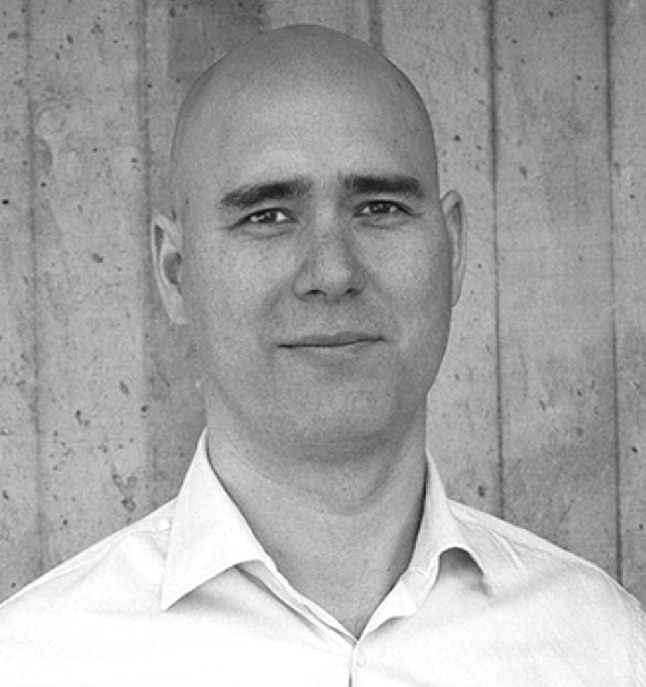 ---
Johan Widmark | 2021-10-07 09:12
This commissioned research report is for informational purposes only and is to be considered marketing communication. This research report has not been prepared in accordance with legal requirements designed to promote the independence of investment research and Emergers is not subject to any prohibition on dealing ahead of the dissemination of investment research. This research does not constitute investment advice and is not a solicitation to buy shares. For more information, please refer to disclaimer.

---
Forskningsbolag med bred portfölj fokuserad på lipidsjukdomar
Lipigon är ett projektbaserat forskningsbolag som fokuserar på lipidbiologi där man knyter till sig experter inom olika terapeutiska teknologiområden. Lipigons projekt Lipisense (P1), Lipodystrofi (P2) och Dyslipidemi (P3) är framförallt inriktade på nischindikationer som kan ge särläkemedelsstatus, där P1 och P3 väntas kunna utökas till bredare indikationer med miljardomsättning. Det innebär att bolaget inte vilar på ett specifikt forskningsgenombrott eller en specifik teknik, utan har som strategi att fortsätta fylla på pipeline med nya projekt. 
Attraktiva egenskaper för huvudprojektet Lipisense
Lipisense är ett så kallat Antisense RNA-läkemedel, inriktat på att förhindra att ett visst protein uttrycks. Det innebär både att man kan ta fram läkemedel som är målsökande med lägre risk för biverkningar, och att man kan ge sig på andra sorters målproteiner, så kallade targets som man inte kan nå med traditionella läkemedel baserade på småmolekyler. Det ökar chanserna att lyckas ta fram nya läkemedel.
I det nyliga beskedet från en av bolagets förberedande säkerhetsstudier med Lipisense, kunde bolaget redovisa god tolerabilitet vid doser upp till 30 mg per kg kroppsvikt. Dessutom kunde man även rapportera om effektmått, att man alltså sänkte triglyceridnivåerna hos försöksdjuren. Tidiga effektmått av den här sorten ökar också möjligheterna för bolaget att nå en tidig licensaffär med ett större eller medelstort läkemedelsbolag. Relevanta jämförelseaffärer visar mycket höga belopp (>75 MUSD upfront och totala affärsvärden på ibland flera miljarder) även i tidiga faser.
Trots dessa framsteg fortsätter aktien handlas till en anmärkningsvärt låg värdering, med ett börsvärde omkring 75 MSEK där 50 MSEK motsvarades av kassan vid slutet av Q2'21. Vi ser därför en hög potential från dagens nivå med förväntan om effektmått i människa från Lipisense under 2022/2023 och en efterföljande utlicensiering som viktigaste triggers. Vi fortsätter räkna med ett samlat riskjusterat nettonuvärde för bolagets projekt på motsvarande 28-35 SEK per aktie på 18-24 månaders sikt, vilket inkluderar en riskjusterad förväntan om en utlicensiering av Lipisense. Som med all läkemedelsutveckling är dock den höga potentialen också förknippad med hög risk.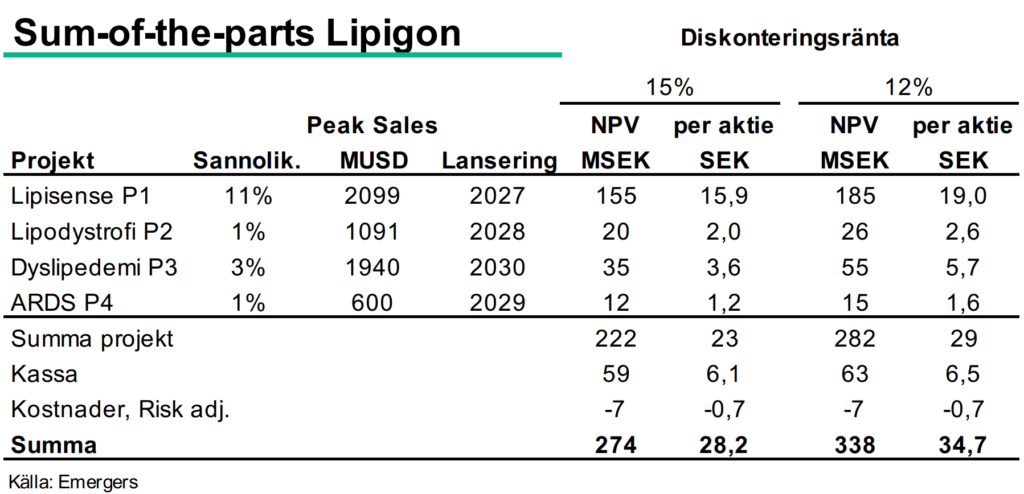 Läs vår initieringsanalys på Lipigon här 
LIPIGON – Med fokus på sjukdomar orsakade av störningar i kroppens fettomsättning har Lipigon Pharmaceuticals fyra attraktiva projekt i pipeline baserade på olika högaktuella terapeutiska teknologier som genterapi
Läs analysen här »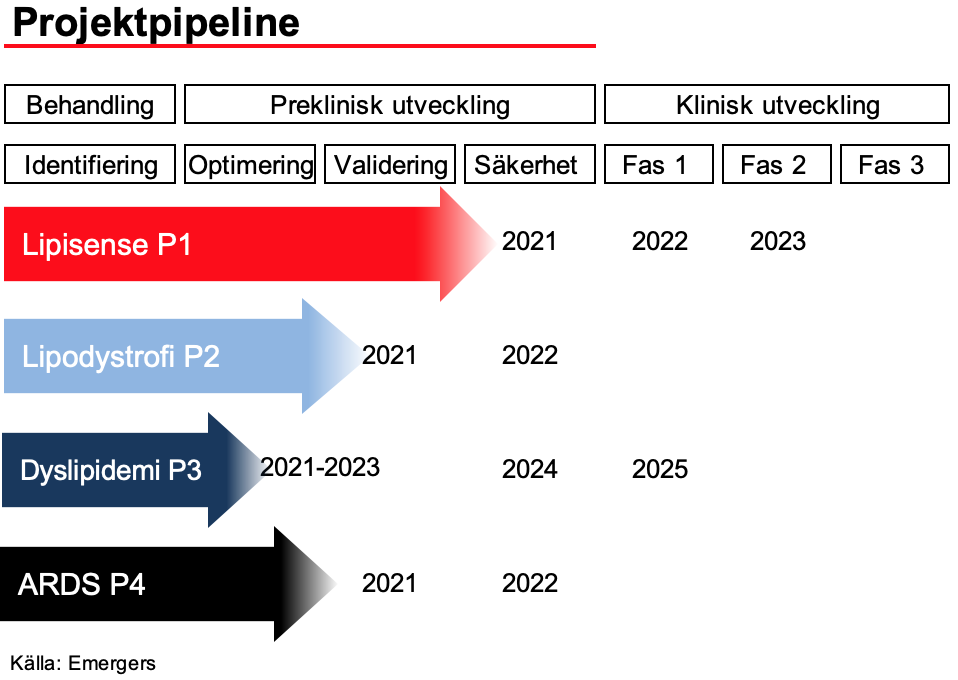 DISCLAIMER
Information som tillhandahålls av Emergers eller på Emergers webbplats, emergers.se är inte avsedd att vara finansiell rådgivning. Emergers mottar ersättning för att skriva om bolaget på den här sidan. Bolaget har givits möjlighet att påverka faktapåståenden före publicering, men prognoser, slutsatser och värderingsresonemang är Emergers egna. Analysartiklar skall ej betraktas som en rekommendation eller uppmaning att investera i bolagen som det skrivs om. Emergers kan ej garantera att de slutsatser som presenteras i analysen kommer att uppfyllas. Emergers kan ej hållas ansvariga för vare sig direkta eller indirekta skador som orsakats av beslut fattade på grundval av information i denna analys. Investerare uppmanas att komplettera med ytterligare material och information samt konsultera en finansiell rådgivare inför alla investeringsbeslut.

HANTERING AV PERSONUPPGIFTER
Emergers skickar ut enkäter för att samla in kvantitativa och kvalitativa data. Syftet är att förstå hur ett visst bolag uppfattas på marknaden. Dina personuppgifter behandlas bara om du deltar i undersökningen. De data som Emergers publicerar eller delar med bolag är alltid anonymiserade och går inte att knyta till dig som person. För mer information om hur vi hanterar personuppgifter, se https://www.emergers.se/personuppgifter-i-enkater/