Rustade med pengarna från sommarens emission på 127 MSEK fortsätter arbetet med Nanexas patenterade PharmaShell ALD-teknologi för långverkande injicerbara läkemedel. Samtidigt erbjuder stora internationella M&A-affärer inom injicerbar drug delivery under sommaren talande referenspunkter för Nanexa. Med sikte på fas Ib/II för onkologiprojektet NEX-18 under 2022, framsteg inom partnerprojekt med PharmaShell och ett kommande besked om indikation för NEX-21 ser vi flera viktiga triggers framöver. Sammantaget ser vi stöd för ett motiverat värde på 13-16 SEK per aktie som kan öka till över 26 SEK efter proof of concept 2023.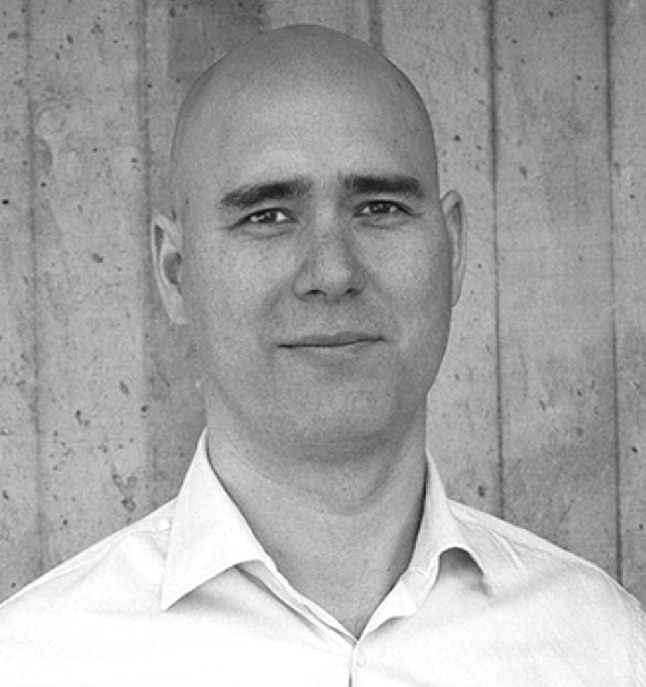 ---
Johan Widmark | 2021-08-23 14:20 
This commissioned research report is for informational purposes only and is to be considered marketing communication. This research report has not been prepared in accordance with legal requirements designed to promote the independence of investment research and Emergers is not subject to any prohibition on dealing ahead of the dissemination of investment research. This research does not constitute investment advice and is not a solicitation to buy shares. For more information, please refer to disclaimer.

---
Fokus på NEX-18 fas-I och PharmaShell
Sedan Nanexas primära projekt, NEX-18 för MDS inledde fas-I före sommaren så har patientrekryteringen gått långsammare än väntat. Nanexa har nu adderat ytterligare en klinik till studien och räknar inte med någon påverkan på den långsiktiga planen för NEX-18. Samtidigt rapporterar man om framsteg i ett utvecklingsprojekt med PharmaShell som nu gått in i djurstudier. Nanexa kommer även medverka vid konferensen Partnership Opportunities in Drug Delivery i Boston i oktober, vilket gynnar möjligheterna för nya partnerskap.
Hög M&A-aktivitet inom injicerbar drug delivery internationellt
Internationellt har det varit en händelserik sommar inom Nanexas nisch, där PE-bolaget Partners Group förvärvade CDMO-bolaget Pharmathen som, likt Nanexa utvecklar långtidsverkande injicerbara läkemedel, där de både hjälper bolag utveckla helt nya och förlänger livscykeln på befintliga preparat. Prislappen på EV motsvarande 1,6 miljarder EUR erbjuder en intressant referenspunkt för Nanexa även om Pharmathen är långt mer moget. Samtidigt har amerikanska Aptar förvärvat 80% av Weihai Hengyu Medical Products som är en ledande tillverkare av elastomer och plastkomponenter som används vid injicerbar drug delivery, till en värdering motsvarande ett EV på 77 MUSD.
Läs vår intiteringsanalys på Nanexa här 
Nanexas patenterade PharmaShell ALD-teknologi för vidareutveckling av befintliga preparat till långverkande injicerbara läkemedel ger betydande fördelar åt både patienter och vårdgivare. Egna onkologiprojektet NEX-18 har påbörjat klinisk
Läs analysen här »
Finansiellt rustat med flera möjliga triggers i pipeline
Även om kostnaden för sommarens emission på 20 MSEK blev i högsta laget är Nanexa nu rustat att finansiera flera viktiga steg mot att realisera potentialen i bolagets teknik, inte minst fas Ib/II för proof of concept av NEX-18. I tillägg till fas I för NEX-20, GMP-anläggning och vidareutveckling av PharmaShell kan även bolagets patenttvist i USA väntas ta en del resurser i anspråk. Vi fortsätter se ett motiverat värde på 13-16 SEK per aktie på 18-24 mån sikt, med en potential på väl över 26 SEK per aktie om NEX-18 visar proof of concept efter fas II 2023. Viktigaste risker utgörs av förseningar, negativa utfall i tester och svårighet att sälja tekniklicenser. Samtidigt ser vi goda förutsättningar för ett aktivt nyhetsflöde av potentiella triggers som besked om licensavtal och data från NEX-18 framöver.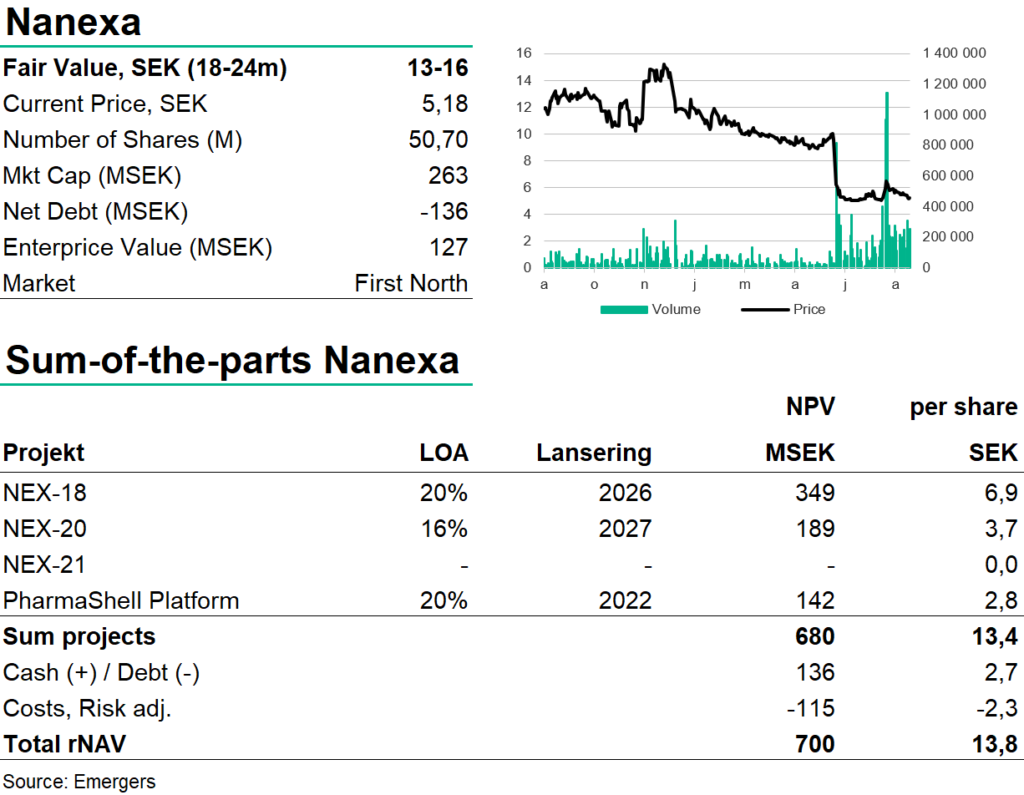 DISCLAIMER
Information som tillhandahålls av Emergers eller på Emergers webbplats, emergers.se är inte avsedd att vara finansiell rådgivning. Emergers mottar ersättning för att skriva om bolaget på den här sidan. Bolaget har givits möjlighet att påverka faktapåståenden före publicering, men prognoser, slutsatser och värderingsresonemang är Emergers egna. Analysartiklar skall ej betraktas som en rekommendation eller uppmaning att investera i bolagen som det skrivs om. Emergers kan ej garantera att de slutsatser som presenteras i analysen kommer att uppfyllas. Emergers kan ej hållas ansvariga för vare sig direkta eller indirekta skador som orsakats av beslut fattade på grundval av information i denna analys. Investerare uppmanas att komplettera med ytterligare material och information samt konsultera en finansiell rådgivare inför alla investeringsbeslut.

HANTERING AV PERSONUPPGIFTER
Emergers skickar ut enkäter för att samla in kvantitativa och kvalitativa data. Syftet är att förstå hur ett visst bolag uppfattas på marknaden. Dina personuppgifter behandlas bara om du deltar i undersökningen. De data som Emergers publicerar eller delar med bolag är alltid anonymiserade och går inte att knyta till dig som person. För mer information om hur vi hanterar personuppgifter, se https://www.emergers.se/personuppgifter-i-enkater/