SIMRIS ALG Den fördjupade inblicken i Simris utvecklingsplan visar flera intressanta projekt och potentiella tillämpningar av bolagets bioteknologiska algplattform som, även om de är svåra att kvantifiera den kommersiella potentialen på, har många likheter med bolag i algindustrin där det nu sker transaktioner i hundramiljonerdollar-klassen internationellt. Med en fortsatt förflyttning av fokus till samtliga av bolagets tre strategiska verksamhetsben ser vi goda förutsättningar för en vändning av det ljumma sentimentet mot aktien.
---
Analys: Johan Widmark | Datum: 2021-04-21 | Tid: 11:45
Fördjupad inblick i Simris utvecklingsplan
Publiceringen av Simris Algs årsredovisning och tillhörande utvecklingsplan utgjorde en förvånande matig redogörelse av bolagets fokus framåt och de marknader bolaget vänder sig till. Efter beskedet om den tredelade verksamhetsinriktning man presenterade i februari bjöd bolaget nu på ytterligare detaljer om sin utvecklingsplan med nya produktkandidater och närmaste milstolpar.
Av särskilt intresse var inblicken i BIOMIMETICS projektportfölj, där man erbjuder bolagets bioteknologiska algplattform för discovery och produktion av olika typer av verksamma ämnen för avancerad hudvård och läkemedel. Vid sidan av två formuleringar för avancerad hudvård (cosmeceuticals) som beräknas nå B2B-marknaden 2022, har bolaget ytterligare tre projekt i in vitro-studier för avancerad hudvård (SBMtfX: Transkriptionsfaktorer som är involverade i de cellulära mekanismerna bakom atopisk dermatit, SBMfuX: Funktionella polysackarider med antiinflammatoriska och prebiotiska egenskaper, samt SBMcaX: Enzymer som fångar fria radikaler och hudskyddande funktion, som kommit något längre än de andra två då man nått proof of concept).
Det är dock värt att notera att bolagets satsning på utveckling av produktionsmetoder för andra generationens biobaserade läkemedel, har en mindre framskjuten position i bolagets utvecklingsplan. Tanken att använda mikroalger som produktionsplattform inom så kallad rekombinant DNA-teknik har potential att erbjuda betydande fördelar jämfört med "svårare" cellinjer som tex. mammalieceller. Men att döma av utvecklingsplanen får ett sådant utvecklingsprojektet nu antas ligga längre fram i tiden. Enbart marknaden för aktiva ingredienser är värd över två miljarder USD, där marknaden för bioteknologiska ingredienser bedöms uppgå till flera hundra miljoner dollar och väntas växa kraftigt. 
Den kommersiella potentialen i BIOMIMETICS och andra verksamhetsinriktningen NOVEL FOODS, där bolagets algbaserade proteinpulver får anses ha den största kommersiella potentialen, är dock mycket svår att avgöra med någon vidare säkerhet. Strategin för BIOMIMETICS är helt inriktad på B2B. Därför är det av särskild betydelse att förstår den nisch som Simris verkar inom.
Stora affärer i industrin
Vad gäller marknaden för aktiva ingredienser för avancerad hudvård så utgör Europa, då i synnerhet Frankrike, och Kina viktiga hubbar. Samtidigt som Simris har en unik algplattform att erbjuda partners inom flera olika applikationsområden så är man inte ensam, även om de noterade aktörerna är få. Att mikroalger internationellt är en industri som tilldrar sig intresse illustreras tydligt av exempelvis Qualitas Health/iwis investeringsrunda tidigare i år på totalt 22,5 MUSD till en värdering av 73 MUSD post-money för att finansiera sin satsning på protein baserade på mikroalger som väntas nå marknaden 2022. Eller Solabias köp av israeliska Algatech 2019 till ett värde av uppskattningsvis 100 MUSD, enligt finanssajten Calcalist, och Microphyts finansieringsrunda 2019 på 28,5 MEUR för utveckling av "nutritional active ingredients, cosmetic active and functional ingredients". Samtliga dessa, och många andra liknande bolag, verkar i närliggande områden relativt Simris. Även om det i vissa fall handlar om konkurrerande tekniker och produkter, så är fältet av potentiella teknologier och tillämpningsområden inom mikroalger mycket brett, vilket betyder att det sannolikt finns betydligt mer synergier än överlappning bolagen emellan.
Läs andra analyser på Simris Alg här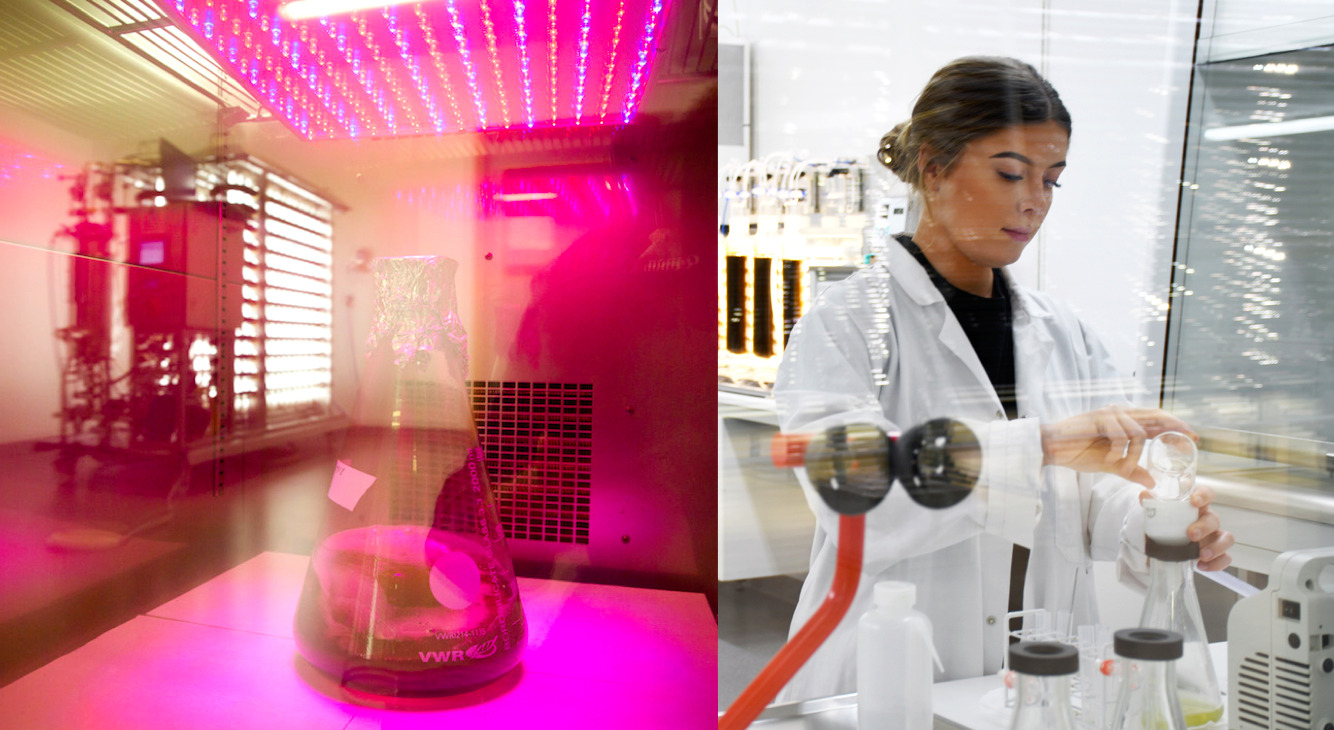 SIMRIS ALG Med en blandad utveckling för bolagets konsumentprodukter i USA under 2020 breddar Simris Alg nu sitt strategiska spelfält till tre tydligt definierade inriktningar. Med internationelle tungviktare
Läs analysen här »
Hög men svårkvantifierad potential
Sammantaget blir slutsatsen att Simris Alg är ett högintressant VC-case i bioteknikens framkant som tyngts på ett olyckligt sätt av ett tunnelseende på den kortsiktiga försäljningsutvecklingen i bolagets första produktben, omega-3. Med en fortsatt förflyttning av fokus till samtliga av bolagets tre strategiska verksamhetsben ser vi goda förutsättningar för en vändning av sentimentet mot aktien, och ökade chanser för bolaget att attrahera en ny sorts investerare som har större förståelse för de utdragna investeringarna och den långsiktiga potentialen, trots att den är svår att kvantifiera på kort sikt. Men den internationelle tungviktaren Steve Schapera, Probis tidigare vd Peter Nählstedt och Robert Quant, som har en bakgrund som CFO och COO för Berlin-baserade Invincible Brands, på väg in i styrelsen ser vi en goda chanser för att intressant nyhetsflöde från Simris Alg framöver och en hög men svårkvantifierad potential för aktien.  
DISCLAIMER
Information som tillhandahålls via Emergers eller på Emergers webbplats, emergers.se är inte avsedd att vara finansiell rådgivning. Emergers mottar ersättning för att skriva om bolaget på den här sidan. Bolaget har givits möjlighet att påverka faktapåståenden före publicering, men prognoser, slutsatser och värderingsresonemang är Emergers egna. För att undvika intressekonflikter har Emergers skribenter inga innehav i de noterade bolag vi skriver om. Analysartiklar skall ej betraktas som en rekommendation eller uppmaning att investera i bolagen som det skrivs om. Emergers kan ej garantera att de slutsatser som presenteras i analysen kommer att uppfyllas. Emergers kan ej hållas ansvariga för vare sig direkta eller indirekta skador som orsakats av beslut fattade på grundval av information i denna analys. Investerare uppmanas att komplettera med ytterligare material och information samt konsultera en finansiell rådgivare inför alla investeringsbeslut. För fullständiga villkor se här.