Simris Algs första order på delvis processad biomassa av mikroalger bekräftar den kommersiella bärkraften i Simris nyliga utvidgning av algplattformen till BIOMIMETICS och NOVEL FOODS. Nu med den internationelle tungvikten Steven Schapera som ordförande ser vi potential att ett ökat fokus på kommersialisering av Simris unika IP kan driva både nyhetsflödet och en förändring av sentimentet mot aktien.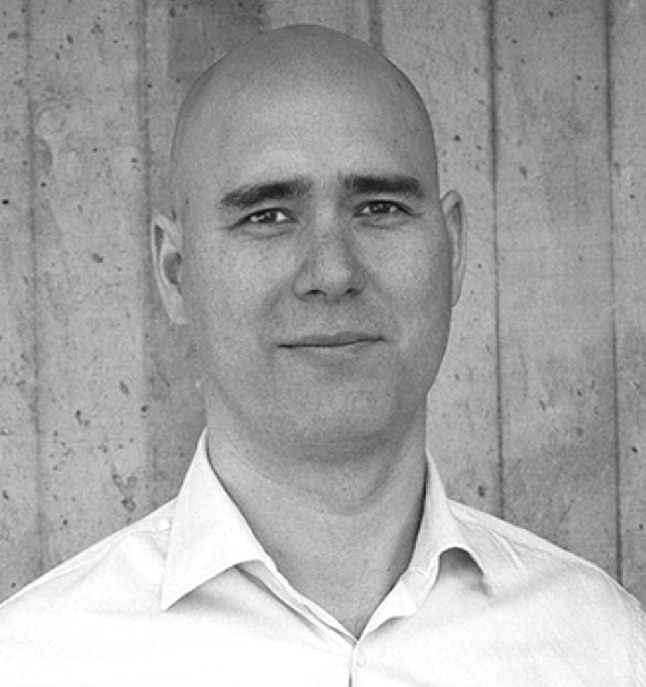 ---
Johan Widmark | 2021-07-27 08:30 
This commissioned research report is for informational purposes only and is to be considered marketing communication. This research report has not been prepared in accordance with legal requirements designed to promote the independence of investment research and Emergers is not subject to any prohibition on dealing ahead of the dissemination of investment research. This research does not constitute investment advice and is not a solicitation to buy shares. For more information, please refer to disclaimer.

---
Ordern på 1,6 MSEK för delvis bearbetad mikroalgbiomassa är det första viktiga steget för Simris tredelade utvecklingsplan för att kommersialisera bolagets algplattform. Beskedet avslöjade inte om ordern var relaterad till BIOMIMETICS eller NOVEL FOODS, men bekräftar Simris kvalifikation som B2B-leverantör som kan erbjuda både en bioteknisk algplattform för upptäckt, produktion och utvinning av olika bioaktiva ämnen för avancerad hudvård och läkemedel, såväl som torr mikroalgbiomassa för ytterligare extraktion av högvärdiga näringsämnen och andra kosttillskott. 
Denna order gällde frystorkade mikroalger, och eftersom Simris Alg redan har ett betydande lager av detta råmaterial, som de producerar för utvinning av omega-3-tillskott, innebär det att lönsamheten för denna order borde vara hög och ge en välkommen boost till bolagets ansträngda likviditet.
Lägger grunden för refinansiering 2022
Tidigare i juli avtalade Simris en bryggfinansiering på 7 MSEK samtidigt som bolaget kommunicerade sin avsikt att anskaffa ytterligare kapital under 2022. Detta kommer sannolikt vara en bra tidpunkt då vi förväntar oss att Simris kommer ha hunnit samla på sig ytterligare några B2B-kontrakt, helst några som tydligt visar kvaliteten, konkurrenskraften och den kommersiella potentialen i deras algplattform, särskilt inom BIOMIMETICS.
Vi hoppas också att framtida affärer, och i synnerhet pressmeddelandena om dem, tydligare återspeglar det faktiska värde som finns inbäddat i företagets plattform snarare än bara volymvärdet för de enskilda produkterna eller ingredienserna det kan producera.
När Simris grundare, algpionjären Fredrika Gullfot nu lämnar vd-posten från och med den 17 september 2021, kommer den internationelle kosmetikveteranen Steven Schapera, som gick in i bolaget som styrelseordförande för bara två månader sedan (men har varit en stor aktieägare sedan mitten av 2020) ta en mer verkställande roll till dess en ny VD utses. Tillsammans med Simris CFO, Christoffer Tell (som också kom in tidigare i år), är företaget nu på god väg att bygga infrastruktur och kapacitet att verkställa sin breddade strategiska färdplan. Utnämningen av en ny VD kommer sannolikt vara den sista stora pusselbiten som saknas.
Sammantaget ser vi goda chanser för att investerarnas fokus ska övergå från det tunnelseende på kortsiktig försäljningsutveckling som hittills hämmat aktien, till att istället fokusera mer på Simris position i spetsen av den marina mikroalgindustrin som ett vertikalt integrerat, B2B-fokuserat biotekniskt mikroalgbolag. Därför fortsätter vi att se en hög men svårkvantifierad potential för aktien.
Läs andra analyser på Simris Alg här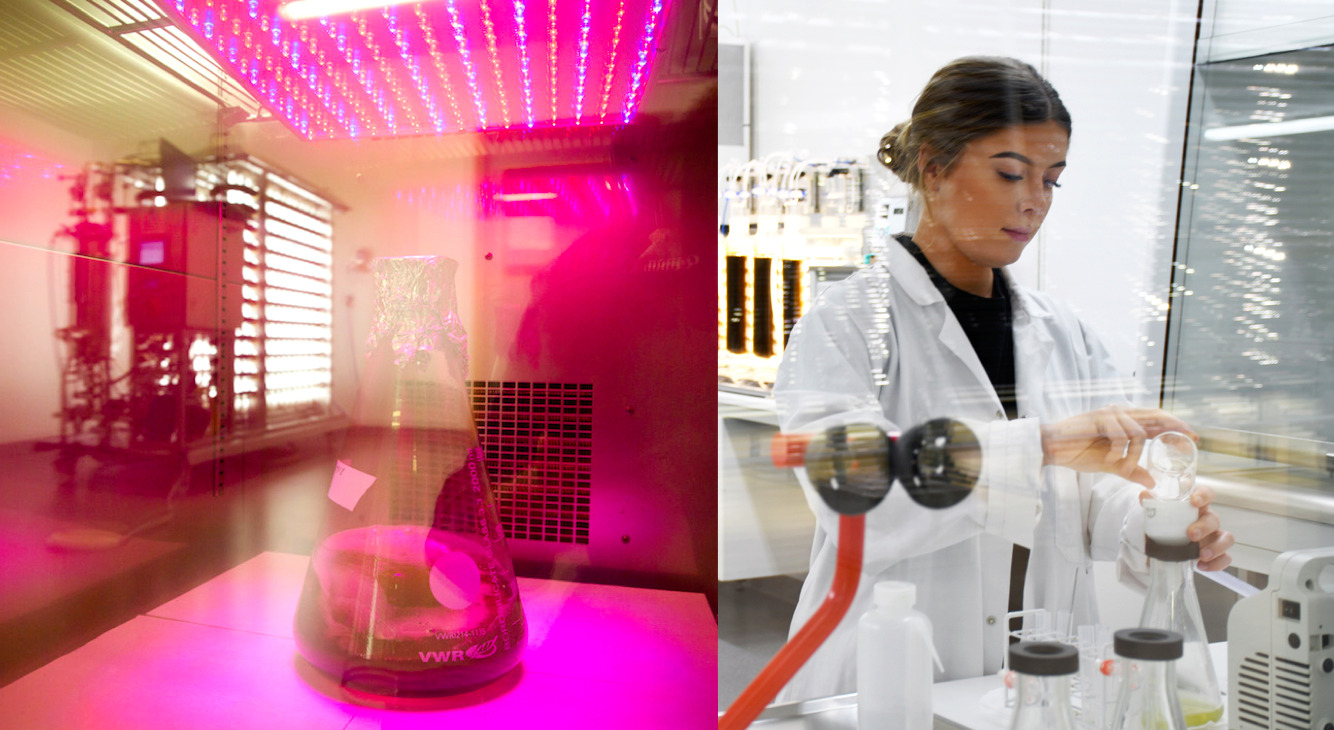 SIMRIS ALG Med en blandad utveckling för bolagets konsumentprodukter i USA under 2020 breddar Simris Alg nu sitt strategiska spelfält till tre tydligt definierade inriktningar. Med internationelle tungviktare
Läs analysen här »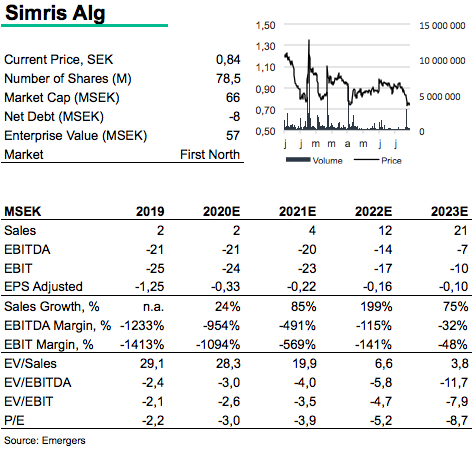 DISCLAIMER
Information som tillhandahålls av Emergers eller på Emergers webbplats, emergers.se är inte avsedd att vara finansiell rådgivning. Emergers mottar ersättning för att skriva om bolaget på den här sidan. Bolaget har givits möjlighet att påverka faktapåståenden före publicering, men prognoser, slutsatser och värderingsresonemang är Emergers egna. Analysartiklar skall ej betraktas som en rekommendation eller uppmaning att investera i bolagen som det skrivs om. Emergers kan ej garantera att de slutsatser som presenteras i analysen kommer att uppfyllas. Emergers kan ej hållas ansvariga för vare sig direkta eller indirekta skador som orsakats av beslut fattade på grundval av information i denna analys. Investerare uppmanas att komplettera med ytterligare material och information samt konsultera en finansiell rådgivare inför alla investeringsbeslut.

HANTERING AV PERSONUPPGIFTER
Emergers skickar ut enkäter för att samla in kvantitativa och kvalitativa data. Syftet är att förstå hur ett visst bolag uppfattas på marknaden. Dina personuppgifter behandlas bara om du deltar i undersökningen. De data som Emergers publicerar eller delar med bolag är alltid anonymiserade och går inte att knyta till dig som person. För mer information om hur vi hanterar personuppgifter, se https://www.emergers.se/personuppgifter-i-enkater/